How Rami Malek Saved Mr. Robot From A Rewrite
"Mr. Robot" taps into the paranoid effects of our interconnected internet world through Rami Malek's captivating performance as the genius hacker, Elliot Alderson. In the series' early days of pre-production, it was his compelling depiction of the character that ultimately saved creator Sam Esmail from redeveloping and rewriting his approach.
Elliot is an interesting part for an actor, as he's not only the main star of the series, but he also possesses a fourth-wall-breaking voice-over monologue that was difficult for most actors to get right. Additionally, he frequently converses with his imaginary alter-ego, Mr. Robot (played by Christian Slater), giving the complicated role even more to handle. In an interview with NPR, Esmail broke down the initial struggles he faced when looking for a potential Elliot. Despite having numerous talented actors audition, Esmail said that nobody was getting it right until Malek stepped up.
"They would do these beautiful interpretations of the scene," Esmail said. "But the character just came off very cold, very obnoxious, and I was almost going to tell USA [Network], 'Let's not do this. This doesn't make sense,' or, 'I got to rewrite this. I think this guy is annoying and I don't think anybody is going to want to spend every week with this person.'"
Elliot's dark persona is a delicate attitude to emote and capture, which still has to retain the attention and sympathy of the audience. Lucky for us, Malek came through as Esmail's saving grace.
Creator Sam Esmail said Rami Malek distinctly stood out from other auditions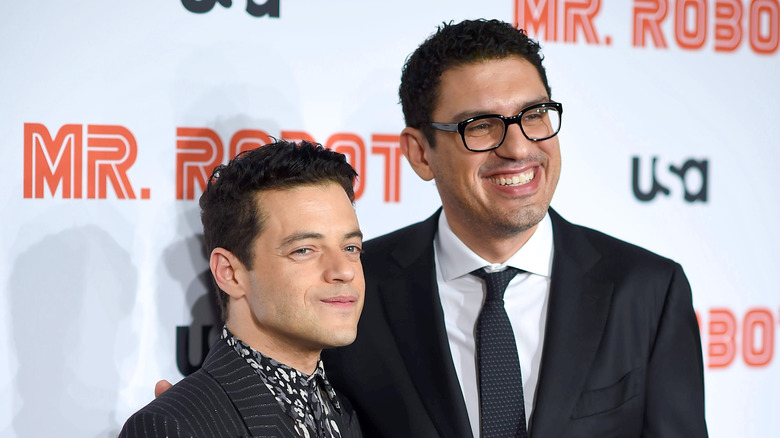 Dimitrios Kambouris/Getty Images
Before taking on larger-than-life roles like Freddy Mercury in "Bohemian Rhapsody" and the villainous Lyutsifer Safin in the explosive James Bond flick, "No Time to Die," Rami Malek was the beating heart of Sam Esmail's chilling series, "Mr. Robot." His impressive acting abilities are able to reflect Elliot's inner unresolved childhood trauma that often bubbles up in uncontrollable emotional outbursts or even severe experiences with psychosis. For these heavy responsibilities, Esmail needed an actor with endurance and range, which he found in Malek.
Esmail continued telling NPR how they found the diamond in the rough and how Malek saved the creator from a grueling rewrite. "Then Rami came in, and when he did the scene, he added this vulnerability ... where it doesn't come off [as] commanding or egotistical, even though the words are that — he added this subtext that it was coming from a place of real pain and real vulnerability and real wanting to connect," Esmail said. "And that was the spark that really made that character come to life."
That spark drove Malek's riveting performance for four engrossing seasons before coming to a fitting conclusion for Elliot's moving and satisfying journey. He bravely confronts his demons, both physical and spiritual, before achieving his goal of irrevocably changing the world and, consequently, himself.