Blue Bloods S13: Why Dr. Leonard Walker From The Finale Looks So Familiar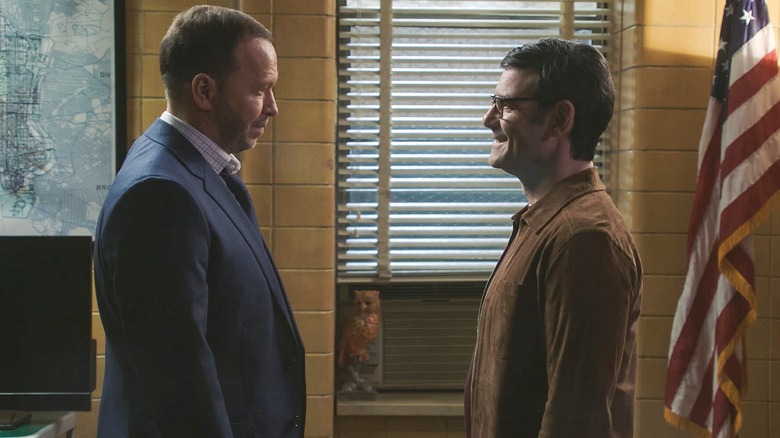 CBS
The hit television show "Blue Bloods" certainly deals with all manner and levels of crimes. That is bound to happen when audiences are treated to many aspects of law enforcement through the many members of the Reagan family as almost every single one of them operates at a different level. Some are beat cops, some are detectives, some are in leadership roles, and some are lawyers. Needless to say, the Season 13 finale decides to throw the Reagan family a curve ball in the form of Dr. Leonard Walker (Mather Zickel).
This is because Dr. Leonard Walker was originally approached to aid in an investigation surrounding a series of murders. However, it turns out that he is actually the one perpetrating the brutal actions. Brilliant, yet completely unstable, Dr. Walker is able to both manipulate and enrage some members of the Reagans while using his intelligence in an attempt to mitigate his crimes through certain law caveats regarding mental health. As shocking as Dr. Walker's actions are, some may be able to look past his heinous actions and see the actor who plays the vicious character as someone familiar. But what else has Zickel been in to cause such a sensation?
Zickel went from district attorney to Hannibal Lecter-type in Reno 911!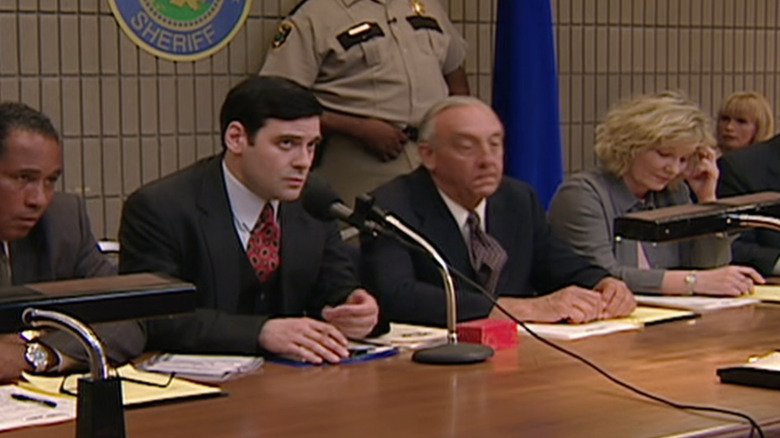 Comedy Central
Although Mather Zickel plays a conniving, self-destructive, and manipulative killer in "Blue Bloods," much of Zickel's career has actually been in comedies. Zickel's career started in 1998 with the movie "Caught Up," and from there he appeared in shows and movies like 2002's "Gilda Radner: It's Always Something," one episode of "Arrested Development," and "Stella." However, perhaps one of the biggest of Zickel's early efforts is that of the comedy television series "Reno 911!" as Mike Powers. "Reno 911!" follows a ridiculous police department in the titular city that is often called to all manner of silly events and crimes, though more often than not, even the police officers are part of the joke.
However, that isn't to say that everything in "Reno 911!" is entirely silly, and that's probably best represented by Washoe County district attorney Powers. He actually reprimands the police officers of "Reno 911!" and even goes so far as to fire the entire staff at the end of Season 2. Surprisingly, it is soon revealed that Powers is actually a prolific serial killer, and the show begins to use him as sort of an ersatz Hannibal Lecter-like figure that provides insight to the law enforcement agents from within his cell. Still, this is "Reno 911!" that we are talking about, so even this dark turn for Powers is played for laughs.
He gave the order to investigate a ping-pong tournament in Balls of Fury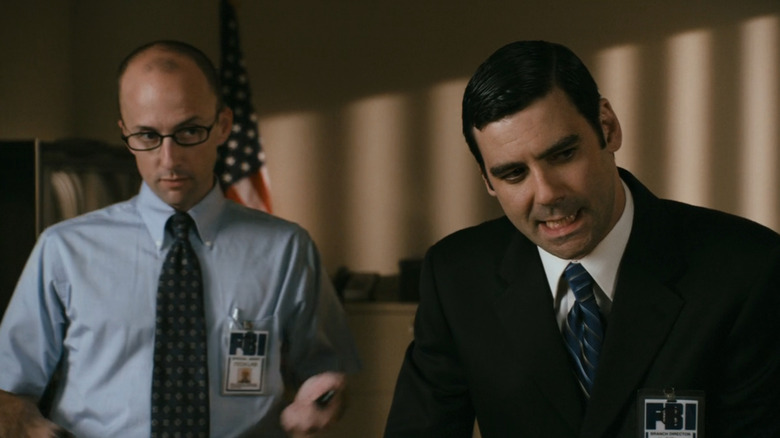 Rogue Pictures
Continuing the trend of humor, the next place people may remember Mather Zickel from is the zany 2007 movie "Balls of Fury." This comedy film follows Randy Daytona (Dan Fogler), a former child ping-pong protege whose adult life is anything but glamorous. Though Randy manages to survive on meager residuals and paltry displays of his talent, he is soon recruited by FBI agent Ernie Rodriguez (George Lopez) in order to infiltrate a high-stakes ping-pong tournament hosted by the mysterious and reclusive figure known as Feng (Christopher Walken).
Despite the FBI's involvement, which sees Mather Zickel appear as an unnamed authority figure, Rodriguez explains that nobody truly expects Daytona to actually bring down Feng and that their operation is actually meant as a redundant plan in case the other investigations fail. Zickel's FBI manager pops up after Daytona receives a golden ping-pong paddle, which sees many FBI agents, as well as Daytona and Maggie (Maggie Q) attempt to unravel the secret of the invitation. 
Zickel's character then gives the operation clearance and informs Daytona that he'll have to hide a tracking device in a very uncomfortable spot. Oddly enough, Zickel is reunited with a former cast member from "Reno 911!" in "Balls of Fury," as Thomas Lennon appears in both.
He traded insults with his ward on Delocated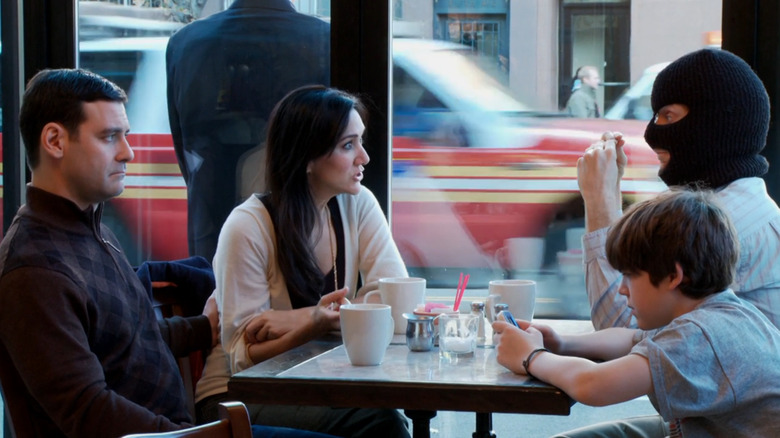 Adult Swim
Besides appearing as an FBI agent, serial killer doctor, and serial killer district attorney, Mather Zickel continued to play to his strength in the 2010 television series "Delocated."This TV series from Adult Swim is a mock documentary and reality television show, and it is all about the life of Jon (Jon Glasser), a person who is in witness protection but often pushes the boundaries of what is acceptable behavior for somebody who is trying to avoid being found. One might wonder how a reality show would operate with someone trying to hide, and that is why Jon always has a ski mask on, as well as utilizing a voice modulator that makes him sound different.
Unfortunately, Jon is somewhat reckless in his life, which provides to be a huge problem for the FBI agents assigned as his bodyguards. The second agent assigned to him is known as Rob the New Federal Agent (Zickel), which actually becomes a bit of a problem for Jon because Rob actually dates Jon's ex-wife. Considering Jon's ego, this means he and Rob often trade barbs with each other. Popping up in 11 episodes, Rob is eventually replaced by TB the Newest Federal Agent (Ali Farahnakian), and the interpersonal conflict is removed from the show — at least coming from Rob, that is!
Zickel appeared as the same reporter in two shows and a movie
Oddly enough, one of the biggest roles for Mather Zickel is a reoccurring character that is shared across multiple television shows. Originally popping up in the movie "The Ten," Louis La Fonda (Zickel) is a newscaster that appears in 2010's "Children's Hospital" and its spin-off show, 2013's "Newsreaders." All of these endeavors, much like Zickel's previous efforts, are based on comedy, and Louis La Fonda often interviews the staff of "Children's Hospital" in that show. He later leads his own show "Newsreaders," which lampoons news drama in the same way as "Children's Hospital" does with medical shows. La Fonda often acts completely devoid of emotion in a typical newscaster sense, but often in such an extreme manner that it becomes a joke, though he certainly flips out from time to time as well for no apparent reason. 
Speaking with Under the Radar, Zickel was asked what it like to work with creator David Wain and co-star Rob Corddry. He revealed that appearing in "Children's Hospital" and "Newsreaders" was an incredibly fun time, and said he was amazed that his character has been brought back multiple times. "Like I said, the logic of bringing the character back really wasn't high priority for those guys," Zickel said. "They just think it's fun to keep folding the story in on itself, and damn the consequences. It was very fun for me when they brought 'Newsreaders' into 'Childrens Hospital.' There were episodes where the show gets cancelled, and of course it's not cancelled, and Rob Corddry's character gets killed and comes back that season. So, the timeline is very flexible with them."
He helped Booth with tricky emotions in Bones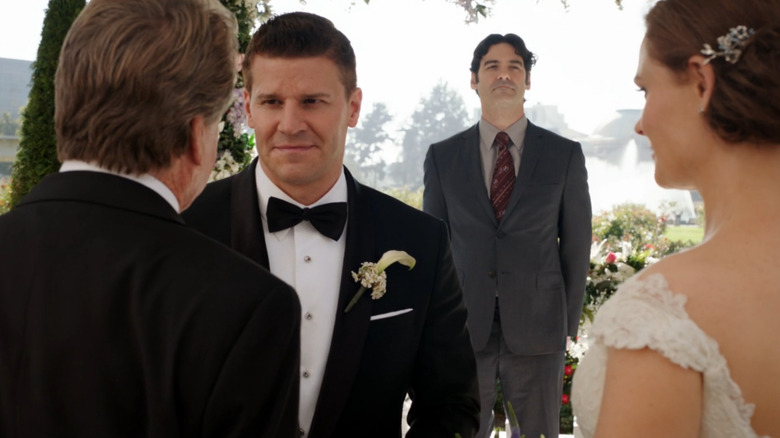 Fox
Not all of Mather Zickel's appearances have been in the comedy genre, as one can tell by his recent role in "Blue Bloods," but it seems like many of them definitely have a distinct feel of authority. This is probably best represented by Zickel's character in "Bones," Aldo Clemens, who appears in four episodes from 2013 to 2014. Though "Bones" is generally about FBI agent Seeley Booth (David Boreanaz) and forensic scientist Temperance Brennan (Emily Deschanel), Clemens is connected to the story through Booth since both of them have a long history together.
Both Booth and Clemens originally met when they were both in the military. As a chaplain, Clemens acted as a confidant and counselor for Booth in dealing with the horrors of war. Clemens eventually loses his faith, which he actually credits to Booth, but the two still interact in the present day because the former gave up his priestly role for that of a bartender. Even though Clemens is no longer a person of faith, Booth still goes to Clemens' bar to talk about his thoughts and feelings, which is often considered a bit of a habit for the two. Clemens' connection to Booth is further cemented when he performs the wedding ceremony for Booth and Brennan, though unfortunately, the character meets a tragic end. 
Considering the scope of Zickel's career, it definitely seems like comedy is his main specialization, though he certainly isn't afraid of tackling far more serious roles.