What Is Nope Rated? What Parents Should Know Before Letting Their Kids Watch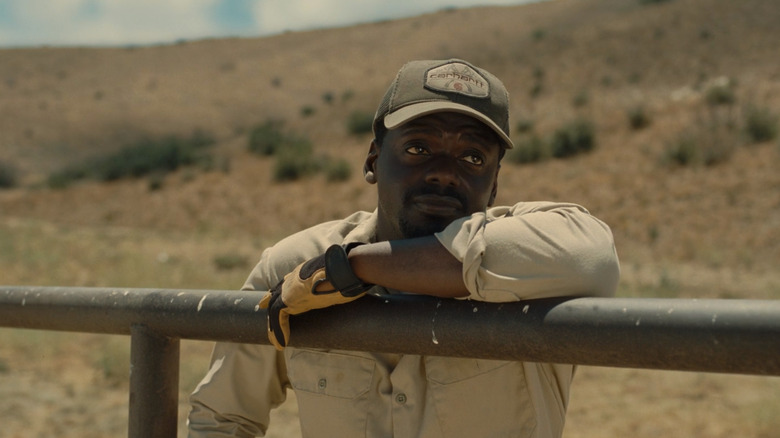 Universal Pictures
Jordan Peele's third film, "Nope," hit theaters in July of 2022 and is currently available to stream via Amazon Prime. It stars Daniel Kaluuya and Keke Palmer as OJ and Emerald Haywood, a brother and sister team who inherit their father's business training horses for film and television productions after his tragic death. 
Kaluuya and Palmer are joined in the cast by Steven Yeun as a former child actor who hosts a tourist-trap western show and Brandon Perea as a local electronics store employee who is hired to help the Haywoods solve their mystery. 
"Nope" is rated R by the MPAA. This is due in part to the language. Both OJ and Emerald use frequent profanity throughout the movie, and the words "s***" and "f***" are heard dozens of times each. There are also multiple uses of "b****," "hell," "ass," and "n****." 
OJ and Em drink alcohol on screen too, and at one point they discuss smoking pot together. Emerald is shown vaping on a few occasions, but it's not made clear if she is using tobacco or cannabis products; although, another character is clearly shown smoking a cannabis cigarette.
"Nope" also has lots of frightening and bloody moments; although, its goriest violence takes place off-screen. There is no nudity, however, or sexual content of any kind in "Nope." 
There are many scary and bloody scenes in Nope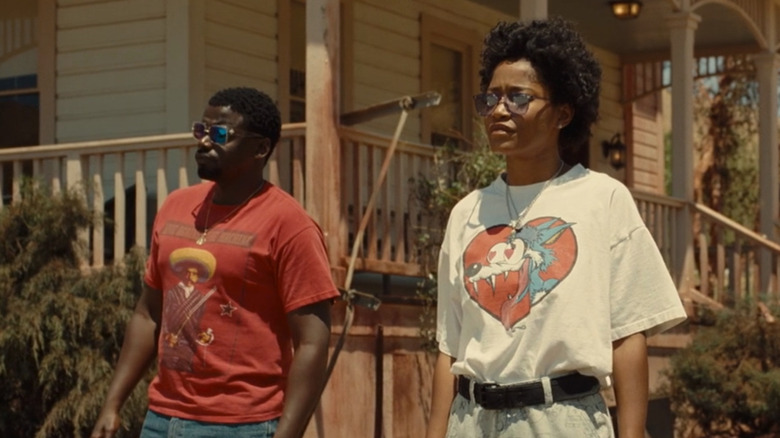 Universal Pictures
The threat in "Nope" comes from an unknown, alien entity hiding in a cloud above the Haywood Ranch. In the film's opening scene, Otis Haywood Sr. (Keith David) is killed when a coin falls from the sky and strikes his eye. A substantial amount of blood and his bare eye socket are clearly shown. 
In a later flashback, a chimpanzee attacks several actors on the set of a TV show. Although the most graphic parts of the attack are not depicted, the chimp is shown several times with its mouth and arms covered in blood, and sounds of the attack are heard for an extended period of time. Bodies are also shown lying on the floor during and after the attack. 
Later, one of the victims is seen with her partially reconstructed face barely hidden behind a veil. Shortly after seeing the victim, there is a massacre of a large number of western show patrons, which mostly occurs off-screen; although, screaming is heard and some blood is shown.
Blood also pours from the sky onto the Haywood house, and a severed horse's head falls through the windshield of OJ's truck. This makes it one of the more overt depictions of onscreen blood. While the bulk of the most violent occurrences in "Nope" happen out of sight, the combination of frightening events and persistent profanity means most parents will probably want to screen this film before watching it with children.