Fast X: The Meaning Behind Los Bandoleros
Contains spoilers for "Fast X."
If "Fast X" is your first experience with the mythology of the "Fast and Furious" universe, you better buckle your seatbelts. The 11th and purportedly partial-final installment of one of the longest-running film franchises of all time, "Fast X" digs into some of the more esoteric corners of its loud and convoluted lore to mixed effect.
It refuses to even so much as tap the brakes to explain jarring plot points such as why Dominic Toretto (Vin Diesel) has a child with someone other than Letty Ortiz (Michelle Rodriguez); how Han Lue (Sung Kang) and Gisele Yashar (Gal Gadot) have survived their respective car and plane crashes; or even how they got Dwayne Johnson to return to the franchise as Luke Hobbs after he referred to Diesel as a "candy ass" and called co-star Tyrese Gibson's album "the biggest piece of dog s***" he's ever heard.
Suffice it to say, this really isn't a film for casual fans of The Fast Saga, though even "Fast and Furious" superfans may find themselves confused by the weight afforded to Han and Dom's reflective slogan "Los Bandoleros for life." Aside from meaning "the bandits" in Spanish, "Los Bandoleros" is a reference to a 2009 short film written and directed by Diesel, and released ahead of the soft reboot "Fast and Furious."
Los Bandoleros is rumored to have brought Vin Diesel back to the franchise
Say what you will about the "Fast" franchise, but it pretty much pioneered the requel marketing technique — right down to the numberless title (you're welcome, "Scream" and "Halloween"). At the time, however, the concept of selling a sequel film as a fresh entry point to the story was a bit harder for some to wrap their heads around. As the legend goes, that included Diesel, who was purportedly worried about fans having enough narrative context from "Fast and Furious" alone.
It's a matter of public record that getting Diesel involved with the franchise again was a surprisingly difficult process to begin with. The actor was meant to co-star with the late Paul Walker in "2 Fast 2 Furious," but felt the sequel script didn't justify its existence plot-wise (an admittedly astute take from Diesel, who famously compared his sensibilities on the matter to those of Francis Ford Coppola). Diesel was essentially replaced by Gibson, who took on the role of Brian O'Connor's (Walker) criminal counterpart as demolition derby driver Roman Pearce. Producers were only able to get Diesel to return for a cameo in "Tokyo Drift" by gifting him the rights to the "Chronicles of Riddick" franchise.
Audience reaction to Diesel's return in "Tokyo Drift" was apparently so electric, the studio realized he was the key to keeping the franchise on the road. The legend goes that when Diesel expressed concerns that a pure requel wouldn't work, they gave him free rein to make a prelude that would support the story to his satisfaction.
Los Bandoleros provides welcome context for Fast and Furious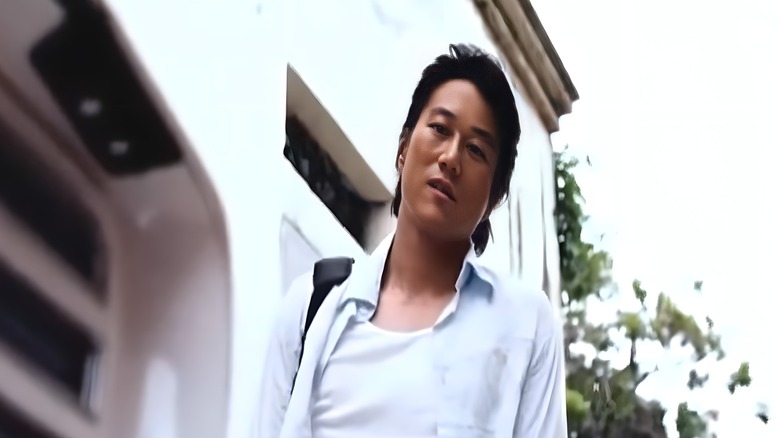 Universal Pictures
To Diesel's credit, the short film "Los Bandoleros" actually does address some fundamental questions that would otherwise go unanswered in "Fast and Furious" — when it comes to understanding his audience, Diesel's judgment is usually sound.
"Los Bandoleros" marks the first appearance of Tego Calderón and Don Omar as Tego Leo and Rico Santos, two brand new members of Dom's crew who play key roles in the film's opening oil truck heist and who go on to become recurring characters through the remainder of the franchise. The motivation behind the heist itself is also explained, giving the job a "Robin Hood" justification, without which the overall characterization of Dom's crew is significantly changed. "Los Bandoleros" also gives Dom and Letty's romance more time to grow before she's murdered during the first act of "Fast and Furious" and finally explains why Twinkie (Bow Wow) claims that Han and Dom were friends.
It's more than possible to follow "Fast and Furious" without seeing "Los Bandoleros," but the context provided both to the plot and the characters undeniably gives the story greater narrative support. As for its mention in "Fast X," it works as a nod to longtime fans — in spite of the bizarre, self-congratulatory nature of Han and Dom basically marveling in character at how ridiculously these movies have changed since 2009.