The Marvelous Mrs. Maisel S5 Episode 8 Hints That Midge's Future Is With Joel, Not Lenny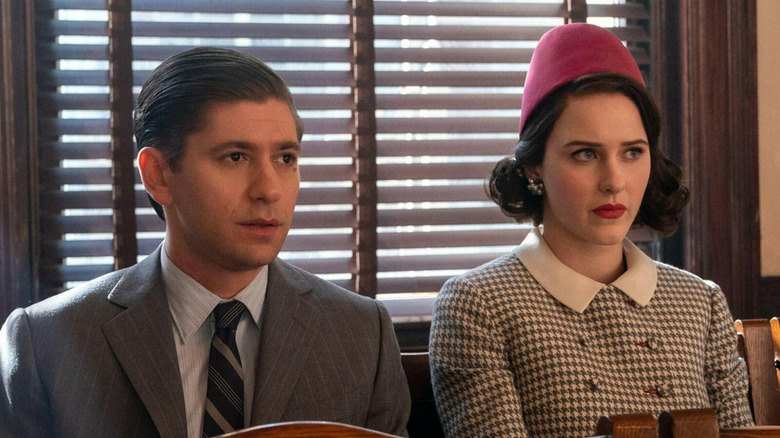 Prime Video
Contains spoilers for "The Marvelous Mrs. Maisel" Season 5, Episode 8 — "The Princess and the Plea"
The relationship between Midge Maisel (Rachel Brosnahan) and her ex-husband Joel (Michael Zegen) has never run smoothly. On one hand, his decision to leave her helps to launch her astronomically successful comedy career. In this penultimate episode, however, it's strongly hinted that the pull between Midge and Joel will somehow be resolved in the show's upcoming final episode.
While it seems like their relationship reigniting could be possible, Midge's former lover, Lenny Bruce (Luke Kirby), is a wild card. After spending seasons coaching and pushing Midge to be her best, the two have sex during Season 4, only to have their relationship flame out in an embarrassing on-stage incident that leaves Midge distraught. 
Lenny has barely factored into Midge's life during "The Marvelous Mrs. Maisel" Season 5, and in the show's "past" timeline, he's moved to California. He doesn't even appear at all in Season 5's copious time jumps, hinting that his untimely real-life fate may not be changed in the show's world. 
Joel, on the other hand, has come out smelling like a rose. In "The Princess and the Plea," his and Midge's connection is mainly discussed in flashbacks. Joel recalls the first time he brought Midge to meet his parents, and his dad Moishe (Kevin Pollak) tells him not to let Midge get away. Joel is also seen wistfully asking Midge if they can have coffee sometime together instead of centering their relationship entirely around their children. All of this indicates that the couple might end up back together sometime in the future.
During Season 5, Lenny has faded into the background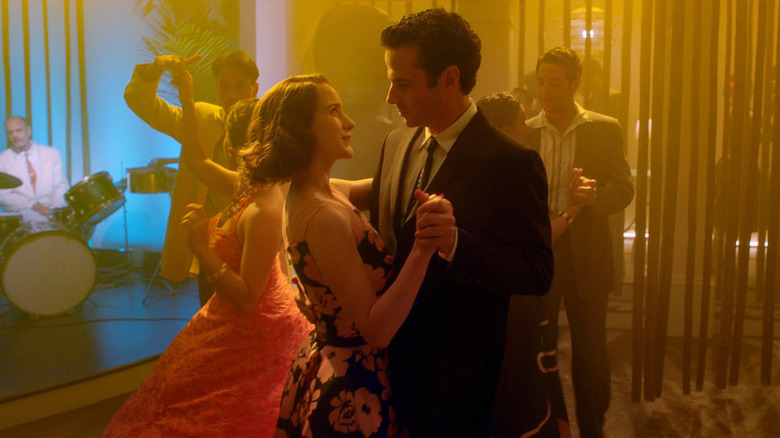 Prime Video
In general, Season 5's flash forwards indicate that not only are Midge and Joel still friends, but they also may be the only people they trust. Midge continues to visit him in prison even though she's wildly famous with several more famous ex-husbands. She's also visiting him to update him on the kids and to ensure that Joel stays popular in prison. In the future, Midge seems to have no current love interest either, let alone a manager she can trust now that Susie Myerson (Alex Borstein) has moved on in the wake of their fight.
Fans, however, have been frustrated by the program's lack of closure for Midge's relationship with Lenny. They've only seen him once so far during Season 5 when Midge bumps into him at the airport during Episode 1, "Go Forward." The former lovers face off as Lenny prepares to head to California, and it's awkward, since the last time Lenny saw Midge, he lambasted her during the Carnegie Hall gig. That results in Midge walking home in the middle of a snowstorm afterward, giving herself hypothermia. Hopefully they'll see each other one more time, but the jury remains out on them reconnecting as lovers.