Olivia Cooke's Time On Bates Motel Was Tough On Her Mental Health
While rehashing IPs has been a common trend as of late, Norman Bates' familiar story in "Bates Motel" is one of a kind. The series starts in what appears to be a prequel, only to take the viewer on a wild ride of twists and turns. More of a reimagining of "Psycho," the A&E show brings unexpected nuance to the titular Bates family, Norma (Vera Farmiga) and Norman (Freddie Highmore). 
The impressive cast includes Néstor Carbonell and Olivia Cooke, who turned 18 upon her casting. The young actor's portrayal of Emma Decody's journey with cystic fibrosis was only a hint of what she is capable of a decade later after taking on a major role in the disturbing "House of the Dragon." While this was the start of a varied career, Cooke's experience on "Bates Motel" also gave way to the darker side of the entertainment industry.
"I'm so grateful for that job, but I had a really tough time on it," Cooke said to The Guardian. "The way the schedule worked, we all had different storylines, so a lot of my time was spent in this apartment in Vancouver, working once every two weeks." 
Loneliness was one of the biggest difficulties for the actor on "Bates Motel," who spent five years on the series. Being under the legal drinking age made socializing difficult at the time and caused Cooke to long for the comforts of home.
House of the Dragon led to a homecoming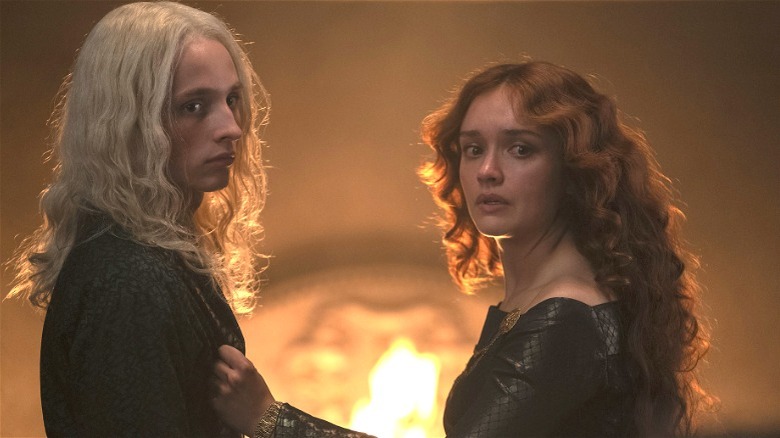 Ollie Upton/HBO
Five years is a long time to be away from the familiar, and it got to Olivia Cooke. She shared with The Guardian that working consistently for that time became isolating. 
"It was a big-old, lovely cocktail," Cooke said. "Being homesick and not knowing it, having not stopped since I was 18, being on my own for large swathes of time." Once the show concluded in 2017, her mental health continued on a gradual upturn. "What was really healing was moving back to London." 
The realities of the pandemic had a silver-lining when she returned home. Not only was she able to go home and reunite with friends, but she also nabbed one of the most sought-after roles of the season. Portraying Queen Alicent Hightower in "House of the Dragon" meant Cooke could work and continue to live in the city.
"It felt really alluring, just being in one place for a year," Cooke said, but it wasn't all easy. "House of the Dragon" was one of the most anticipated projects on the scene. HBO was hoping to recapture the magnitude of the massive "Game of Thrones," and "House of the Dragon" is another phenomenon like its predecessor, but Cooke still feels at ease. 
"I just feel so solid in who I am," Cooke said. "Weirdly, the older I get, the younger I feel."