Chicago Fire Season 11 Episode 21's Lure To The Eyeball Had Fans Gagging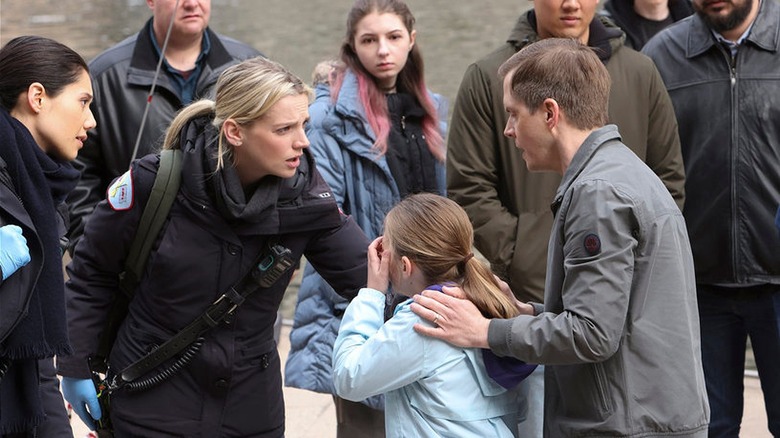 Adrian S Burrows Sr/NBC
Eye wounds can be a particularly intense experience, and not just for the victim. "Chicago Fire" often features realistic scenarios, and even though the most recent episode of "One Chicago" series contains many different plots, one particular moment towards the end seems to have really gotten under the skin of many audience members. Considering that the focus of Season 11, Episode 21 is predominately on Sylvie Brett (Kara Killmer) and her growing interest in adoption, one scene involving a fishhook shows that Sylvie definitely knows how to handle a panicked child.
This is because the medical emergency that Sylvie and Violet (Hanako Greensmith) are called to sees the first responders come face to face with Charlotte (Ava Ryan Barabasz), a young girl who has experienced the terror of having a rather intricate fishing lure caught in her eye. Even writing that statement is difficult, though Sylvie handles the situation in a calm and collected manner that not only reassures Charlotte, but Violet as well.
However, many fans of "Chicago Fire" struggled with this scene, despite Sylvie's best efforts, and they converged on Twitter to express their unease at the unsightly injury. Making light of the situation, @Folktoe joked, "She's not going fishing with Dad after Mom finds out he wasn't watching her."
Some fans turned away from watching this eye injury scene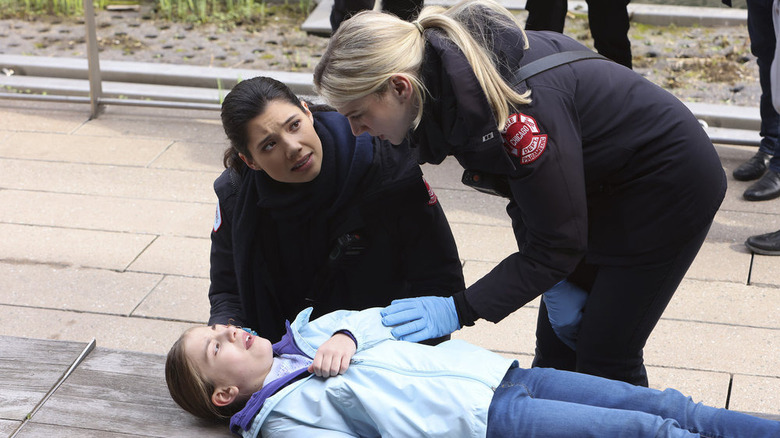 Adrian S Burrows Sr/NBC
@justwrite115 struggled with this moment in "Chicago Fire," and tweeted, "I'm wincing at home *for* Charlotte! Not the fishing hook in her eye!" @MeetUsatMollys had some issues with the previously mentioned eye injury as well, writing, "DID NOT NEED TO SEE THE HOOK IN THE EYE. NOPE. NO THANK YOU." @itshauteoutside took things a step further, posting an image of somebody washing their eyes out, and wrote that absolutely nobody needed to see Charlotte's injury. Even the official Twitter account of Wolf Entertainment, which creates "Chicago Fire," poked fun at the squeamishness of viewers, posting a close-up image of the makeup and prosthetics used to create the realistic injury. 
Many other fans had no qualms about letting their displeasure toward the scene be known, such as @VictoriaScicut4, who wrote that watching the scene made them physically sick. @Wiselatina626 also wasn't a fan of this medical emergency in "Chicago Fire," adding, "I literally cringed and couldn't watch. Memories of past hook encounters when I was a kid. Never in the eye though." 
Despite the fact that "Chicago Fire" has featured quite a few gnarly injuries over its eleven seasons, it seems like wounds involving the eyes are a bit too much for some.