Did Dwayne Johnson Use His WWE Roots To Pull A Fast One On Us?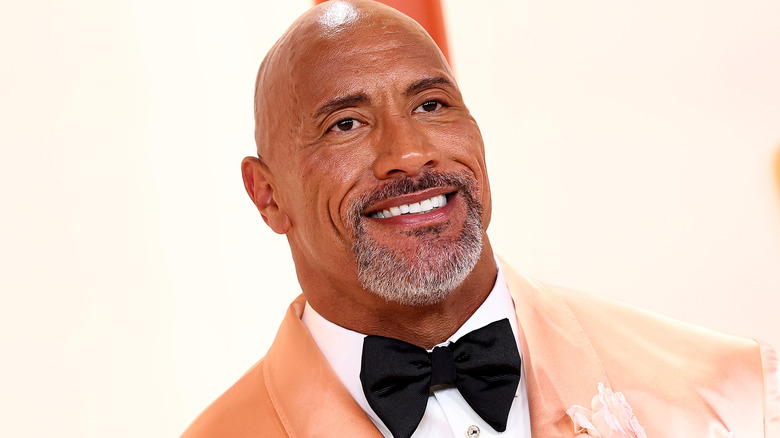 Arturo Holmes/Getty Images
This article contains spoilers for "Fast X."
Vin Diesel and Dwayne Johnson's feud was fascinating while it lasted. The "Fast & Furious" franchise stars spent the past few years taking subtle shots at each other, causing the internet to burst into flames, before ultimately burying the hatchet so that Johnson agreed to appear in the "Fast X" mid-credits scene. That said, was their beef actually legit, or were they fooling us the entire time?
Fans of WWE will probably tell you that this beef was an act (or a "work," as they call it in the wrestling business). After all, wrestling's central premise is to manufacture fake conflicts that make viewers suspend their disbelief enough to spend money on the product. Thanks to the internet, everyone knows that wrestling is a pre-determined pantomime; however, online culture has also inspired many wrestlers to concoct "real-life" drama that they can exploit on television later on. People love a good feud, and Johnson understands this notion better than most.
Prior to becoming one of the most successful actors on the planet, Dwayne "The Rock" Johnson was WWE's star attraction. As a wrestler, he took part in some legendary feuds that captivated millions and millions of fans around the world. Furthermore, as a sports entertainer, he was no stranger to tapping into "real-life" drama to drum up interest in WWE pay-per-views, as evidenced by a feud he had with another "Fast & Furious" star. In short, there are legitimate reasons to believe that Johnson's beef with Diesel was nothing more than a tactic lifted straight from the WWE playbook — a marketing stunt to promote Johnson's big comeback in "Fast X." We can't prove it, but Johnson's history speaks for itself.
Dwayne Johnson understands the power of drama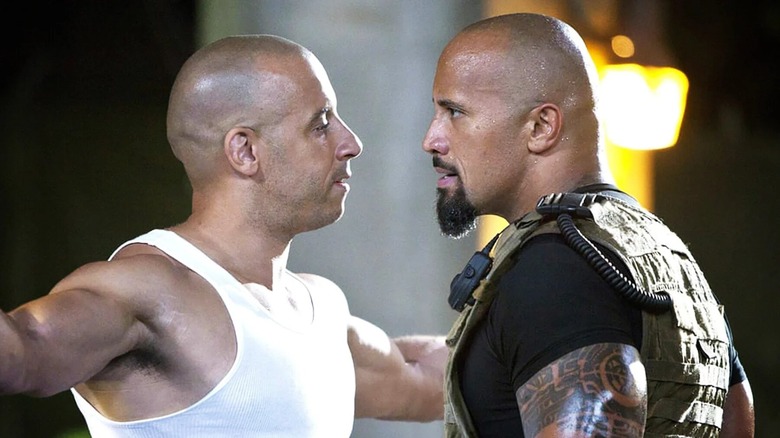 Dwayne Johnson and Vin Diesel's epic rivalry began on the set of "The Fate of the Furious." As documented by Huff Post, Johnson took to Instagram in 2016 and accused certain male co-stars of acting like unprofessional "candy a**es" who made his blood boil. He was talking about Diesel, as both actors and their colleagues have openly discussed their topsy-turvy relationship since then. The general consensus is that they're family, but they don't always see eye-to-eye.
Of course, Johnson has also given us reason to believe that their rivalry was an elaborate work. "I've been in the game a long time," he told The Los Angeles Times in 2016. "Would Universal [Pictures] have preferred that didn't happen? Sure, we talked about it. The irony is after that and as they do their tracking and all their analysis, the interest shot through the roof to a whole other level." 
Do you smell what The Rock and Diesel were cookin'?
This is Wrestling 101: establish a conflict, generate engagement, and create an avenue for a potential payoff down the line. Between acting, producing, and launching the XFL, Johnson's schedule has been insane since "Fate of the Furious." Maybe he had to step away from the "Fast" saga to focus on other projects, so he and Big Vin decided to concoct a fake feud to create hype for their inevitable reunion down the line. This theory isn't far-fetched either, as Johnson has been in a similar situation before.
Remember when Dwayne Johnson butted heads with John Cena?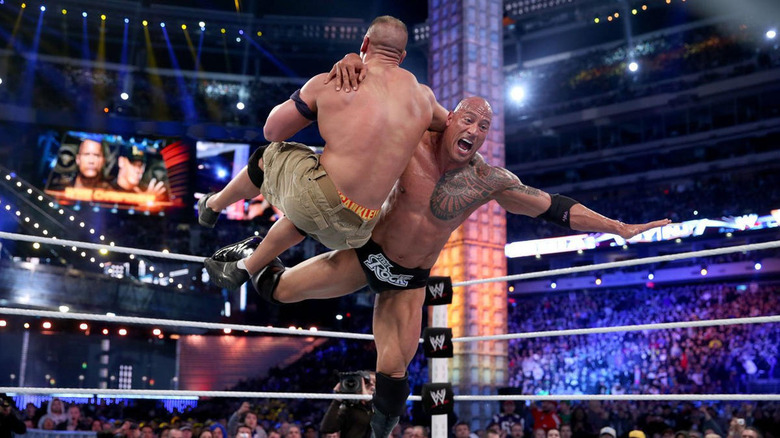 WWE
Dwayne Johnson dusted off his wrestling gear to face John Cena in two dream matches at WWE WrestleMania 28 and 29, respectively. However, their storyline was also a masterclass in toeing a fine line between reality and fiction.
In the months leading up to their showdown at WrestleMania 28, the wrestling legends seemingly broke character on WWE television and in numerous interviews. Cena accused Johnson of writing his wrestling promos on his wrists, and the "Tooth Fairy" star wasn't happy about it. Cena also claimed that Johnson used WWE as a stepping stone to Hollywood, ultimately painting him as being self-serving at the expense of the sports entertainment promotion.
Johnson, meanwhile, stated that they really didn't get along behind the scenes. "Our rivalry was real," he told "Jimmy Kimmel Live" afterward. "We had real issues with each other." Maybe they didn't get along at first, but a real pro wrestler will always try to keep the illusion alive, to some degree. Plus, Johnson knows that real drama sells more tickets than the made-up kind.
Johnson and Cena's matches broke WWE pay-per-view records, proving that genuine beef — or the illusion of it — can reap big rewards. Johnson knows how to create marketable conflicts, and bringing these sensibilities to Hollywood isn't a bad idea from a promotional perspective. Johnson and Cena are besties these days, so it's clear that the former doesn't hold grudges. He just knows how to use them to create intrigue around the brands he's part of. And realistically, that's probably exactly what he did with his alleged Vin Diesel beef.