Every Blue Bloods Season, Ranked Worst To Best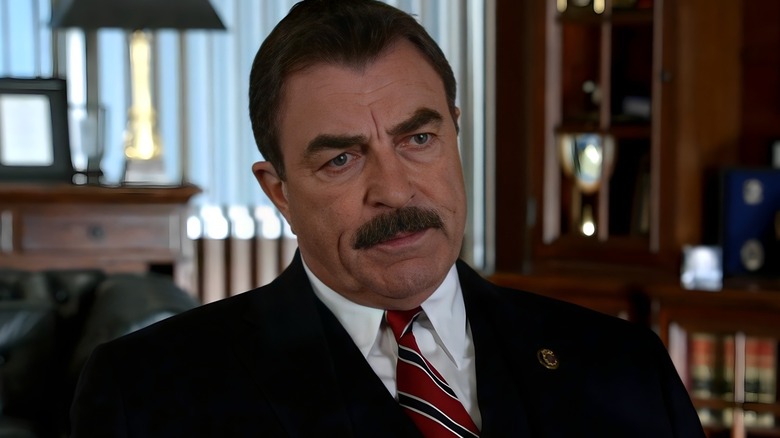 CBS
Debuting in 2010 and led by former "Magnum P.I." star Tom Selleck, "Blue Bloods" is one of TV's longest running police procedurals. But rather than focus on one dedicated lawman or even a single squad, the series revolves around the personal and professional lives of an entire police family. Selleck stars as police commissioner Frank Reagan, the top cop in New York City, whose children are all members of the law enforcement community in some capacity or another.
There's Frank's eldest son Danny (Donnie Wahlberg), a complicated detective who's always running afoul of the rules; younger son Jamie (Will Estes), an investigating officer who becomes romantically involved with his partner Eddie (Vanessa Ray); and daughter Erin (Bridget Moynahan), a prominent New York lawyer and prosecutor who works cases out of the district attorney's office. An ambitious and powerful family, they work hard to keep the city streets safe while often bumping up against corruption, all while trying not to let their work interfere with their family problems.
From Season 1 to its latest, "Blue Bloods" has delivered some of the best cop drama on the dial. It started out strong and got better as it went on. But how does each season rank, and which one is the best of the best? Read on to find out.
Season 11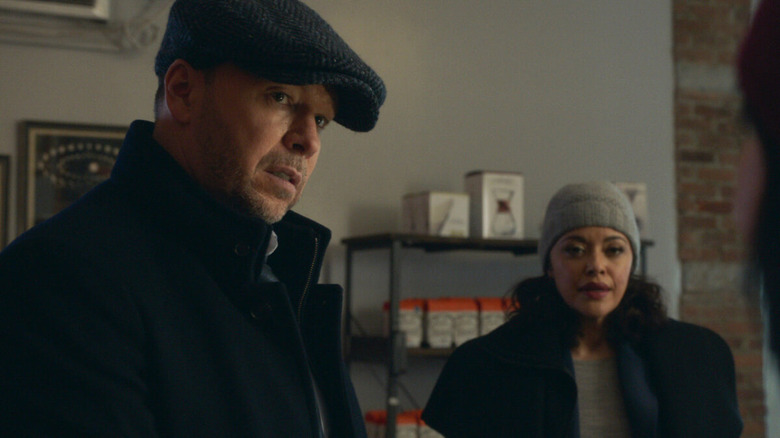 CBS
We don't want to spoil too much of the rest of this list, but it's fair to say that Season 11 saw the biggest drop in quality, falling far from the excellence that is Season 10. In Season 11, actress Sami Gayle gets cut back from series regular to guest star following discovery of a new Reagan family member at the end of the previous year. His name is Joe Hill, a police officer himself, and the son of the late Joseph Reagan, but he's unaware that he's a member of the most prominent family in the NYPD. When the truth is revealed, he must face many more questions about his father and new family, which also causes problems for him on the force.
Eddie faces questions too, following her role in stopping an active shooter when an eyewitness claims that the incident is part of an elaborate cover-up. Meanwhile, Maria faces her own problematic situation when a man she'd been involved with turns up dead on her lawn; suddenly, she looks like a jilted lover who exacted some revenge.
A two-part season finale, however, reveals that new family member Joe Hill may not be the upstanding officer we've been led to believe, as an investigation by the ATF reveals his possible involvement in an illegal gun running operation. But his suspected criminal activity is the least of the Reagans' worries when they discover what's apparently his body after a car explosion.
Season 13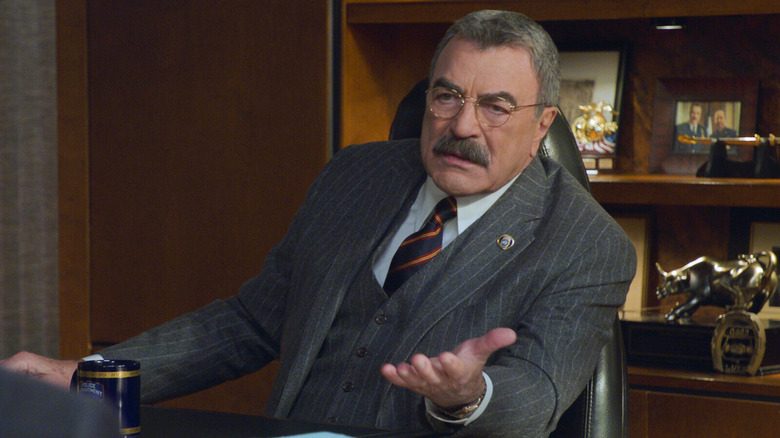 CBS
Picking up right where Season 12 leaves off, Erin begins her campaign for district attorney and begins amassing support. This means making deals with important people, and one of them happens to be a close friend of her ex-husband, creating a complicated situation for her. To make matters worse, her own father refuses to endorse her candidacy, but she soon learns that his intention is only to help her by allowing her the ability to disconnect from his office.
While Erin is gunning for a new job, though, Jamie is assigned to become the NYPD's new intelligence officer. This makes his job even more uncomfortable than it already is as the son of police commissioner and a member of a prominent and influential family. Meanwhile, an ex-partner of Eddie's pops up to make shocking accusations against two fellow cops who mishandled a case involving a child with autism. That's not the last old friend to cause problems for her, though — a few episodes later, Eddie is visited by Tracy, whose restaurant business may be a cover for a drug smuggling ring.
Season 12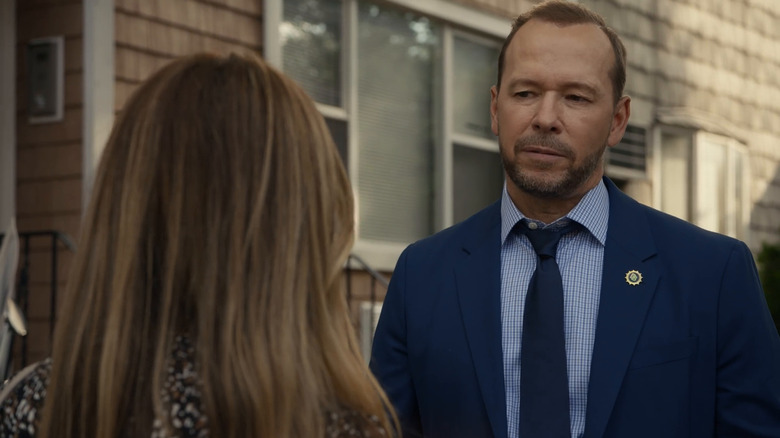 CBS
"Blue Bloods" Season 12 picks up with another appearance by Maggie Gibson, the psychic medium who uses otherworldly powers to help solve crimes that the cops can't figure out. Danny brings her in again to help investigate the murder of a little boy in a story that parallels Erin's reopening of a cold case in which she was the sole witness when she was just a young girl.
Elsewhere, in the episode "True Blue," tensions between the Reagans and the rest of the NYPD are inflamed when Jamie and Erin try to take down an underground establishment frequented by corrupt officers. Meanwhile, Frank takes it upon himself to try to mentor young Joe Hill, who has proven to be less than steady on the job. Later, in "Where We Stand," Frank faces backlash after a cop assigned as a school security officer gets into a fight with a student.
The family comes together at work to tackle a sex trafficking case in the season finale, "Silver Linings," when Danny and Maria's latest case intersects with Jamie's. With the help of new nephew Joe, the four partner up to track down the suspects. Finally, the season closes out with the announcement that Erin intends to run for district attorney.
Season 6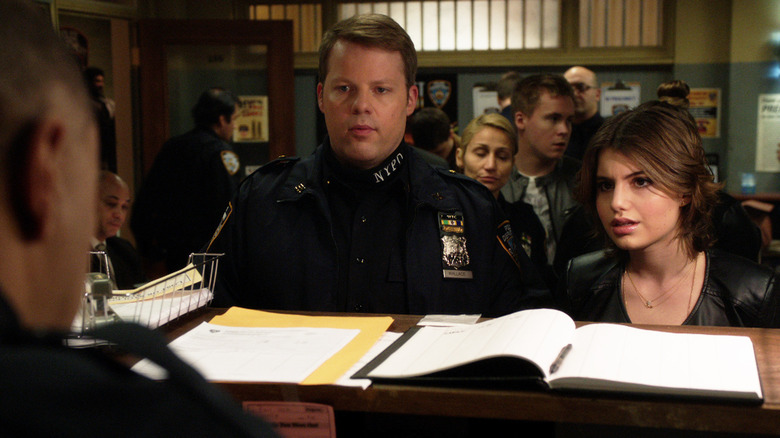 CBS
Season 6 aired in 2014, and its opening salvo is a thriller that puts the Reagans at the center of a terrorist plot in New York City. Determined to catch the perpetrators before they can strike with a deadly bombing, the family must coordinate their efforts to save the city from a major attack on the nation.
The season also deals with the fallout from Linda's shooting, which sees her grow paranoid over the danger her family faces every day as police in the line of fire. Meanwhile, Jamie and Eddie's relationship faces new problems, as Eddie finally comes to terms with her estranged criminal father who sits behind bars. Danny deals with troubling revelations about a former partner brought to light by his sister Erin during the course of an unfolding investigation.
Once again, Season 6 ends on a high note. The season finale tells an emotional story that puts the family in the middle of a public scandal following the shooting death of an innocent teen at the hands of an NYPD officer.
Season 7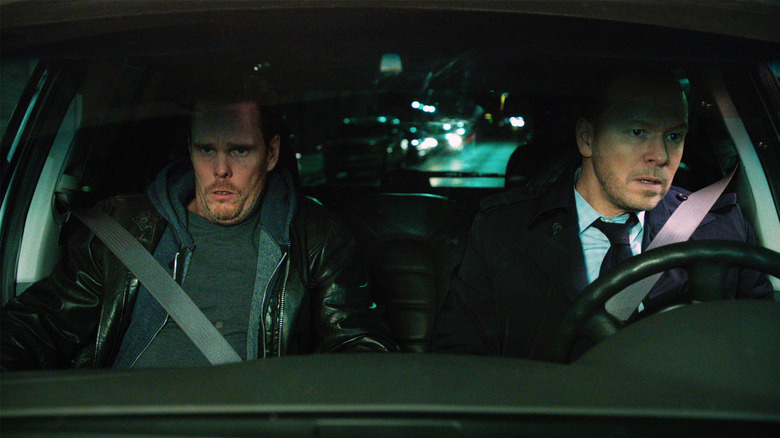 CBS
Season 7 continues Danny's troubles in the line of duty, as the questions about his conduct come to a head. In the season opener, "The Greater Good," he's formally investigated and charged with the shooting death of a serial killer who he claimed made a move on him during a confrontation. But even after he wriggles his way out of trouble with the district attorney, that's not the end of his problems. A handful of episodes later in "Guilt by Association," Erin goes behind his back to assign a new investigator to join him on a murder case.
On the other side of the family, Jamie's relationship with his partner Eddie moves beyond the job, which is a problem for Eddie and her boyfriend. Their quickly escalating relationship creates a dilemma for Erin, who's dealing with problems of her own in the courtroom in a case involving her ex-husband. 
The best story, though, takes place in "Unbearable Loss," an episode that forces Reverend Darnell Potter — a fierce critic of Frank — into an alliance with the Reagans after his son is brutally gunned down. The investigation isn't easy, with Frank and Darnell constantly at odds, but they ultimately work together to see justice done. The season closes out on "The Thin Blue Line" when a Mexican drug cartel arrives in the city and immediately puts a target on Danny.
Season 1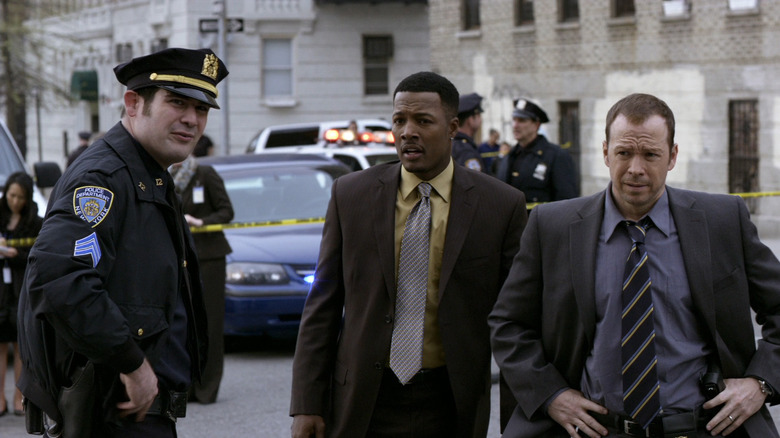 CBS
"Blue Bloods" came out of the gate strong, demonstrating with a superlative Season 1 that it was a different kind of cop drama. More than just a simple procedural, its heavy focus on family set it apart from the likes of "Law & Order" and "CSI," while its charismatic big-name cast drew audiences. 
In that first year, audiences meet the Reagan clan, who are still reeling from the death of their beloved son, brother, and father, Joe. He'd been working undercover for the FBI and was killed in the line of duty. Jamie decides to investigate the murder himself. As it turns out, Joe had been working on a case involving dirty cops and was killed to keep him from reporting on what he'd found. Once Jamie gets to the bottom of the case, it's up to the rest of the family to see those responsible face justice.
The season finale "The Blue Templar," where Jamie reveals the results of his investigation into Joe's murder, might be the high point of the year. An absolute stunner, it delivers gripping drama and jaw-dropping moments as the season-long story comes to a close.
Season 2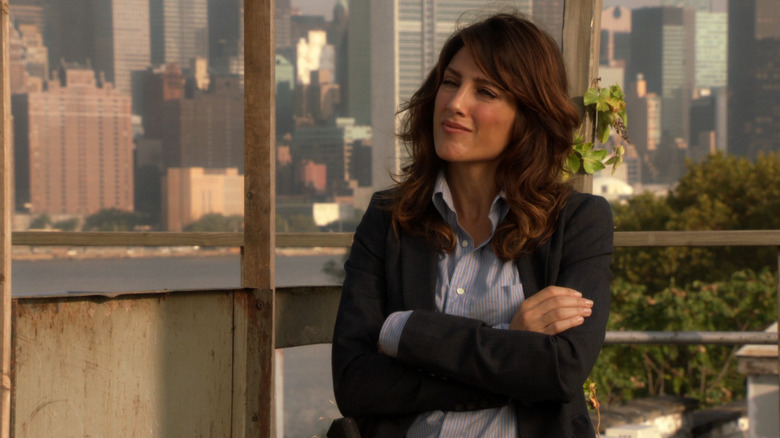 CBS
Season 2 of "Blue Bloods" has no problems with a sophomore slump, and actually improves on what the series builds built in its inaugural year. There are some changes, though, with Amy Carlson and Sami Gayle receiving more prominent roles as Linda Reagan and Nicky Reagan, respectively. The big ongoing story this year sees Jamie taking on a new identity as Jimmy Riordan in an effort to go undercover and infiltrate a dangerous organized crime family. Surrounded by the enemy, Jamie is led into some unexpected trouble when a suspect is killed and he comes out looking responsible.
Jamie isn't the only one working with mobsters, though, and in the standout episode "Moonlighting" it's Danny who finds himself getting help from an ex-mafia man in a cold case that has popped up on his radar again. At the same time, Erin works with an informant and inadvertently puts them in danger. But she is also offered a prestigious position, which forces her to make a potentially life-altering choice that could change the family forever. The season ends on the superb installment "Mother's Day" in which Commissioner Reagan deals with a deadly biological chemical threat while family tensions reach a boiling point.
Season 3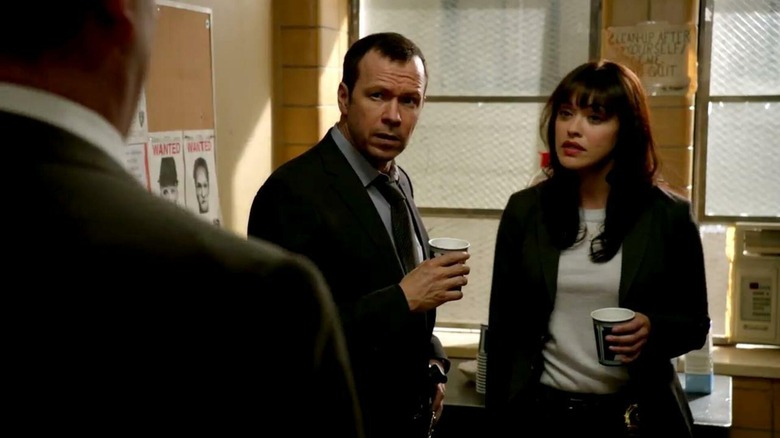 CBS
Continuing up the rankings, "Blue Bloods" keeps on proving itself by getting better and better, with Season 3 topping the first two years. Once again, some cast members are shuffled this season, as Jennifer Esposito was given a starring role after being a recurring guest star, though a dispute with the studio over her medical needs led to her only appearing in a handful of episodes. Season 3 also saw the debut of Marisa Ramirez as Detective Maria Baez in a recurring role, while Megan Ketch stepped in for a string of episodes as Detective Kate Lansing.
Several key storylines thread themselves through Season 3, including Jamie's complicated relationship with his new partner Vinny, and the pressure to reduce high levels of crime in the city, creating additional stress for the Reagan family. Meanwhile, Erin is dealing with fallout from her new role as deputy trial bureau chief, while Danny and his wife struggle with family problems, compounded by a devastating injury to their son. The year ends on another shocker, as an officer is killed in the line of duty, which threatens to unravel the family. In the season finale, Commissioner Reagan must make a tough call as the public begins to lose faith in the force.
Season 4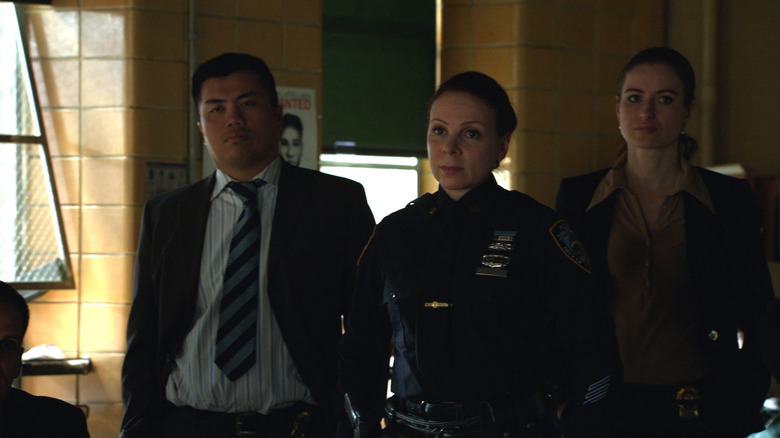 CBS
"Blue Bloods" just kept improving during its first few years, as Season 4 is a notch above the three years before it, with Vanessa Ray joining the ensemble cast as officer Eddie Janko. The incoming cop steps in after the death of Jamie's former partner, leaving big shoes to fill; as a result, it's a bit of an uncomfortable relationship at first. Bebe Neuwirth ("Cheers") also begins a recurring role this season as NYPD Inspector-General Kelly Peterson, who goes after Jamie's new partner for giving false statements.
 On the other end, though, is Danny and Maria, whose partnership is growing stronger, making one of the finest investigative duos the series has seen. All the while, Erin's new role begins creating problems for the Reagan family, and she must decide which side she's really on. 
The best entries in Season 4 are the season finale and Episode 3, "To Protect and Serve." In the latter, a dangerous criminal takes Erin hostage and it's up to Danny to rescue her as he serves as an impromptu negotiator. In the finale, Danny defies orders and investigates the apparent suicide of a confidential informant who'd been working for the district attorney's office.
Season 9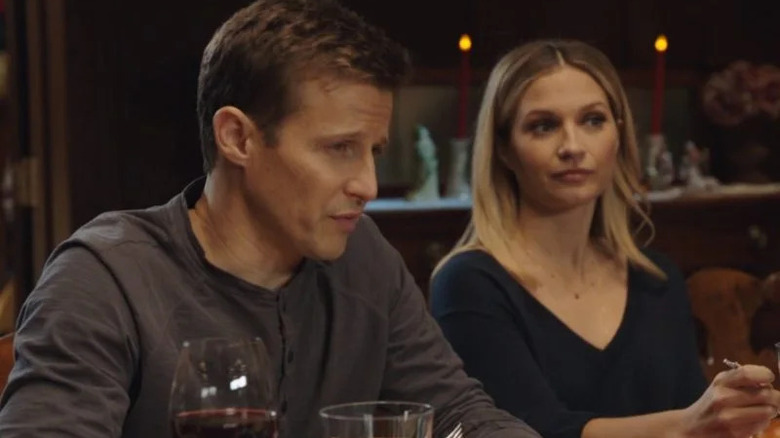 CBS
"Blue Bloods" continues the drama in Season 9 with Danny still dealing with being a single father. His discovery that the Mexican drug cartel may have been involved in the fire that destroyed his home and may even be responsible for his wife's death leads him on a path of revenge, which threatens to compromise his integrity once again. 
In the courtroom, Erin receives a promotion, and she's put into an uncomfortable position when the rest of the family begins coming to her for help via her new role in the district attorney's office. But the tables turn when she needs help to get a new city-wide initiative enacted and wants her father's support, leading to some complex wheeling and dealing. In the season finale, Frank butts heads with his superiors while questions arise about Eddie on the verge of her nuptials to Jamie, in the long-awaited wedding episode.
Big screen star Danny Trejo guest stars in "Common Enemies" as a cold-blooded killer who may be the man who whacked Danny's wife. All the problems, both on the job and at the dinner table, are swept aside when the big day comes, which gives Frank an emotional moment as he delivers the toast at reception.
Season 8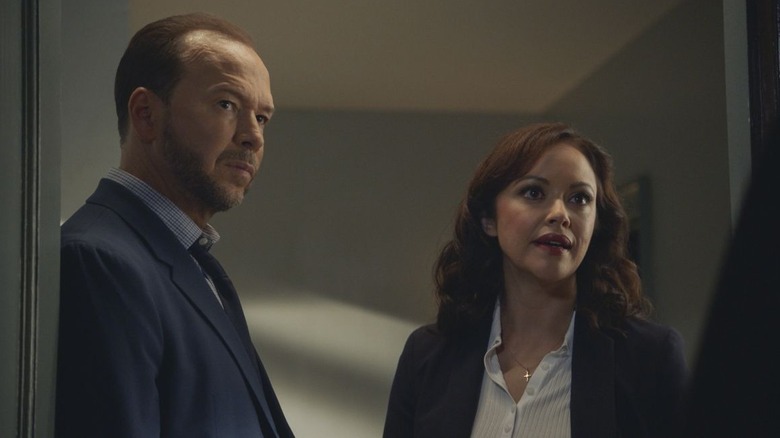 CBS
It might not quite be the best season of "Blue Bloods," but Season 8 definitely begins with one of the most shocking openers in the history of the series — the death of a Reagan family member, which leaves Danny considering retirement. To get his mind off the tragedy, Erin asks for his help in a fresh case with personal stakes — an assault on her ex-husband that may have a connection to an old case.
Danny's problems only get worse when he discovers that the Mexican cartel might have burned down his house. While he deals with multiple converging crises, his brother Jamie's relationship with Eddie continues to blossom. However, the romance only creates problems on the job, and it might just break up their professional partnership. Meanwhile, Frank grapples with the pressures of his job, and the family chooses to try to make life easier for him. But Frank has an unexpected supporter in the form of City Council Speaker Regina Thomas (special guest star Whoopi Goldberg of "Star Trek: The Next Generation" fame).
The season ends with a powerful story of justice in "My Aim is True," a tale inspired by the true story of the Central Park Five as the Reagans must confront their own bias. The ending also sees Eddie officially join the Reagan family, as she and Jamie announce their engagement.
Season 5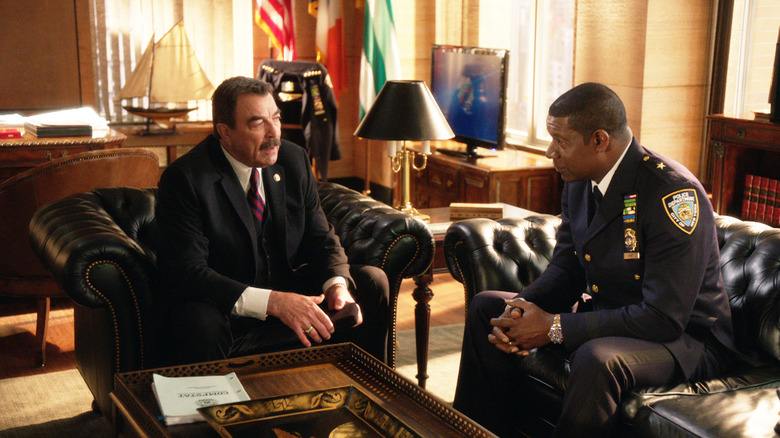 CBS
Fans of "Blue Bloods" might have found it hard to believe the show could keep improving after Season 4, but somehow, Season 5 outshined expectations. In fact, the season was only narrowly edged out in our rankings for the top spot. The fifth year sees Vanessa Ray promoted from guest star to series regular as Jamie's partner, officer Eddie Janko.
The year starts off with a bang, in an explosive season premiere titled "Partners" that sees Maria Baez seriously injured in the line of duty and Danny on the warpath against the powerful drug cartel responsible. But that's not Danny's only problem; in "Forgive and Forget" he finds himself at odds with Erin, whose job sees her once again on opposite sides with the family. This time it's in the case of a shooting suspect who Danny wants locked up. On opposing sides, the conflict threatens their relationship and their jobs.
In the biggest season-ender yet, "Blue Bloods" concludes with an epic two-part story that begins with an attack on the NYPD deputy chief and his wife. In the aftermath, one of the Reagan's own is shot, and the family must work hard not to let their anger get the better of them while trying to collar the suspect.
Season 10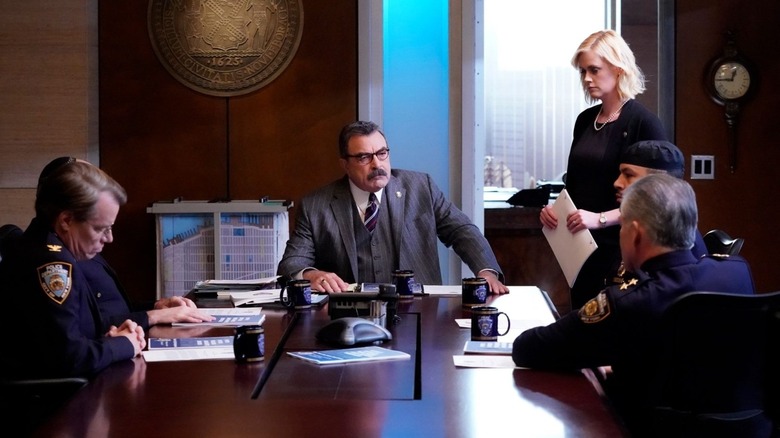 CBS
Topping out our list of best seasons of "Blue Bloods" is its 10th year, which begins with "The Real Deal." The season premiere story sees the return of recurring guest star Callie Thorne as Maggie Gibson, the purported psychic who'd previously helped solve a case in the season before. This time, she's assisting in a murder investigation that gets her taken prisoner by the killer, and it's up to Danny and Maria to save her. The opening episode also sees the Reagans invite a visitor to a family dinner who isn't a member of the family, which upsets more than one member of the clan. 
Outside of their police work, Jamie and Eddie begin to settle into married life and must face an uncertain future together as they go hunting for a home and begin considering the prospect of raising children together. At work, though, Eddie proves herself a Reagan by standing up for the family when a cop with an axe to grind comes gunning for them. More problems within the NYPD surface and Frank must decide how to deal with a cop who is guilty of police brutality, while Jamie uncovers a different but equally troubling situation involving his fellow officers, too.
The season finale, "Family Secrets," however, delivers the biggest gut punch with the revelation of a previously unknown member of the family who appears to be connected to the lost Reagan son, Joe.