The Creator Trailer: Rogue One's Gareth Edwards Throws John David Washington Into An AI Dystopia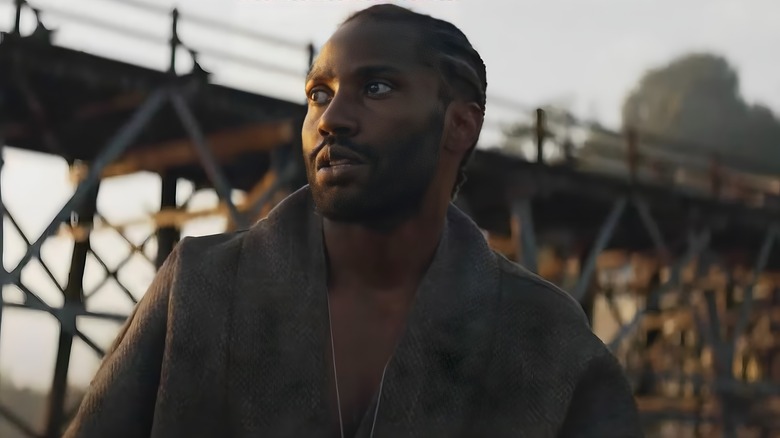 20th Century Fox/YouTube
John David Washington has made some seriously bold choices during his fledgling acting career, from Christopher Nolan's mind-bending time heist "Tenet" to Spike Lee's transgressive adaptation of a true story "BlacKkKlansman" to David O'Russell's ambitious "Amsterdam." Now, he's set to appear in a new project by "Rogue One" director Gareth Edwards, titled "The Creator."
The first teaser trailer for this new movie promises a story that's at once emotionally resonant and packed with action, as Washington's character finds himself in a seemingly dystopian version of Los Angeles after artificial intelligence attacks the city with a nuclear bomb. From there, the war between humans and AI begins in earnest, but when Washington discovers the person at the heart of the AI's community, he feels obligated to protect them. See, the "person" apparently pulling the strings is nothing but a small, artificially intelligent child, and Washington's character ends up at odds with his fellow humans when he's reluctant to take the child down.
The Creator looks like an epic story of humans versus machines
Edwards is no stranger to enormous epics; beyond "Rogue One," he also helmed the 2014 version of "Godzilla" and first broke onto the scene with his independent film "Monsters" in 2010. This trailer, despite only being the movie's first teaser, promises quite a lot, from the nuclear explosion to Washington's character seemingly joining the AI in their idyllic-looking community where they're forced to defend themselves as humans attack.
Alongside Washington, the movie stars "Eternals" lead Gemma Chan, Oscar winner Allison Janney, Ken Watanabe (who previously worked with Edwards in "Godzilla"), British staple Ralph Ineson, and musician Sturgill Simpson. (Watanabe and Simpson replaced Benedict Wong and Danny McBride, respectively, due to scheduling issues). Packed with heart-racing action and anchored by a soulful central performance from Washington, "The Creator" looks like exactly the high-concept, well-written original summer blockbuster fans are looking for.
"The Creator" is scheduled for release on September 29, 2023.