The MCU's Elizabeth Olsen Wants Wanda To Move Beyond Her Grief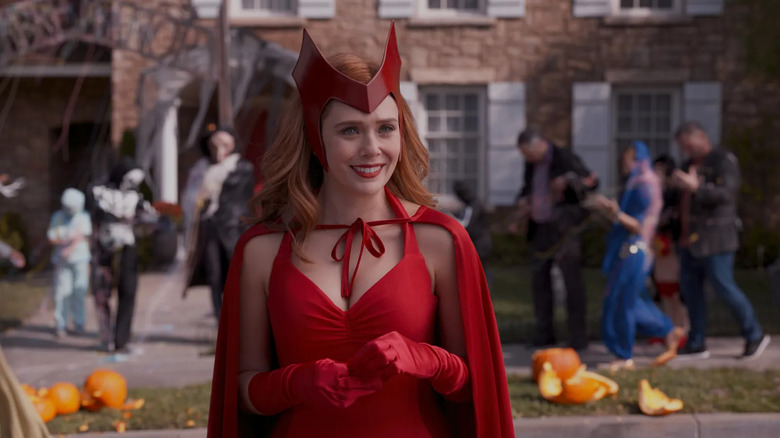 Disney+
While her Marvel Comics counterpart shares similar emotional trauma, MCU's Wanda Maximoff (Elizabeth Olsen) has repeatedly been put through the wringer. Her story is centered around tragedy, and it's about time the MCU moved on from it. Even Elizabeth Olsen thinks so. 
During an interview with Bazaar, the "Love & Death" actress revealed she has no regrets about her time as Wanda in the MCU. "If the whole thing were to collapse today, I would feel proud of what we've built, and I think we entertained the fans," she said. As for her future in the MCU? Olsen knows that fans want to see some of Wanda's biggest comic-book storylines come to life, with "Children's Crusade" and "House of M" topping most lists. 
"But I don't really know what that means for the character," she said, stating that adapting fan-favorite comic-book stories would give her a much-needed change of pace. "At least it's nice that it's not like every movie begins with her having a similar arc. Right now, her grief is becoming a bit repetitive [laughs], but I think that's just also because I lived in it for two years."
Elizabeth Olsen loves her break from the MCU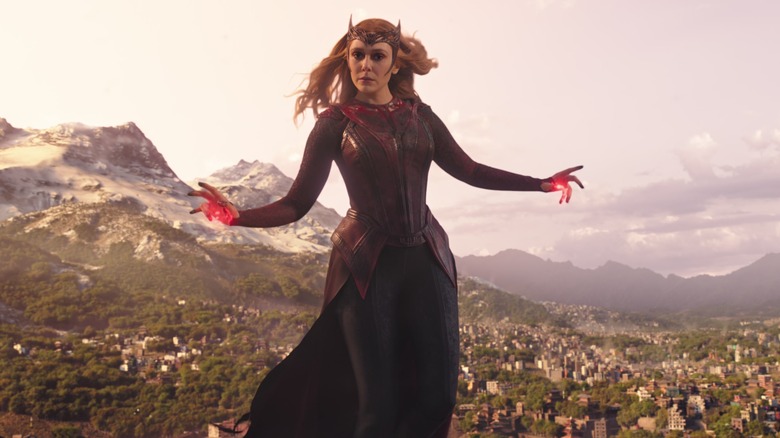 Disney+
Although the MCU lets actors build their characters through numerous appearances over many years, getting burnt out is easy for superhero stars. While everyone's scrambling to know when Elizabeth Olsen's Wanda Maximoff will return to the MCU, the actress isn't too worried, enjoying her break from her superhero duties.
"Do I miss it? I don't miss it," she told Variety. "I just did two years straight of it. I think the break's been good for me. I need to build other characters. It's important for me. I'm grateful for this show ["Love & Death"] because it came at a great time – after playing Wanda for two years straight, and then I had to talk about it for another year. So it's nice having something else to focus on and highlight."
During the interview, Olsen clarified one of her previous statements that made it seem like she would be returning in "Agatha: Coven of Chaos." She reiterated that, as of now, her future is still up in the air, with no future appearances set. She does hope to return one day, but for now, she's very content to work on different projects and explore other characters. However, she's sure the day will eventually come when she gets the phone call from Marvel Studios, and she'll be ready to explore Scarlet Witch's future then.