Chicago Med: Colin Donnell Pranked Nick Gehlfuss During The Marathon Episode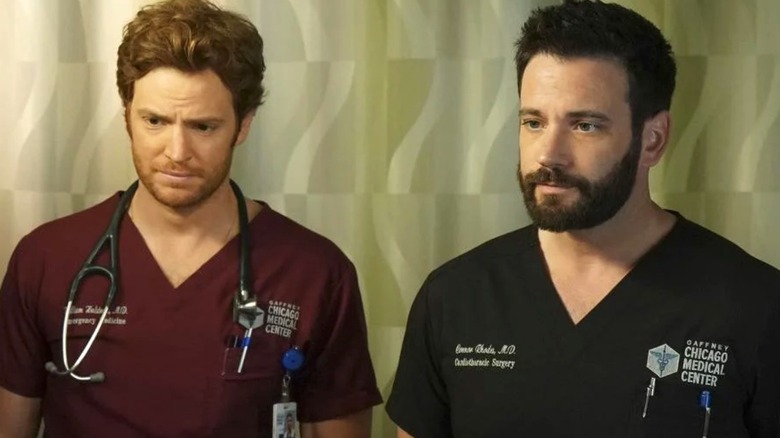 NBC
"Chicago Med" has been on the air for a while, and during its run, the cast has grown pretty close. As they've portrayed the skilled medical professionals at the Gaffney Chicago Medical Center, they've built a behind-the-scenes camaraderie that makes working on the show a breeze. This bond has also paved the way for some fun shenanigans that help make the long filming days go by. Just ask Dr. Will Halstead actor Nick Gehlfuss, who was once pranked pretty good by Dr. Connor Rhodes actor Colin Donnell while working on an episode.
This story goes back to Season 2's "Extreme Measures," where Dr. Halstead and Dr. Nina Shore (Patti Murin, the real-life wife of Donnell) participate in a marathon. To display the closeness of Halstead and Shore, Gehlfuss decided to playfully bump into Murin as they ran. This presented Donnell with the perfect opportunity for a prank. "He jumped out of the bushes and screamed 'Don't you dare touch her!' And we're on screen and there's people watching and it was hilarious," Gehlfuss recalled in an interview with Behind the Velvet Rope.
Sadly, Donnell's "Chicago Med" pranking disappeared from the set some time ago. He departed the show at the start of Season 5, but he hasn't ruled out returning for one major reason.
Donnell would return to Chicago Med because he loves the people working on it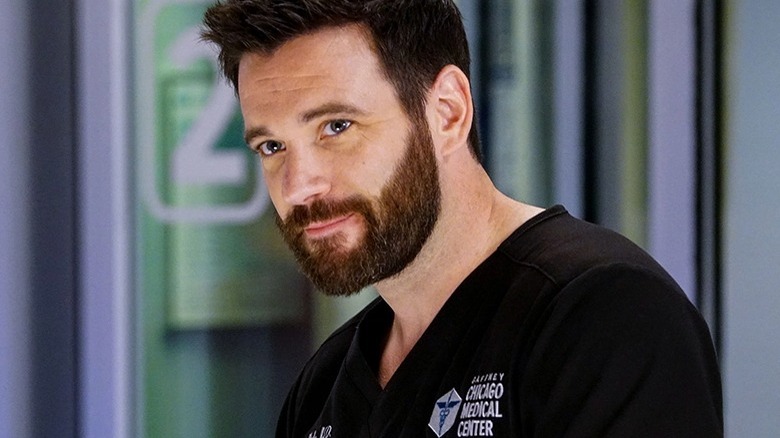 NBC
Colin Donnell's final performance as Dr. Rhodes took place in the Season 5 episode "Never Going Back to Normal," which sees him depart the Gaffney Chicago Medical Center to start a new life following the death of his father. Thus, Dr. Rhodes is still out there and is more than capable of returning to the "Chicago Med" spotlight. Naturally, the big hang-up would be Donnell's willingness to do so, but he's made it clear that he'd give the show another go if the opportunity arose. After all, he loves the people he worked on the show with.
During a chat with TVLine, Donnell said, "I loved my time on 'Chicago Med,' and I loved [showrunners Andrew Schneider and Diane Frolov]. I loved our crew so much, the cast was so wonderful, and I know they've had a lot of comings and goings since I've left myself. But yeah, why ever close a door?" He added that he adores the entire "Chicago" franchise and the city in Illinois itself as well, so it would be a no-brainer to slip back into the role of Dr. Rhodes under the right circumstances.
It remains to be seen if Colin Donnell's Dr. Rhodes will return to "Chicago Med," but hopefully, he does down the line. Not only so we can see what he's been up to since his departure but so Nick Gehlfuss can get him back for that prank from all those years ago.