GOTG 3: James Gunn Never Imagined A Full-On Romance Between Peter Quill & Nebula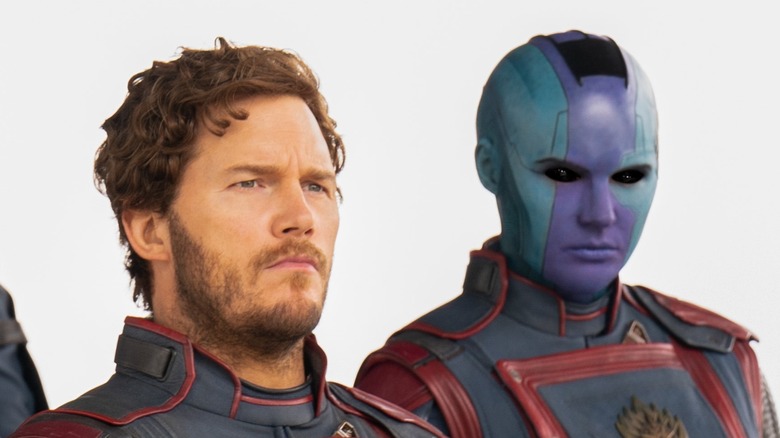 Marvel Studios/Disney
For anyone who has seen the blockbuster Marvel Cinematic Universe hit "Guardians of the Galaxy: Vol. 3," one of the key storylines in the film is the quandary Star-Lord, aka Peter Quill (Chris Pratt), faces when his love and fellow Guardian Gamora (Zoe Saldaña) comes back into his life.
Quill finds out that Gamora — who was sacrificed by her father, Thanos (Josh Brolin), in "Avengers: Infinity War" — was brought back to life in "Avengers: Endgame." His euphoria is short-lived, though, since he discovers that this iteration of Gamora is actually a version of his love before she even met the Guardians, and thus has no recollection of their past romantic ties. Since Gamora — who is Nebula's sister — appears happy with her life as part of the Ravagers, the chance of her and Quill finding that spark again seems gone for good. With the dousing of their flame, though, the door for a romantic relationship between Quill and Nebula appears to open in both of their minds.
In a recent interview with the New York Times, Gunn admitted that there was something special going on between Quill and Nebula but stopped short of saying it was meant to blossom into a complete romance: "I never thought about fully going there, but do I think that Nebula, emotionally, is sort of that mean schoolgirl who's not going to show her feelings to anybody," Gunn said.
Karen Gillan picked up on the crush Gamora has on Peter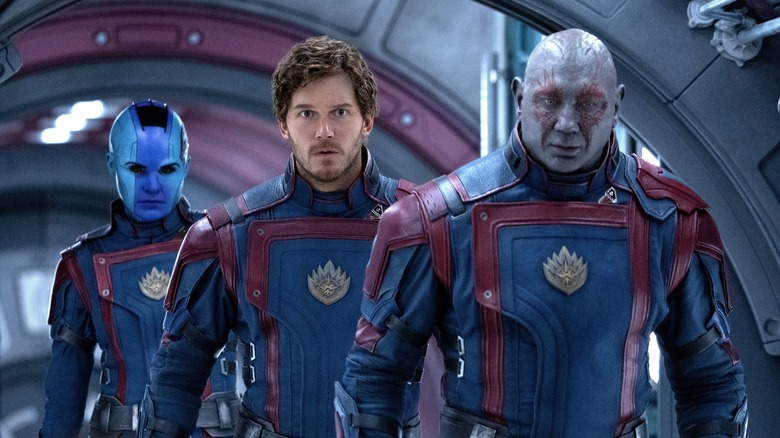 Marvel Studios/Disney
Confirming that the potential for a romance between Peter Quill and Nebula wasn't something that audiences were just imagining, James Gunn told the New York Times that Karen Gillan, who plays Nebula, definitely sensed that something was developing between her "Guardians" character and Peter.
"Karen thinks that Nebula has a little bit of a crush on Quill that she doesn't quite know how to put together, and it makes sense because as we come to them in 'Vol. 3,' we realize that they are the two leaders of the Guardians," Gunn told the New York Times. "I think it's very normal in any close friendship to have some sort of occasional romantic or crush-like feelings."
Whether those feelings between Quill and Nebula will develop any further in the future is anybody's guess, since Gunn's iteration of the "Guardians of the Galaxy" comes to an end with "Vol. 3" and several characters going their separate ways. Since anything is possible in the superhero universe, however, maybe there's still a chance for a storybook romance between Quill and Nebula, or at the very least, a comic book one.
"Guardians of the Galaxy: Vol. 3" is currently playing in theaters.