Why Mari From ¡Qué Viva México! Looks So Familiar
Family is often one of the greatest comforts a person can know, but then again, that isn't always the case. If you need any proof, just look at the brand new Netflix movie from Luis Estrada, "¡Qué Viva México!" As a comedy, audiences watch Pancho Reyes (Alfonso Herrera) and his family summoned to a will reading after the passing of his grandfather. However, upon their arrival, Pancho and his wife Mari (Ana de la Reguera) soon find themselves inheritors of a fortune, which causes Pancho's family to beg and plead for any sort of assistance.
Luckily, Pancho has Mari with him and instructions to be wary of the rest of his family. "¡Qué Viva México!" quickly escalates from there, and the humor and satire never let up as Pancho and Mari get a first-hand dose of politics, interpersonal issues with Pancho's family, and learning to navigate the pratfalls of wealth in an impoverished area. 
Speaking with Glamour, Reguera was asked what she has learned from her experience on "¡Qué Viva México!," and she replied, "A lot of teaching. Working with Luis Estrada is learning every day. I hadn't done a political satire, so being able to adapt to the tone and the great actors that participated was a great challenge, I learned that if I can do it well here I can do it anywhere." 
Unsurprisingly, Reguera has had quite a career thus far. If she looks familiar, it's because she has appeared in many popular movies and television shows spanning all sorts of genres.
Reguera played a nun in Nacho Libre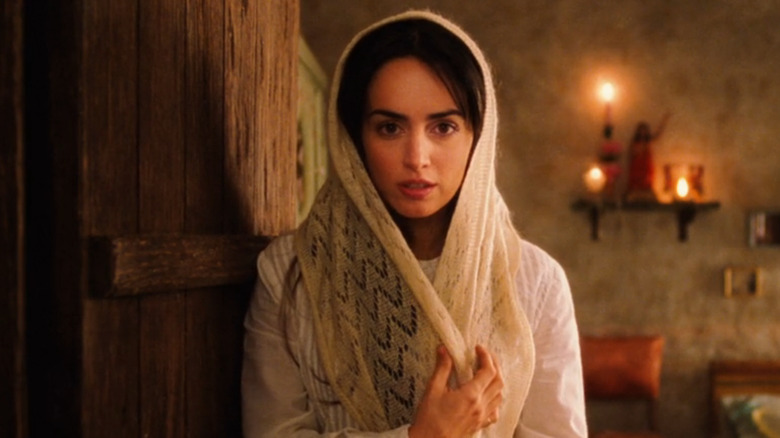 Paramount Pictures
Ana de la Reguera has garnered an impressive array of acting credits, including beginning her career with many Spanish language roles. Her first role, the 1996 television show "Azul," is a telenovela about the Mexico City Aquarium. From there Reguera continued to pop up in other Spanish roles like "Desencuentro," "Mujer, casos de la vida real," and "Luciana y Nicolás." However, her first major work that English-speaking audiences will recognize Reguera from is the 2006 comedy film "Nacho Libre." This movie follows hopeful luchador Ignacio (Jack Black), a cook at a Mexican monastery, who dreams of becoming successful in order to support local orphans.
Unfortunately, Ignacio is generally forbidden from engaging in professional wrestling, which forces him to obfuscate his actions throughout much of the movie. Luckily, Ignacio eventually earns the respect and love of Sister Encarnación (Reguera), and she is instrumental in providing the spark Ignacio needs to win. Sister Encarnación acts as a teacher for the same orphans that Ignacio is attempting to aid, so the two have very much in common when it comes to life goals and motivations. 
In an interview with People in 2021, Reguera explained that she looked back at her time in "Nacho Libre" fondly. She added, "It was the most chill, cool, fun, organized production. But you know what I remember the most, actually? That gives me a lot of nostalgia because it's also been 15 years and that shows how much the world has changed."
Reguera is a target of Kenny Powers' affection in Eastbound & Down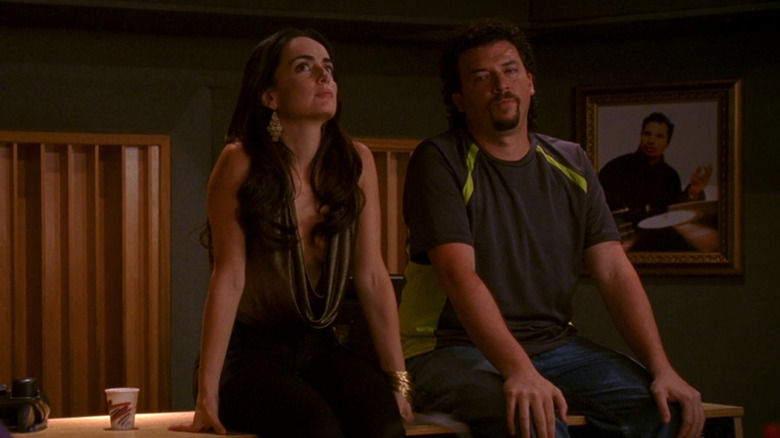 HBO
Audiences might also recognize Ana de la Reguera from the popular HBO comedy series, "Eastbound & Down," which definitely shows that Reguera has a penchant for humorous endeavors. Appearing in Season 2, Reguera lends her talents as Vida, a potential love interest for Kenny Powers (Danny McBride). The first season of "Eastbound & Down" is all about Kenny making a series of poor decisions, and these actions eventually result in him ending up in Mexico. In typical Kenny fashion though, his ego often outstrips his talent for baseball, as well as his own ability to influence people and earn love. Vida is a singer at a local Mexican establishment, and Kenny becomes absolutely transfixed by her.
Attempting to court Vida, Kenny tries his very best, or at least what he perceives as his very best, in order to win her affection. Considering the nature of the show though, Kenny's efforts are usually total misfires, and by the end of Season 2, he is no longer particularly keen on Vida. They eventually part after some exceptionally hurtful words from Kenny after his fragile ego is wounded. 
During a red carpet interview with The TV JunkieDotNet, Reguera was asked about Kenny Powers' abrasive personality, and how the interviewer was amazed that Vida puts up with that for an entire season. Reguera laughingly explained, "I think Vida finds him interesting and different than everybody she has been with, so I think that works for her."
Reguera is a revolutionary in Narcos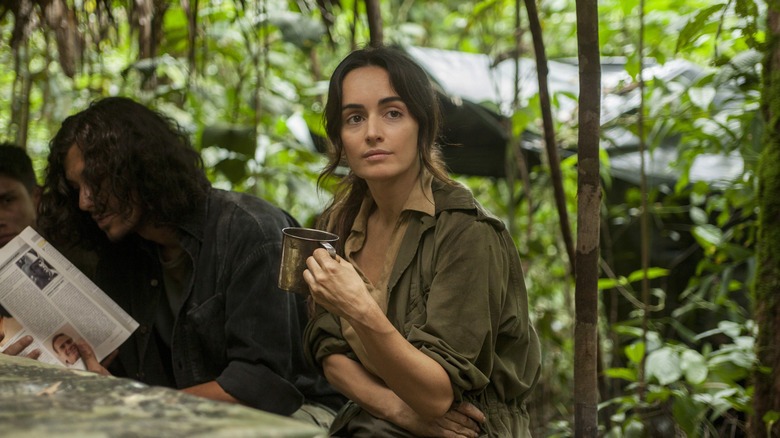 Daniel Daza/Netflix
Shifting gears from her comedic roots, Ana de la Reguera appeared in Season 2 of "Narcos" in 2015. The first two seasons of "Narcos" are a high-stakes drama from Netflix, loosely based on the real-life drug-lord, Pablo Escobar (Wagner Moura). As a vicious Colombian drug dealer, Escobar is able to control vast swathes of his own country through a combination of corruption, bribes, murder, and intimidation. These clandestine and illegal actions are fueled by Escobar's criminal enterprise, which is entirely propped up by the sale of the highly addictive cocaine. 
Making enemies inside and outside of his country, Escobar soon earns the ire of Elisa Álvarez (Ana de la Reguera), a student activist and revolutionary. Escobar executed many of Elisa's friends and her boyfriend, Alejandro Ayala (Rafael Cebrián), and publicly displayed their bodies as a message to all. Although Elisa is able to evade Escobar's wrath, she eventually begins to interact with agents of the CIA, who are attempting to prevent a communist revolution. Although Elisa is most definitely a communist guerrilla fighter, she provides the CIA with important information that may help stop Escobar. 
Unfortunately, Elisa winds up in the cross-hairs of the CIA for her connection to communism, though she is able to evade capture due to the efforts of some of her former allies.
Reguera is not to be trifled with in Power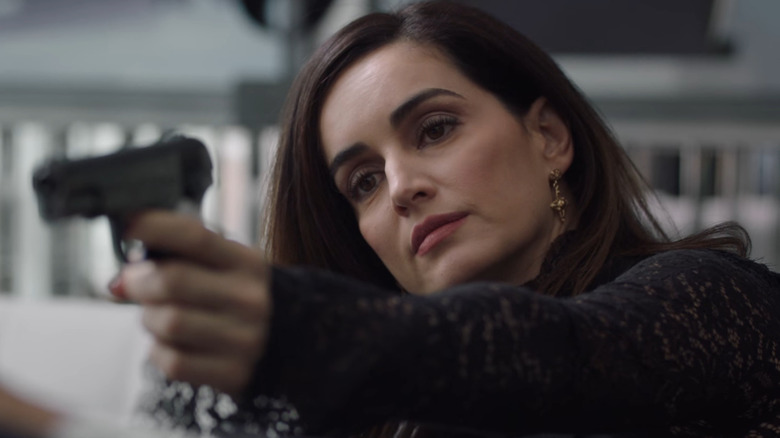 Starz
Being that close to Pablo Escobar's operation must have had an impact on Ana de la Reguera, because her next big role was in the hit television series, "Power" as Alicia Jimenez. Joking aside, Alicia appears in Seasons 4, 5, and 6, and she is one-half of the leadership of the Jimenez Cartel, which she shares with her brother Diego (Maurice Compte). Of the two, Alicia is far more ruthless, which is really saying something considering that one of the first scenes with Alicia and Diego sees them murder a husband and wife and kidnap their child. However, Diego tends to be much more impulsive, which often causes Alicia to flex her leadership skills in order to minimize the damage that Diego's actions cause. Still, when one is part of a ruthless and deadly drug-dealing organization, there aren't many people willing to stand up.
Speaking with the French website Lubie-en-Série, Reguera explained that she and the showrunner Courtney A. Kemp collaborated to come up with the character. She added, "So, I love playing this role because it's my first time playing someone who's a drug lord. As Latinos, we are always used to playing these types of roles but this was the first time I had one. So I said to myself this is the first time and maybe the last time that I want to play this kind of role. But, I liked that she really wanted a powerful woman and to be the leader of everyone on the show. So it's pretty cool and all these actors are great and it's fun."
Reguera writes and stars in Ana
Aside from her efforts in "¡Qué Viva México!," one of Ana de la Reguera's most recent endeavors is the television series. "Ana," which premiered in 2020. Reguera both stars in and writes this comedic TV show, which is all about Ana's efforts to rediscover herself. This is because Ana has been brought up in a life of luxury and wealth, which she determines has only held her back. Upon this epiphany, Ana learns what it takes to make her happy, while also attempting to find her greater place in the world.
In an interview with Hola, Reguera was asked about the most challenging and rewarding parts of working on a show that is loosely based on her own life experiences. Reguera explained that one of the most challenging aspects is just how many things she has to balance on a day-to-day basis, giving an example of having to figure out subtitles between interviews.
"So I'm constantly working on two or three things at the same time, but that has given me a lot of talent in life just to be able to manage and to be calm with the pressure that I feel in my life, especially in my job," Reguera said. "So it's been really good because now when I go to a job where I just have to act and just be there acting and not doing anything else, I'm like, 'This is so easy.' You know, like it's been a great school for me."
Reguera faces off with zombies in Army of the Dead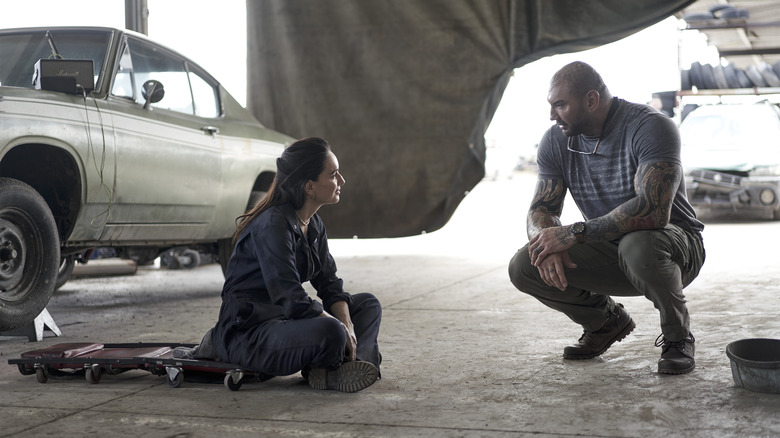 Clay Enos/Netflix
Ana de la Reguera next appeared in the 2021 Zack Snyder film, "Army of the Dead." Released on Netflix, "Army of the Dead" sees a world where zombies are very much real, but instead of just mindless hordes, a faction of zombies have managed to display some semblance of organization and intelligence. These smart zombies have taken residence in Las Vegas, which becomes permanently quarantined. However, Las Vegas is known for its casinos and riches, which makes it an important target for Scott Ward (Dave Bautista) and his fellow mercenaries, like Maria Cruz (Reguera).
Given a mission to retrieve $200 million from a dilapidated casino vault, Scott and his allies brave the zombie-infested city, only to come face to face with zombies known as "Alphas," which are intelligent and able to command the other undead. However, it is soon revealed that the money isn't exactly the true objective of the mission, which causes some serious issues for Scott and Maria. Aside from these intelligent zombies, the U.S. government decides to unleash a nuclear strike on the city, which gives the group a very small window in which to operate. 
As a former mechanic, Maria has learned to survive in this harsh world, which makes her one of the first people that Scott recruits for this mission. The character of Maria also appears in several "Army of the Dead" spinoffs, including, "Army of Dead: Viva Las Vengeance," "Army of Thieves," and "Army of the Dead: Lost Vegas." In each "Army of the Dead" franchise entry, Maria is either played or voiced by Reguera.
Reguera knows a thing or two about survival in The Forever Purge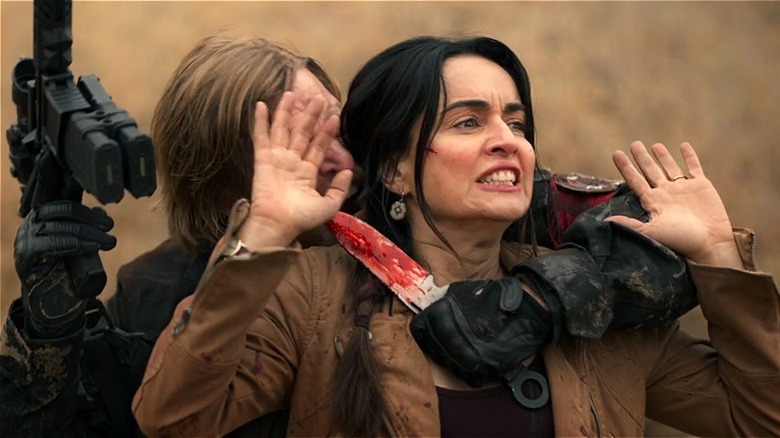 Universal Pictures
In the same year as "Army of the Dead," Ana de la Reguera also took part in a slightly different movie, though both deal with ravenous hordes of violent individuals. Appearing in "The Forever Purge" as Adela, the movie takes place in the world of "The Purge" franchise, which means that there is a day every year that all crimes — including murder — are legal. The justification for this is that allowing civilians to kill, rob, and engage in other hateful behavior for one day will act as some kind of vent for emotions. The hope is that this kind of violence will be cathartic and helpful as a whole, despite the tremendous loss of life and property.
"The Forever Purge" is the fifth entry in the series, and it focuses on Adela and her husband Juan (Tenoch Huerta). Having fled Mexico on account of the cartel-based violence, Adela and Juan work in Texas, though they soon find themselves wrapped up in much more than just the annual Purge Day events when a faction of "Purgers" form their own army and continue their murderous rampage long past the limits of the Purge. This causes the entire United States to fall into chaos and anarchy, and Adela and Juan are able to fight back because of their shared history in Mexico, which saw them fight back against the cartels. Though Adela and Juan become separated, and Adela is held hostage, the two are still able to survive and become reunited, while also saving some of their friends. 
Ultimately, Reguera has had an exceptionally varied career so far, and one can only hope that it will continue.