Arnold Schwarzenegger Says Jason Reitman Never Liked Triplets And Stopped It From Happening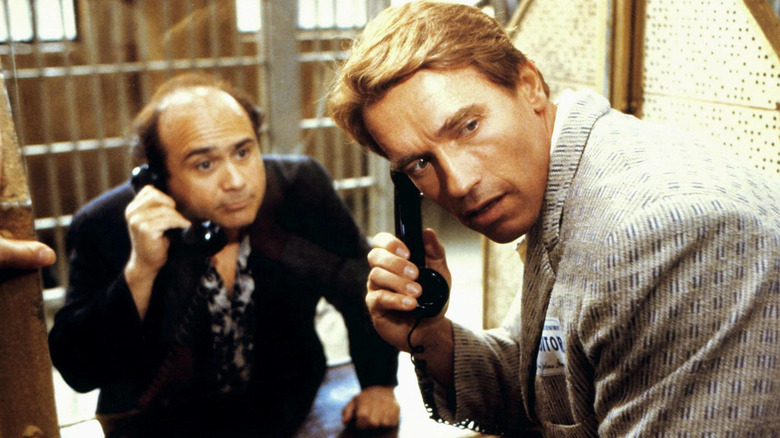 Universal Pictures
When you think of Arnold Schwarzenegger, you probably think of the "Terminator" films, or the time he was the governor of California, or "Total Recall," or "Predator," or "True Lies," or even the line "it's not a tumor!" from "Kindergarten Cop." You probably don't think about "Twins." As it turns out, the former bodybuilder thinks about "Twins" often enough that he's still holding a grudge over its canceled sequel.
In a profile in The Hollywood Reporter about his new Netflix series "FUBAR," Schwarzenegger got real about the sequel to "Twins" — which would have been called "Triplets" — and which would have been directed by Ivan Reitman, who helmed the first movie. The elder Reitman passed away in 2022 after the sequel was announced in 2021, and according to Schwarzenegger, Reitman's director son Jason squashed the project.
"Jason Reitman f**ked it up!" the actor told THR. "Jason Reitman literally stopped the project when his father died. His father wanted to do it really badly. I wanted to do it really badly. Danny DeVito wanted to do it really badly. We had the financing. When his father passed away, Jason says, 'I never liked the idea' and put a hold on it. I'm developing another movie with Danny; he's so much fun to work with and so talented." 
Twins was an unlikely success for Schwarzenegger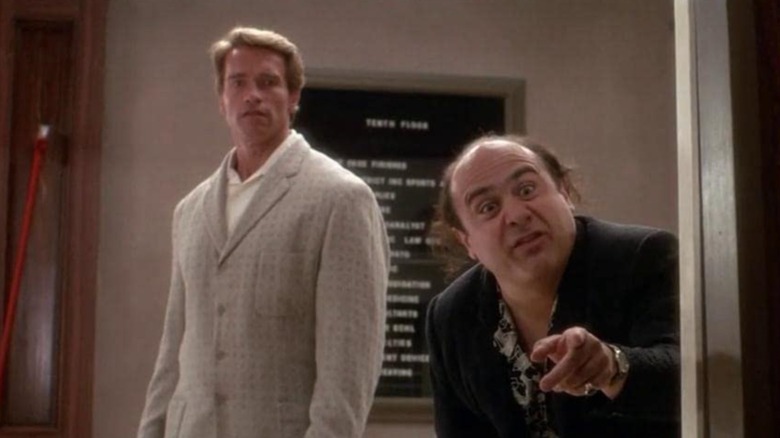 Universal Pictures
In case you haven't experienced "Twins" for yourself, the movie tells the story of Vincent (Danny DeVito) and Julius (Schwarzenegger), twins who are separated at birth and raised in entirely different situations. After their birth in 1953, they finally learn about each other on their 35th birthday in 1988 when Julius bails Vincent out of prison — though Vincent doesn't believe, at first, that the two could possibly be related. (Understandable.) After the two go on some ridiculous adventures together involving a prototype fuel injector worth $5 million, twin "telepathy," and the twins getting together with sisters Linda (Chloe Webb) and Marnie (Kelly Preston).
Despite decidedly mixed reviews from critics — the movie currently holds a 42% rating on Rotten Tomatoes — the film was an unbelievable box office success, earning $11 million in its opening weekend alone and eventually raking in $111,938,388 for its worldwide gross. Considering that the film turned out to be an unexpected cash cow, it does make sense that Schwarzenegger would want to return for a sequel, especially since he clearly wants to work with DeVito again.
In any case, Schwarzenegger did say he and DeVito plan to work together again. As for Jason Reitman, he should probably avoid Schwarzenegger until further notice.