TV Shows You Forgot Started Under A Different Title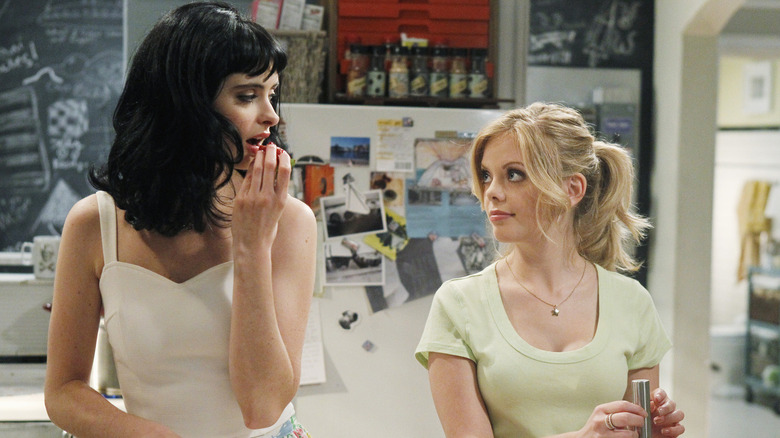 ABC
A television series needs a lot of different elements to work together in harmony for it to be a hit. From a strong cast to good writing and a solid time slot, it also needs a good name. The title a network chooses for their show can be the difference between success and failure. It needs to be both catchy to remain in the minds of audiences while giving viewers at home a good idea of what the show is going to be all about when they sit back to watch it.
Most often, TV shows will go with something short and sweet, something memorable like the name of its main character or a moniker that describes its story and setting, be it a comedy like "Frasier" or a drama like "True Detective." Sometimes though, a show's title just doesn't work, even if the show is good. TV execs will rethink its name to try to help it find its audience. Other times, a name proves a bit too awkward even with successful ratings, and the decision is made to chop it down to something easier on the ear.
In fact, while it's rare, there have been quite a few TV shows that have gone through name changes, many that you might not even realize. Is your favorite on our list? Read on to find out.
Seinfeld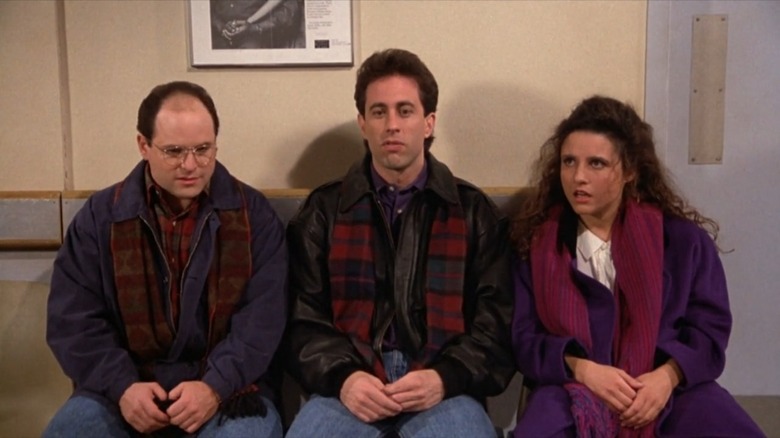 NBC
It's easy to understand why "Seinfeld" is seen today as one of the most popular, beloved, and influential shows of the past 50 years. Its unique brand of fast-paced, whip-smart comedy and stories that defied convention became a watershed moment in television that paved the way for countless others and shaped the landscape of sitcoms forever. Famously a "show about nothing," its episodes were anything but ordinary, often revolving around a single everyday moment like waiting for a seat at a restaurant or buying a loaf of bread.
But as quintessential a series as "Seinfeld" has become, it actually didn't start out that way. When it premiered in July of 1989, the show was without one of its main characters and even had a different title. Airing as "The Seinfeld Chronicles," it centered on New York comedian Jerry Seinfeld and his surly, quirky friend George Costanza, alongside a wacky neighbor. It still starred Jerry Seinfeld, Jason Alexander, and Michael Richards, but the neighbor played by Richards is named Kessler, not Kramer, and Julia Louis-Dreyfus as Elaine Benes was nowhere to be found. Instead, there's waitress Claire, played by Lee Garlington, and a woman named Laura (Pamela Brull), whose romantic interest Jerry hasn't been able to figure out.
Amazingly, the pilot episode was greeted famously by jeers from test audiences, and it was considered a losing effort. Thankfully, they'd make a few key changes, simplifying the title, and TV history was made.
The Hogan Family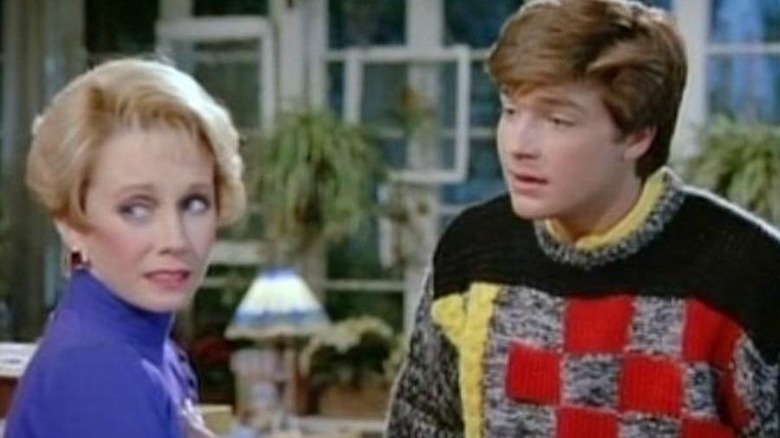 CBS
The 1980s might be the all-time best decade for family sitcoms, seeing the birth of classics like "Who's the Boss," "Growing Pains," "Family Ties," and "Full House." Smack dab in the middle of them was "The Hogan Family," led by Sandy Duncan as the aunt who arrives to take care of her nieces and nephews after the death of her sister. But that premise isn't actually how the series started, as it was originally titled "Valerie" and starred Valerie Harper in the title role as a wife and mother of three kids who struggles to keep her busy life in order.
After the show's second season, though, Harper was unceremoniously fired after a contract dispute, and her character was killed off-screen. In came Duncan as Aunt Sandy, and the show swapped out its title, running for another four successful years as "The Hogan Family," even switching networks in its final year. 
But while Harper was forced to watch her own show go on and find success without her, she would eventually get the last laugh after the studio sued her trying to claim she'd quit the series. Because Harper fought back, counter-sued the studio in defiance, and ultimately won out when she was awarded $1.4 million in lost wages in 1988.
Saturday Night Live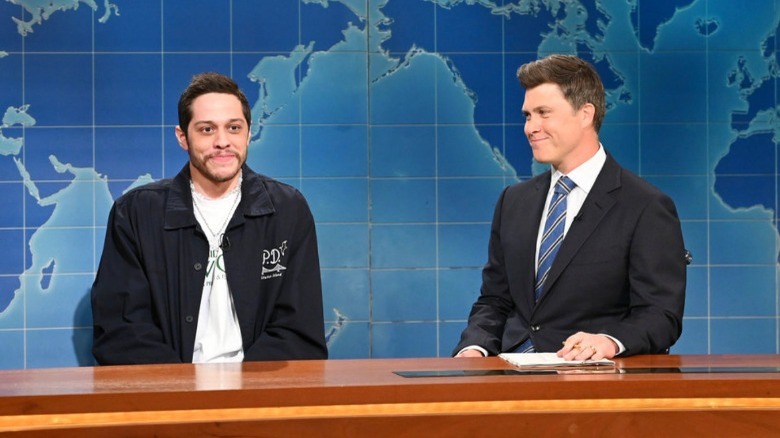 NBC
Arriving on the airwaves in 1975, "Saturday Night Live" became an instant classic. But "SNL" was hardly the first live sketch comedy show on television, as it had been a successful format for decades. What set it apart was its 'Not Ready for Prime Time Players,' a collection of raw talent that made it decidedly different than those that had come before. It was far edgier, too, even to the point of being controversial, breaking down comedy barriers that helped it become an American cultural staple while turning nearly its entire cast — including Chevy Chase, Bill Murray, Gilda Radner, and Dan Aykroyd — into stars. But when the series got its start, it actually went by a different name.
That's because ahead of its premiere, the studio learned that there was another show in development called "Saturday Night Live," a variety show hosted by renowned sports anchorman Howard Cosell. To avoid legal problems or confusion among the audience, the sketch comedy show launched as "NBC's Saturday Night," which is how it remained for its first season. Cosell's program didn't last, ending after just one year, so NBC renamed their late-night series "Saturday Night Live," which is how it's been known ever since. And it's a good thing too, because "SNL" rolls off the tongue a lot better than "NSN."
Ellen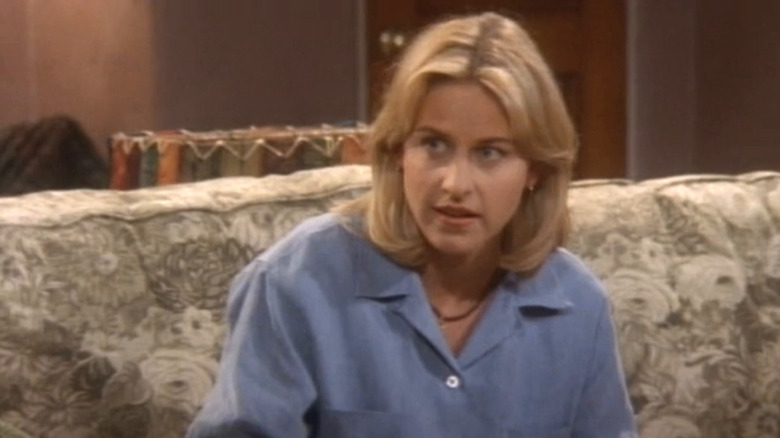 ABC
In the wake of the success of "Seinfeld," a number of similar sitcoms popped up, led by a popular comedian playing an offbeat character and focused on their often mundane, everyday exploits. While many failed to catch on, "Ellen" became one of the success stories to use that formula. Running for five seasons, the series starred stand-up comedian Ellen Degeneres and revolved around the life of a young woman named Ellen Morgan.
But just like "Seinfeld," the series started out very differently and was a lot less focused on just the title character and her humble life. Debuting in 1994 as "These Friends of Mine," the show was more of an ensemble. But unlike "Seinfeld," where the changes were made due to bad reviews, the retooling for this series was for a very different reason. It happened after Degeneres proved more popular among viewers than the network had expected, so the premise of the series was shifted to focus more on her character, and the title changed to "Ellen." 
Of course, "Ellen" later gained notoriety after Degeneres came out as a lesbian, which ultimately led to her character doing the same. In the much more conservative 1990s, this caused a wave of controversy, with several major advertisers refusing to support the series. Eventually, ratings fell and the show was canceled the following year.
Star Trek: Enterprise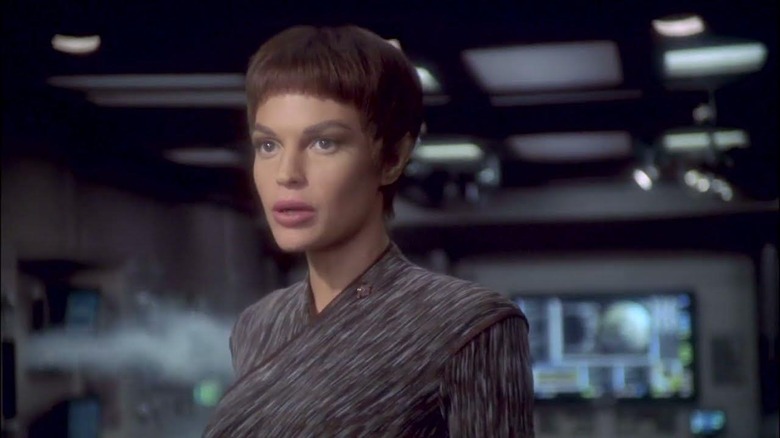 UPN
In the mid-1990s, the "Star Trek" franchise was one of the biggest names on TV, with two shows on the air: "Deep Space Nine" and "Voyager." Later in that decade though, ratings for both shows began to decline, and it felt like some franchise fatigue was setting in, so the decision was made to wait until both shows had ended before launching another. The result was "Star Trek: Enterprise," which aired its first episodes in the fall of 2001 and tried to shake up the status quo by being a prequel, set more than 100 years before Kirk and Spock, in the early days of mankind's space exploration.
What some may not remember, however, is that when the show first began, it did more than just change the setting, it also ditched the "Star Trek" in the title, perhaps trying to avoid the nerdy stigma of the brand name. It's hard to imagine a major franchise trying to distance itself from its own name, but that's exactly what "Star Trek" tried in 2001. Thus, for its first two seasons, the series was known simply as "Enterprise," and featured a pop song in the main title sequence, a far cry from the orchestral themes of prior "Trek" shows.
Unfortunately, these changes did little to attract a broader audience, and by Season 3, the show was officially retitled "Star Trek: Enterprise." With a new showrunner in Season 4, reviews improved, but it wasn't enough to save it, and the show was given the ax after its fourth season.
Mayberry R.F.D.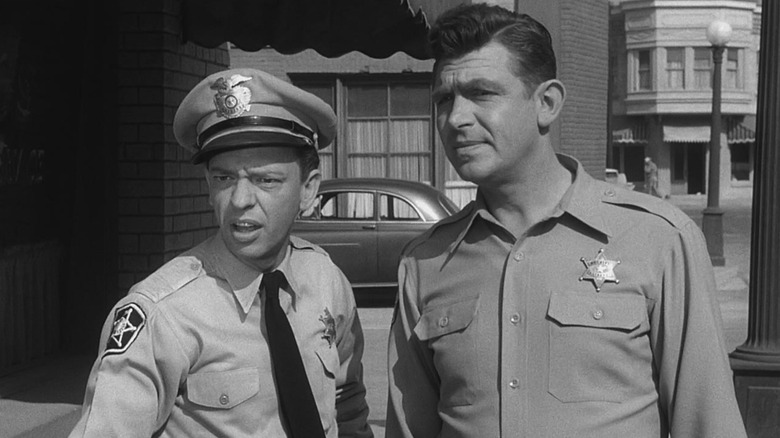 CBS
Hollywood legend Andy Griffith got his own show in 1960, a sitcom about a small-town sheriff named Andy Taylor. Future "Three's Company" star Don Knotts co-starred alongside him as Barney Fife, a bumbling, goofball debut while a young Ron Howard plays Taylor's son Opie. The series was a smash hit, one of the biggest shows of its era; A rating juggernaut right up there with the likes of "Bonanza" and "Bewitched" — not to mention its own spin-off "Gomer Pyle, USMC" — it ultimately ran for more than a decade, depending on how you look at it.
That's because following the exit of series star Andy Griffith after Season 8, the show got a new name. While the change is sometimes considered its own series, the fact that most of the supporting cast from the previous year returned, it's often thought of as a continuation of the same show, which became known as "Mayberry, R.F.D.," for the fictional town the series was set in, and this time centered on town councilman Sam Jones (Ken Berry) who'd been introduced as a recurring character in Season 8. George Lindsay, Paul Hartman, Arlene Golonka, Jack Dodson, Buddy Foster, and more reprised their previous roles too, though Knotts and Howard were noticeably absent. 
Though the series shift away from Andy Taylor could have killed the series, "Mayberry, R.F.D." lived on for another three seasons.
8 Simple Rules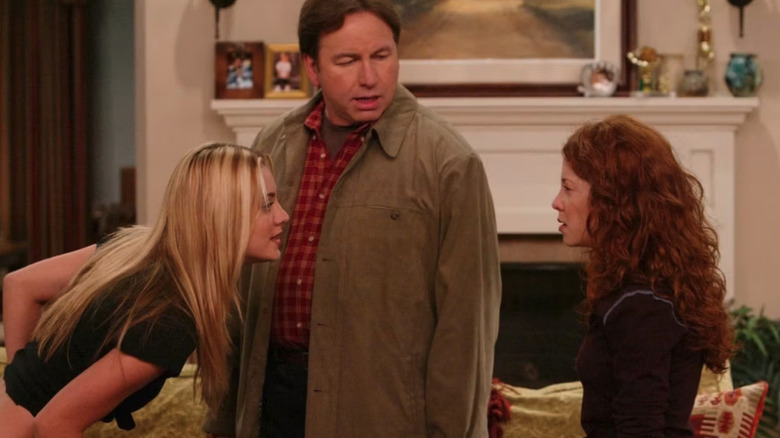 ABC
John Ritter was one of the biggest sitcom stars thanks to "Three's Company." That series itself spawned a continuation after several of its key cast members exited the show, with the new title "Three's a Crowd." But when that one came to an end, Ritter struggled to find another popular series, starring in short-lived shows like "Hooperman" and "Hearts Afire." In 2002, though, the actor took the adult lead in the sitcom "8 Simple Rules," where he starred as a middle-aged father and husband raising three kids.
Katey Sagal of "Married... with Children" played Ritter's wife, and future "Big Bang Theory" alum Kaley Cuoco starred as Bridget, who you might have forgotten was originally part of the show's title. When it first aired, the series had a longer name — "8 Simple Rules ... for Dating My Teenage Daughter." In its first season, the show ranked fairly well in the ratings and seemed poised to become a hit, so in its second year, the title was simplified to make it a little less clunky.
Tragically, though, Ritter's sudden death in 2003 forced a total overhaul, and Season 3 saw the show retooled to focus on his character's father and brother. Without Ritter, however, it just couldn't stay afloat, and "8 Simple Rules" was canceled after its third season.
Two Guys and a Girl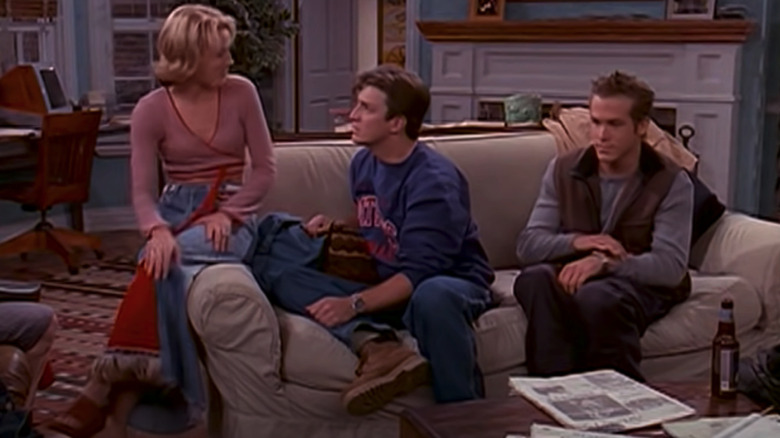 ABC
Famous today for featuring a pair of superstars before they were famous, "Two Guys and a Girl" is pretty much exactly what it says in the title: A sitcom centered on two male college buddies who are friends with a girl. "Deadpool" himself Ryan Reynolds stars alongside Richard Ruccolo and Traylor Howard as Berg, Pete, and Sharon, respectively, while Nathan Fillion plays Sharon's boyfriend Johnny. Though the show was never a major hit, it did air for four seasons and remains one of the most criminally under-appreciated '90s sitcoms.
Similar to "8 Simple Rules," though, "Two Guys and a Girl" wasn't its original title. It initially had a name that was a lot longer and tougher to rattle off. Upon its first release in 1998, the series was called "Two Guys, a Girl, and a Pizza Place," and the plot in Season 1 focused on Pete and Berg as coworkers at a pizza restaurant. That's because the show was actually based on the real-life experiences of creator Kenny Schwartz, who worked at a pizza joint while in college. 
The title wasn't shortened just to make it easier to say, because, after the show's first season, the pizza place premise was de-emphasized (and ditched altogether by Season 3). This meant removing it from the title, and the show became simply, "Two Guys and a Girl."
Don't Trust the B--- in Apartment 23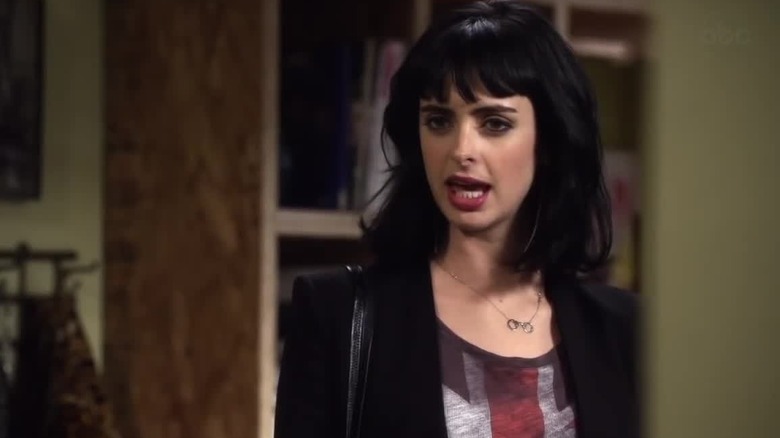 ABC
For a show that only ran for two seasons and just 26 episodes, you might be surprised to learn that "Don't Trust the B—- in Apartment 23" actually went through multiple title changes. The series stars Krysten Ritter as Chloe, a wild, out-of-control New Yorker who makes it her mission to get her roommates to hate her and move out. But when she meets June (Dreama Walker), she finds herself with a friend that just won't leave. The show also bizarrely starred "Dawson's Creek" actor James Van Der Beek as himself. But when it was first announced, it ruffled feathers for its controversial title: "Don't Trust the B*tch in Apartment 23." With no asterisks.
During production, though, the network had a change of heart about the profanity in its title and decided to swap it out. Soon, the show began being promoted for its upcoming release as "Apartment 23." But then they had yet another shift, deciding to go back to the original name, but to black out the bad word, ultimately calling the series what we know it as today: "Don't Trust the B—- in Apartment 23." 
Parker Lewis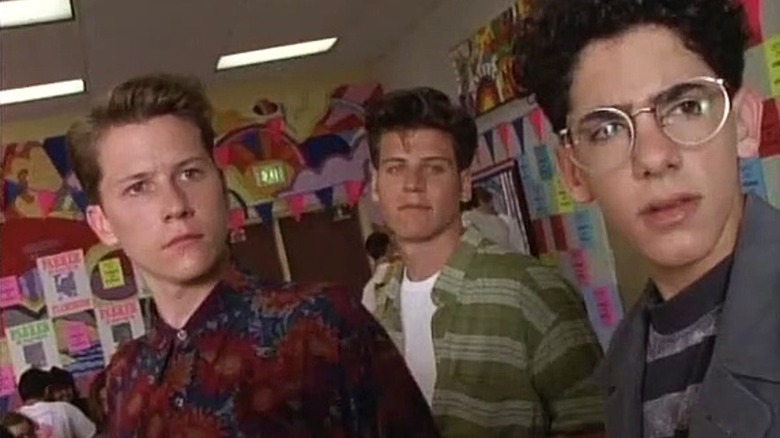 Fox
Long before "Freaks and Geeks," there was another iconic teen comedy that made a name for itself thanks to its offbeat humor and unique style of storytelling. It might be one of the most underrated '90s TV shows, and its name was "Parker Lewis Can't Lose," a show about a popular high schooler and his oddball friends who are always getting into and out of trouble. The series starred Corin Nemec as the titular Parker Lewis, whose stylish flare and penchant for tongue-in-cheek monologues and fourth-wall-breaking asides will surely evoke shades of the John Hughes classic, "Ferris Bueller's Day Off." 
Aside from its strange sense of humor, one of the things that made the show unique was its fast-paced filming style, with quick cuts, comic book angles, cartoonish sound effects, and flashy transitions that almost felt like a sitcom meant for MTV. While this has helped it become a cult classic, it may have turned off some audiences, as many of the show's more avant-garde elements were pushed aside for its third season, which also saw the show change its name to the more straightforward, "Parker Lewis."
The Ted Knight Show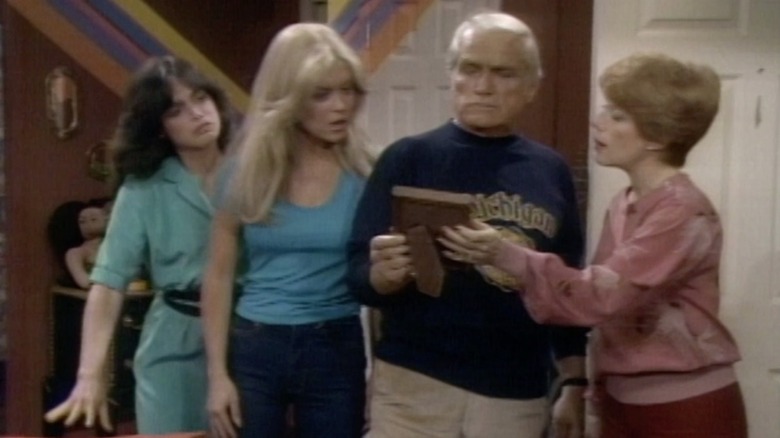 ABC
If you don't remember "The Ted Knight Show," we wouldn't be surprised. That's because, for the majority of its run, the show went by a totally different name, beginning its time on the air as "Too Close for Comfort." Under that name, the show ran for six seasons, beginning in 1980, starring Ted Knight as surly, cantankerous Henry Rush, the artist and creator of a popular newspaper comic strip who lives in San Francisco with his wife and two adult daughters who live in the basement apartment. The heart of the series is Rush's conflict with his daughters, whose more liberal '80s attitudes clash with his traditional, conservative principles.
That was the premise for the first five years, anyway, as in its sixth it made a number of changes, not the least of which was the title. Now known as "The Ted Knight Show," it relocated Rush to a new city, where he became an editor at a newspaper, and his two daughters were written out of the show. Sadly, the show's star Ted Knight died after the conclusion of the sixth season, and the show was canceled as a result. 
Pennyworth: The Origin of Batman's Butler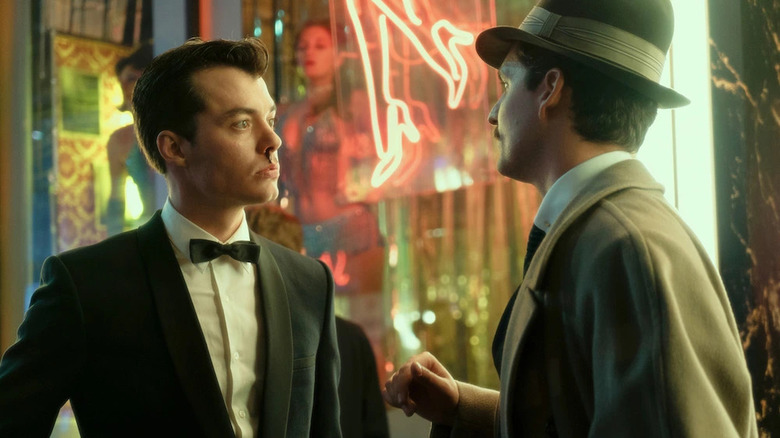 HBO Max
There have been countless "Batman" shows over the years, from iconic entries like the live-action 1966 series starring Adam West to the legendary "Batman: The Animated Series" from 1992. In more recent years, the TV exploits of the Dark Knight have mostly revolved around the wider cast of characters in Batman's world. This includes the series "Gotham" which starred Ben McKenzie as police officer James Gordon, "Batwoman" starring Ruby Rose, and "Gotham Knights," about various sidekicks of the Caped Crusader. It also included the strange prequel, "Pennyworth: The Origin of Batman's Butler."
A prequel to "Gotham," the series explores the early life of Alfred Pennyworth, decades before he served his master Bruce Wayne when he was a James Bond-esque agent who runs his own security agency. But it actually didn't start out with that odd and unwieldy title. Initially, it had the much more pleasing name of "Pennyworth," which was simple enough, but after its second season, it seems the network was worried that audiences didn't know the significance of the name, and how it is related to Batman. As a result, they rejiggered the name of the series to include the awkward subtitle, to make it completely clear that yes, this is the origin of Batman's butler. 
Saved by the Bell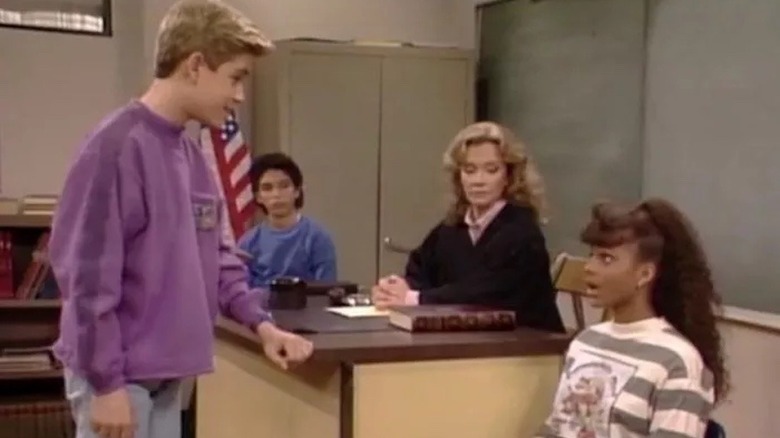 Disney Channel
No child of the '80s and '90s can forget "Saved by the Bell," possibly the most oddly celebrated teen show ever produced. 'Oddly' because it actually wasn't that stylish or slick, nor really very good. Instead, it was a kitschy, corny, goofball comedy for the whole family that was meme-worthy long before such a concept existed. It centered on hip high schooler Zack Morris, his jock best friend A.C. Slater, nerdy misfit Screech, trendy Lisa Turtle, straight-A student Jessie Spano, and cheerleader Kelly Kapowski.
When the show got its start in 1989, though, it was something very different and wasn't nearly as appealing to teens as it later became. Because most of that cast wasn't present, and the focus of the show wasn't even the kids themselves, but their teacher, Miss Bliss, played by former child star Hayley Mills. And the original title of the show reflected that different focus, "Good Morning, Miss Bliss," which was how it was known for its entire first season. In fact, Slater, Spano, and Kapowski weren't part of the series yet, and there were others who were there in their place, including Heather Hopper as Nikki Coleman.
After 14 episodes, the students became the center of the stories. Miss Bliss was written out of her own show, and it was renamed "Saved by the Bell," which is how it ran for another four years.