Breaking Bad: Bryan Cranston's Walt Made Anna Gunn Feel 'Alone And Scared And Angry' During Certain Scenes
For five seasons, "Breaking Bad" followed Walter White (Bryan Cranston) as he not only built a drug-dealing empire for himself but also slowly destroyed all of the relationships in his life. While Walt suffers plenty of losses in the series' latter seasons, though, few of his personal bonds take as much of a hit due to his own actions as his marriage to his wife, Skyler (Anna Gunn). Indeed, over the course of "Breaking Bad," Walt and Skyler's relationship deteriorates to the point that Skyler often finds herself afraid to be in the same room as Walt.
Apparently, Gunn felt the very same feelings of alienation, fear, and rage that Skyler does while she was filming the show's later seasons. The actor revealed as much in a 2013 profile about her co-star, Bryan Cranston, for The New Yorker. While discussing just how emotionally affecting Cranston's performance as Walter White became, Gunn admitted that sharing scenes with him in the final seasons of "Breaking Bad" usually made her experience many of the same emotions as her character. "It was like something came over the sun, and something would drop in my stomach, and I'd feel so alone and scared and angry," Gunn said.
Reflecting further on Cranston's performance as Walt, Gunn added, "I don't know where he goes, and I don't want to know."
Breaking Bad's creator was 'troubled' by fans' opinions of Skyler White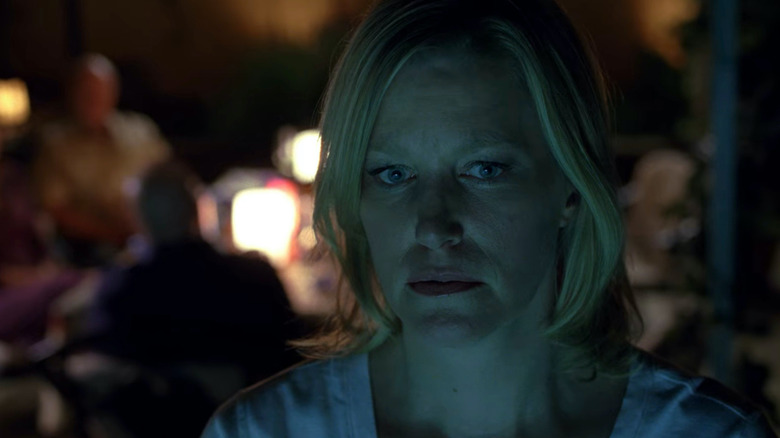 AMC
Despite how villainous her husband turned out to be, new "Breaking Bad" fans might be surprised to learn that it was Skyler White, not Walt, who received the most amount of hate from the show's viewers when it was initially on the air. The negative conversations surrounding her character were so widespread that Anna Gunn even penned a 2013 op-ed for The New York Times explaining why she found some viewers' remarks about Skyler so concerning.
"From the beginning, I was aware that she might not be the show's most popular character," Gunn wrote. "But I was unprepared for the vitriolic response she inspired." After discussing how some of the negativity toward her "Breaking Bad" character spilled over into hate for her as a performer, Gunn added, "I finally realized that most people's hatred of Skyler had little to do with me and a lot to do with their own perception of women and wives."
"Breaking Bad" creator Vince Gilligan, for his part, admitted in a 2022 interview with The New Yorker that he, like Gunn, was also disconcerted by the initial fan response to Skyler. "I can tell you it always troubled me, because Skyler, the character, did nothing to deserve that," Gilligan said. "It's a weird thing. I'm still thinking about it all these years later."
Fortunately, in the years since "Breaking Bad" ended, the conversation surrounding Gunn's character seems to have become more positive, while fans' opinions about Walter White only seem to grow more negative. That's arguably a good thing, especially considering that Bryan Cranston's performance as Walt was apparently so emotionally potent that he made his co-stars feel the exact same shades of concern and anger as their characters.