The Transformation Of Julie Bowen From Happy Gilmore To Modern Family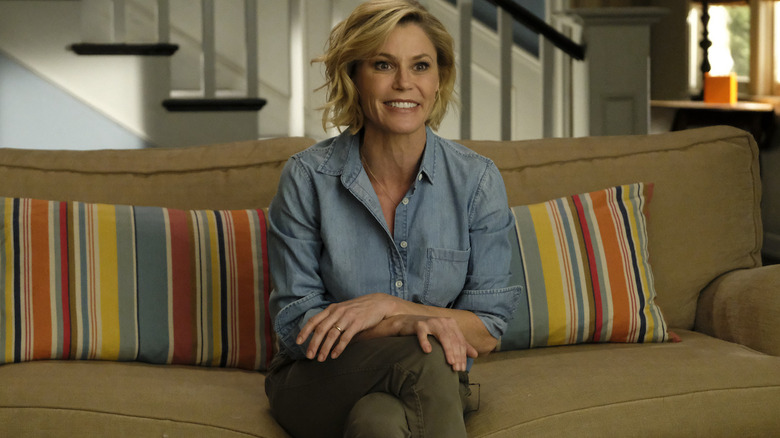 ABC
TV viewers looking for laughs and a whole lot of heart know that Julie Bowen can deliver it all. The actress has made herself a household name thanks to her comedic timing and emotional performances in several comedies, including "Modern Family." Born in Baltimore, Maryland, Bowen told "Mayim Bialik's Breakdown" that she performed in school plays before attending Brown University. While there, she was cast in an indie film and realized that she wanted to continue to pursue an acting career. "I did give myself a time limit ... I think I said, 'If I'm still struggling and can't pay my bills by 25 from acting, then I'm out.' And I made the cutoff I think by about a year," she said. And her early gigs were not always what she pictured herself doing.
During "Watch What Happens Live with Andy Cohen," Bowen mentioned that one of her early gigs found her on a beach with romance novel icon Fabio. "I remember being there going, 'I wish I wasn't here.' But he was so nice ... but I was like, 'I feel like this isn't quite what I meant when I said I wanted acting." She would make brief appearances on TV shows throughout the 1990s before making her big-screen splash in a popular Adam Sandler film. Since then, she has continued to climb the comedic ladder, giving many memorable performances along the way.
Bowen saw big-screen success in the 1990s with Happy Gilmore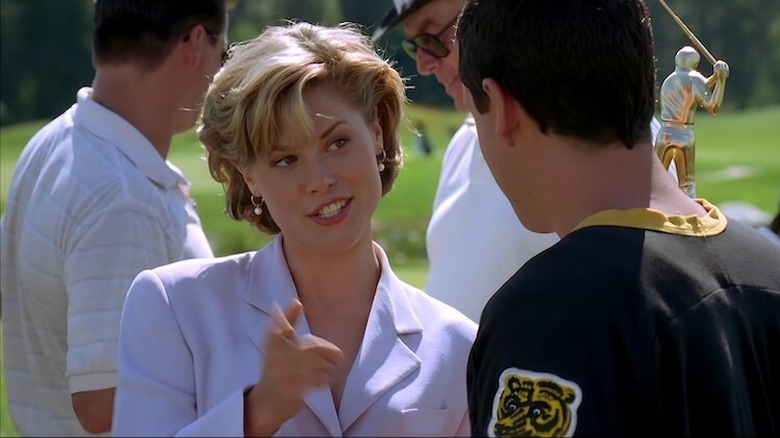 Universal Pictures
Before she was beloved "Modern Family" mom Claire Dunphy, Julie Bowen played public relations director Virginia Venit in the hit 1996 film "Happy Gilmore." "Saturday Night Live" alum Adam Sandler plays Gilmore who is hoping that his unique take on golf will help him save his grandmother's house and pay the debt she owes to the IRS. He sets out on a golf tour where he is pitted against Shooter McGavin (Christopher McDonald), a seasoned golf pro who will stop at nothing to keep Happy from winning. But Happy is determined to win, working with his new coach Chubbs (Carl Weathers) and Virginia, who becomes Gilmore's love interest.
The movie has since become a lasting part of pop culture, known for the Bob Barker fighting scene and Gilmore's dream involving Virginia. Bowen told People, "I cherish and I love that it has become this weird, internationally beloved thing. Doing an Adam [Sandler] movie isn't pressure, it's fun and it's like going home ... There's no stress, no yelling and screaming, it's just a really pleasant place to be." And golfing was something that Bowen was literally surrounded by while growing up. She told "Mayim Bialik's Breakdown" that she actually grew up in a neighborhood surrounded by golf courses. Of course, her success wouldn't stop there, and the early 2000s would bring her plenty of well-known projects.
She grew her TV credits throughout the 1990s and early 2000s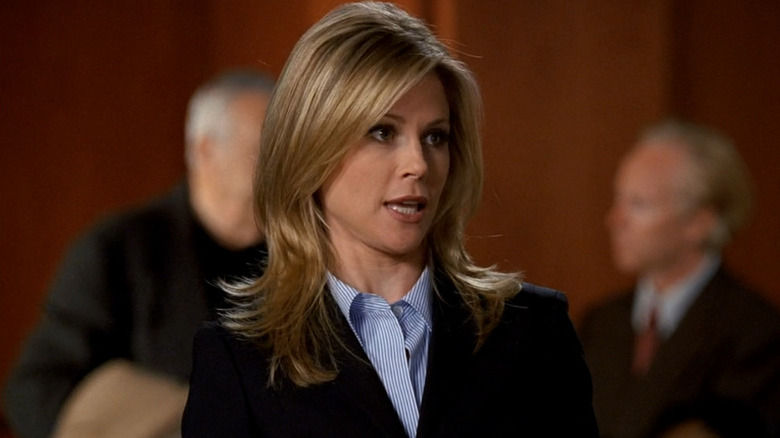 ABC
Julie Bowen would spend the rest of the 1990s landing roles in movies like "An American Werewolf in Paris" and TV shows such as "ER." In 2000, she would find herself racking up a lot of TV credits, including starring as Carol Vessey, the love interest of a bowling alley owner and lawyer in the show "Ed," where she worked alongside "Flash" star Tom Cavanagh.
The show would end in 2004, and Bowen would take brief roles on "Lost" and "Weeds" while starring in "Boston Legal" alongside James Spader, William Shatner, and Candice Bergen. She would start portraying attorney Denise Bauer in Season 2, Episode 1, "The Black Widow." The show chronicled Bauer's love life and her work for Crane, Poole, & Schmidt before taking on a job at the USDA. The job would become a big focus of Bauer's last appearance in Season 5, Episode 7, "Mad Cows," which finds Bauer facing off against Alan Shore (Spader) over testing for Mad Cow Disease. "Boston Legal" ended in 2008, and one of Bowen's most beloved roles would begin a year later.
She would strike comedy gold with Modern Family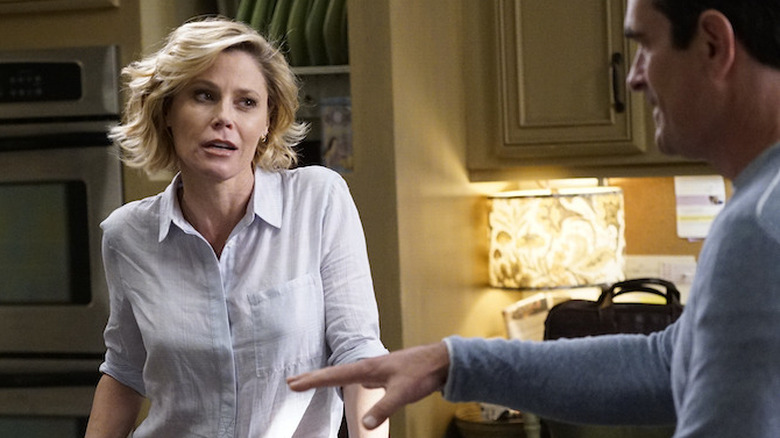 ABC
In 2009, Julie Bowen would take on another career-defining role by stepping into the shoes of Claire Dunphy on "Modern Family." Claire is a loving mother, wife, sister, and daughter who does everything she can to keep her family together, no matter the argument or wild antics that are going on. While working to make sure her husband and three children are happy and healthy, she is the confidant to her brother Mitchell Pritchett (Jesse Tyler Ferguson) and a business partner to her father Jay (Ed O'Neill).
Bowen earned the Primetime Emmy for Oustanding Supporting Actress in a Comedy Series in 2011 and 2012, but she almost turned down the role. She told "The Ellen DeGeneres Show" that she took herself out of the running because she was pregnant with her twins and instead chose to focus on another role where the character was pregnant. "Then I had to do some scrambling to get the ['Modern Family"] job back. But, I mean, when I think of that, that can keep me up in the middle of the night, like, 'Oh my god, I almost didn't do it!'" she said.
The show ended with Season 11 in 2020, and Bowen's children got to witness their mom close out this chapter in her career. She told "Jimmy Kimmel Live," "I made them [my kids] come for the very end. They thought it was upsetting because all I did was cry."