Why Hailey Winton From Rabbit Hole Looks So Familiar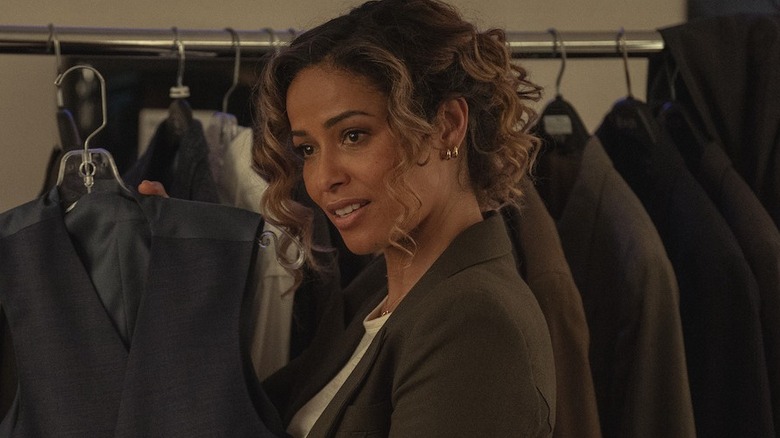 Marni Grossman/Paramount+
The Paramount+ spy drama "Rabbit Hole" premiered on March 26, starring Kiefer Sutherland as John Weir, a private espionage agent framed for murder. The series was created by John Recqua and Glen Ficarra, who have also teamed up on "This is Us," "Cats & Dogs," and "I Love You Phillip Morris."
In the pilot episode of "Rabbit Hole," John meets a woman named Hailey Winton in a bar and they end up going back to her hotel room. After they spend the night together, he discovers a camera in the bedside clock, leading him to believe she is working with the FBI. Hailey turns out to be a lawyer for a Pittsburgh non-profit, but her involvement in the drama does not end there. She appears in all eight episodes of Season 1 of "Rabbit Hole," sometimes working with Weir and at other times rousing further suspicions that she is part of a plot against him.
Hailey Winton is played by Meta Golding, who was born in India and lived in several different countries growing up. She competed as a figure skater for several years before an injury steered her to acting. Golding made her television debut on the ABC soap opera "Loving" in 1995, appearing on 68 episodes of the daytime drama as Brianna Hawkins. She then began a long and productive career in film and television, working across various genres from heart-wrenching drama to silly comedy. 
Meta Golding built her career on popular 2000s TV procedurals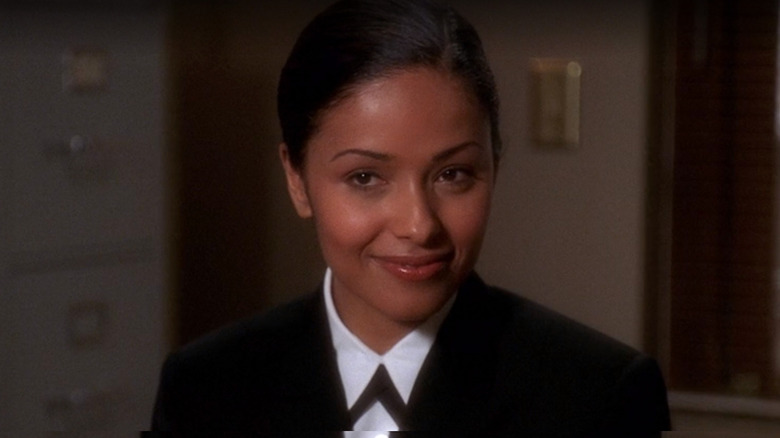 CBS
Meta Golding continued to work steadily on television after "Loving" was canceled in 1995. She made single appearances on "The Wayans Brothers" and "Ally McBeal" before appearing on five episodes of "Days of Our Lives" between 1999 and 2003.  Her first major recurring role came as Lt. Tali Mayfield in three episodes of "JAG" in 2005. 
Lt. Mayfield is a lawyer for the Judge Advocate General, and is first introduced in  Season 10, Episode 14, "Fit For Duty." In the episode, Lt. Mayfield is brought in to prosecute Commander Stefan Stefanopoulos (Tony Denison). She is capable and self-assured and calls herself a "bleeding heart do-gooder," although she tells defense counsel Bud Roberts, Jr. (Patrick Labyorteaux), "Don't mistake my compassion for weakness."
She secures a partial victory in court, securing a dismissal from the Navy for Commander Stefanopoulos but no jail time or additional sanctions. She appears twice more, making her final showing in Season 10, Episode 17. Between 2003 and 2006, Golding also made guest appearances on the legal procedurals "The Lyon's Den," "Cold Case," and "In Justice" before landing her first starring role.
She starred on the ABC drama Day Break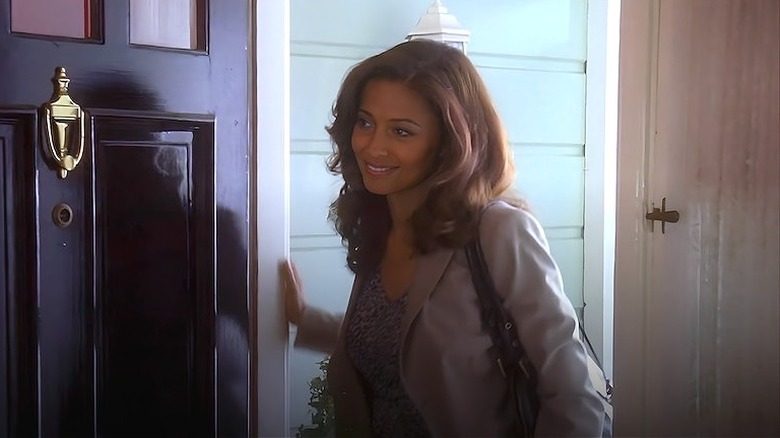 FOX
In 2006, Meta Golding was cast on the ABC drama "Day Break." The series starred Taye Diggs as detective Brett Hopper and was described by TV Guide as "'The Fugitive' meets 'Groundhog Day' but was not as well-received as either of those popular films, lasting just one season and 13 episodes despite a strong cast that featured Adam Baldwin, Victoria Pratt, and Jonathan Banks. Golding played Hopper's sister Jennifer, a teacher who tries to help him piece together the events of his missing day. 
Critics and audiences were divided in their opinions of the show. One viewer on Rotten Tomatoes gave the series five out of five stars and wrote, "This is one of the most under rated shows of all time ... I'm not sure why this show failed while others keep getting renewed. Possibly there was not enough marketing muscle behind it."
Another fan also gave it a perfect score and commented, "This show is a fantastic cop drama with a backdrop of a time loop, it is absolutely fun and interesting every episode. The only problem I had was with the ending since they set up a second season and they never got one."
After "Day Break" left the air in 2007, Golding made a single guest appearance on "House" before returning to the world of legal and military procedurals.
She appeared on Criminal Minds and Dark Blue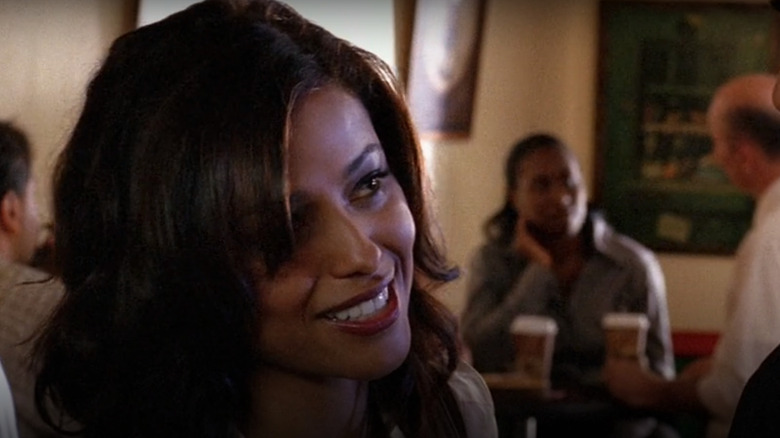 CBS
In 2008 and 2009, Meta Golding made eight appearances in Season 4 of CBS' "Criminal Minds" as Jordan Todd. She was a temporary replacement for Jennifer "JJ" Jareau (A. J. Cook), who was spending time away on maternity leave.
Over the next few years, Golding continued to work in the genre, making guest appearances on "Burn Notice" and "Miami Medical" in 2010 and landing a starring role on the TNT police drama "Dark Blue," appearing in 10 of the show's 20 episodes.
The Jerry Bruckheimer drama was far from a critical darling. In a review from The Hollywood Reporter, Randee Dawn of the Associated Press wrote that "Dark Blue" was "a confusing mix of cliche and posturing that seems more interested in framing a shot than telling a story."
The last installment of "Dark Blue" aired in September 2010. That same year, Golding made guest appearances on "CSI: Miami" and "NCIS: Los Angeles" before making the transition to the big screen.
She played Enobaria in two of the Hunger Games films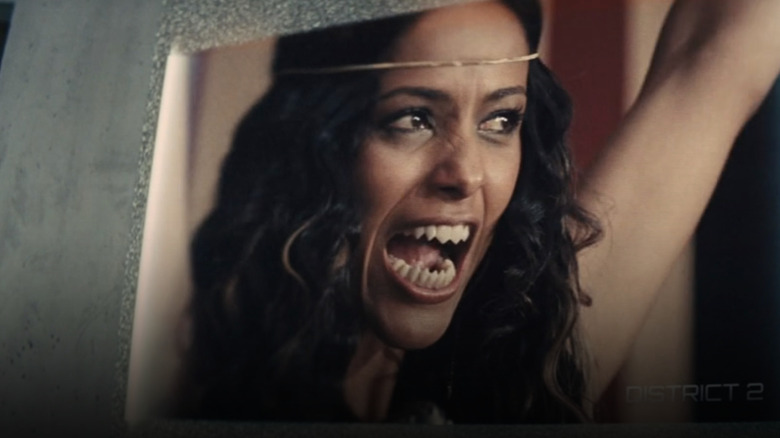 Lionsgate
In 2012, Meta Golding made her feature film debut in the Kevin Sorbo thriller "Shadow Witness" and later that year starred as the fearsome District 2 champion Enobaria in "The Hunger Games: Catching Fire." Enobaria files her teeth down to fangs so she can use them to rip out the throats of her competitors and wins the 62nd Hunger Games. Golding returned to play the character in "The Hunger Games: Mockingjay – Part 2" in 2013, helping train other District 2 competitors. 
Golding told The San Diego Reader that she hoped Enobaria could help inspire young Black women to find their own power. "I think it would be great if people thought about strength, female strength," she said. "I also think the games are about survival: how you use your strength and intelligence and your alliances ...  Yes, there's a parallel between the Hunger Games and life. It's exaggerated, but life really is a game that's being played all the time. We make alliances. We use our strengths; we know what our weaknesses are."
She portrayed Teri on Empire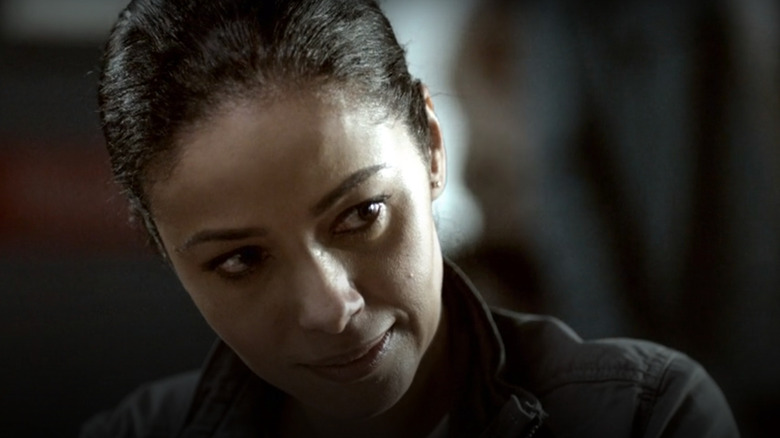 FOX
After her time as Enobaria was through, Meta Golding starred alongside Eric Roberts and Felipe Esparza in the 2017 Paris Bauldwin feature drama "The Fix." Golding then moved back to television, appearing on "Empire" as Teri from 2018 through 2020. Teri's son Quincy (Skylan Brooks) has been wrongfully incarcerated and she works hard to get him released from prison. "Empire" ended after that 6th season, despite getting a generally positive reception from critics.
Ken Tucker of Yahoo! Entertainment wrote of "Empire," "It's the show we didn't know we needed: A nighttime soap about the music industry that gets the details right about hip hop and R&B, and challenges its actors to go over-the-top while staying in control."
Teri first appears in Season 5, Episode 3, "Pride," and soon becomes romantically involved with Empire Entertainment CFO Andre Lyon (Trai Byers). She appears on 31 episodes of "Empire" throughout Seasons 5 and 6, including the series finale, "Home is on the Way."