The Korean Comic That Inspired Netflix's Black Knight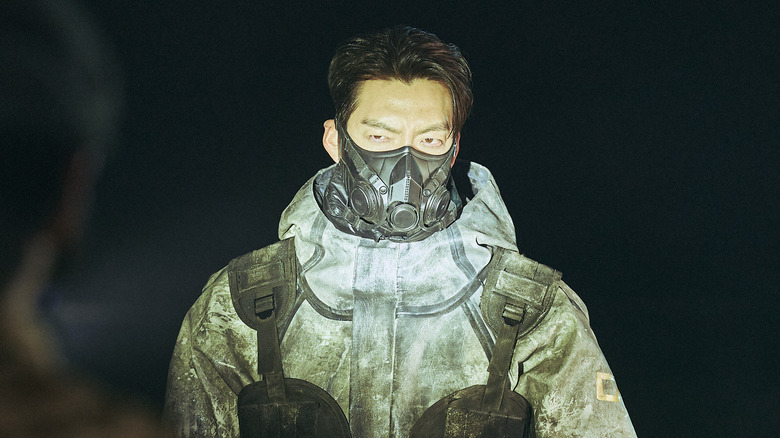 Kim Jin-young/Netflix
The series "Black Knight" has topped the charts on Netflix, and fans of the action-packed narrative, as well as the impressive VFX work, may not be aware that it is, in fact, a live-action adaptation of a popular Korean webtoon. 
In the past, Netflix has had a lot of success adapting webtoons into successful K-dramas like with "Sweet Home," "The Uncanny Counter," "Hellbound," and "All of Us Are Dead." The latest addition to their roster is "Black Knight," based on the webtoon created by Lee Yun Kyun. 
While the show focuses on the deliveryman 5-8 (Kim Woo-bin), the original story revolves around the character of Sawol, who is a woman. She is tormented by the loss of her family and is determined to become a delivery agent, bringing oxygen and necessary supplies to those in need no matter what gets in her way. 
Apparently, she isn't the only one impressed by the concept of a delivery agent. As opposed to following Sawol, the Netflix series is all about the deliverymen, specifically 5-8. Along with that, the show crafts  a poignant take on class warfare in an entertaining manner, which has worked out well so far. Meanwhile, the man who plays 5-8, thinks there is a bigger message to be told from the "Black Knight" story. 
5-8 actor delivers Black Knight message to fans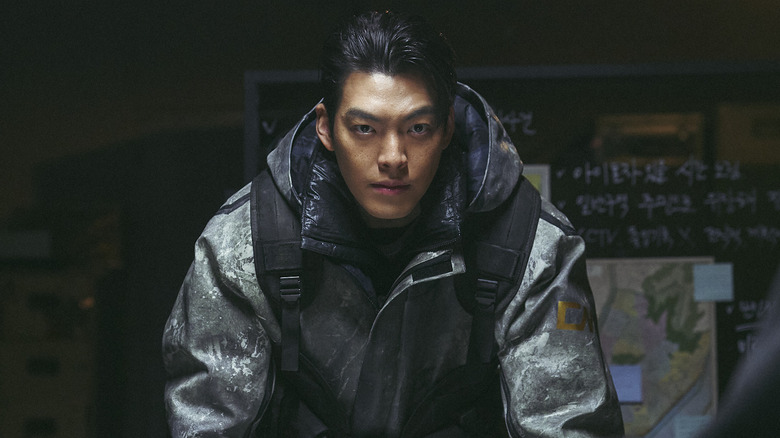 Kim Jin-young/Netflix
Starring in "Black Knight" as 5-8 is Kim Woo-bin, known for several impressive titles such as "The Con Artists," "Uncontrollably Fond," and "Alienoid." While he has participated in a number of narratives over the years, his experience working on the Netflix series is an intriguing endeavor to take on considering what the source material touches upon. The idea of people surviving based on their income level and the thought of a dystopian future where the affluent decide who lives is apparent throughout the plot, which leads Woo-bin to a revelation regarding his interpretation of the message behind "Black Knight." 
"As I said before, everyone deserves to be loved, and I think that's the message that people can take away from this show," Woo-bin said in an interview with Urban Asian. While Woo-bin recognizes the importance of what the show and source material is trying to convey to fans, he also realizes that within those ideals is a pulse-pounding thrill-ride that he believes everyone should enjoy. 
"It's not just about the message, but there's a lot of fun and entertainment aspects in the show," Woo-bin said. "So I hope people enjoy that, and I hope people can just breathe in the whole experience together, just like I did."
Between the excellent VFX work, impactful themes, captivating story, and solid cast, there are many reasons why the live-action adaptation of the "Black Knight" webtoon is a strong candidate to make the list of must-watch 2023 Netflix shows.