Why The Cast Of Dune: Part Two Looks So Familiar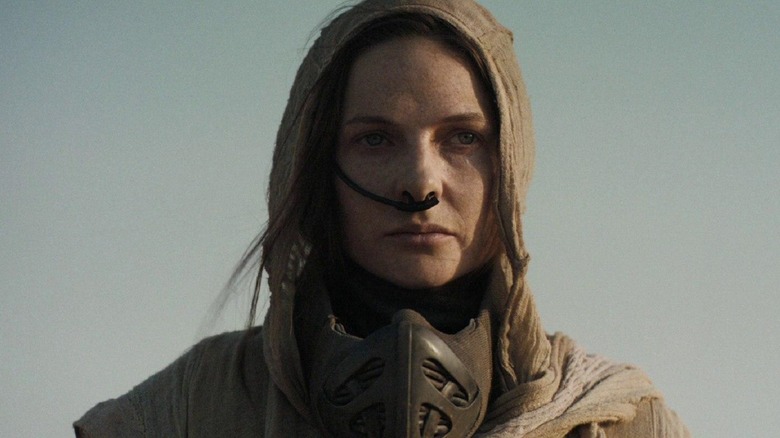 Warner Bros. Pictures
The wait for the highly anticipated "Dune: Part Two" is nearly over, and the second chapter will see Denis Villeneuve returning as director, producer, and co-writer of the screenplay — adapted from the novel by Frank Herbert. The first crack at adapting "Dune" back in the '80s by David Lynch was an undisputed failure and part of its undoing may have been biting off more than it could chew within a two-hour-seventeen-minute runtime.
Rather than making the same mistake and trying to cram the massive 896-page book into a single film, Villeneuve instead opted to chop the story in half and make two separate movies out of it. If "Dune: Part Two" is a success, Villeneuve also plans to adapt the sequel novel, "Dune Messiah," which is much shorter than the first book and can likely be contained within a single film. Time (and box office results) will tell if Villeneuve is able to complete his trilogy, or if he or the studio will continue adapting other books in the series afterward. There is plenty of source material to pull from with six books in Herbert's original series and as many as 25 books if you count all of the "Dune" novels written by other authors after Herbert stopped writing them.
Regardless of what follows, "Dune: Part Two" is next on the horizon, so let's take a look at both the new and returning cast members and break down where you may have seen them before.
Timothée Chalamet as Paul Atreides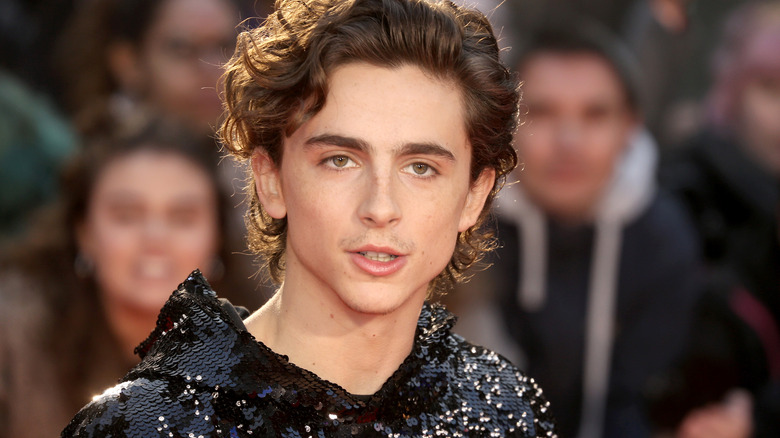 Fred Duval/Shutterstock
Timothée Chalamet had a meteoric rise to stardom which began in 2014 with a role in Christopher Nolan's "Interstellar," however, it was in 2017 that his career really took off. In that year, Chalamet had memorable supporting roles in "Hostiles" and "Lady Bird" and took the lead in "Hot Summer Nights" and "Call Me by Your Name." Chalamet earned his first BAFTA and Oscar nominations for his work in "Call Me by Your Name," which confirmed his status as one of the film industry's top new leading men.
Since then, Chalamet has been racking up impressive credits in a number of different films. In the last couple of years, he had a role in the ensemble cast of "Don't Look Up," worked with Wes Anderson on "The French Dispatch," reunited with "Lady Bird" writer-director Greta Gerwig for "Little Women," and teamed up again with his "Call Me by Your Name" director Luca Guadagnino for the cannibal romance "Bones and All."
Chalamet, of course, played the lead in "Dune" and is returning for "Dune: Part Two." His character, Paul Atreides, is also the protagonist of the next book, "Dune Messiah," which could see Chalamet return if Denis Villeneuve decides to complete his "Dune" movie trilogy. However, 12 years pass between the first "Dune" book and when the story picks back up in "Dune Messiah," so recasting Chalamet with an older actor may be necessary depending on when the film goes into production.
Rebecca Ferguson as Lady Jessica Atreides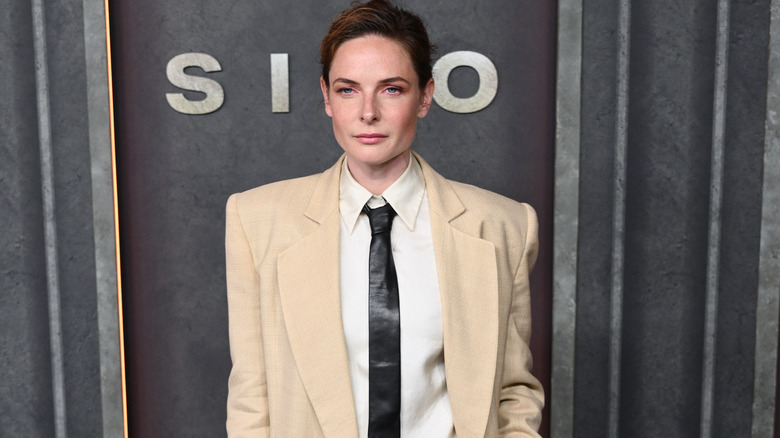 Karwai Tang/Getty Images
Playing the role of Lady Jessica Atreides is Rebecca Ferguson. Another returning cast member from the first movie, Ferguson is interestingly only about 12 years older than Timothée Chalamet, who plays her on-screen son, Paul Atreides. The Swedish actress is likely best recognized as being a part of the "Mission: Impossible" series. She might have only joined the series in its fifth movie, but her character of Ilsa Faust instantly became an essential ingredient in "Rogue Nation," and "Fallout," and she will appear again in the upcoming two-part "Mission: Impossible – Dead Reckoning."
Ferguson got her start on the Swedish television series "Nya Tider" before joining the cast of the Swedish-American co-production "Ocean Ave." Her biggest break arrived in 2013 when she was cast as the lead on the Starz original series "The White Queen." The show may have been canceled after just one season, but it was enough for Tom Cruise to personally pick her as an exciting up-and-comer to join the "Mission: Impossible" series. Since joining the cast of that blockbuster franchise, Ferguson has also appeared in movies such as "Florence Foster Jenkins," "Men in Black: International," "The Greatest Showman," and "Doctor Sleep," in which she played the memorable main villain, Rose the Hat.
Josh Brolin as Gurney Halleck
Jon Kopaloff/Getty Images
As the son of prolific actor James Brolin, it was no surprise that Josh Brolin found major success throughout his career, making his acting debut as a teenager in the beloved family adventure film "The Goonies" in 1985. The first couple of decades of his career were subject to some ups and downs, but he really came into his own in 2007 when he worked with Ridley Scott on "American Gangster," with Paul Haggis on "In the Valley of Elah," and with the Coen Brothers on the Oscar-winning "No Country for Old Men" in the space of a single year. After appearing in three Oscar-nominated films in just one year, Brolin earned an Oscar nomination himself for "Milk" the following year.
Even though he looks quite different in real life, superhero fans will undoubtedly be familiar with Brolin as the voice and likeness of Thanos, the long-time big baddie of the Marvel Cinematic Universe. Without purple skin but still with plenty of prosthetics, fans will also recognize him from "Deadpool 2" as Cable. Having worked with director Robert Rodriguez on "Planet Terror" in 2007, Brolin worked with him a second time on "Sin City: A Dame to Kill For," and with the Coen Brothers again on both "True Grit" and "Hail, Caesar!" Before working with director Denis Villeneuve on the "Dune" movies, Brolin and Villeneuve first collaborated on "Sicario." Brolin returned for the sequel, "Sicario: Day of the Soldado," while Villeneuve handed directing duties over to Stefano Sollima.
Dave Bautista as Count Glossu Rabban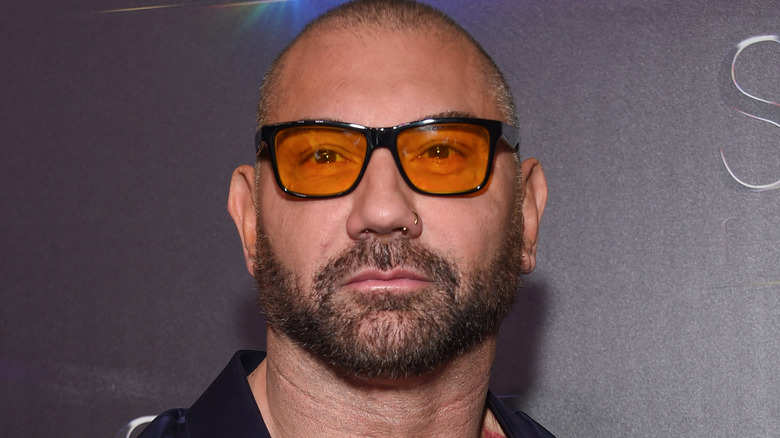 DFree/Shutterstock
In "Dune: Part Two," Dave Bautista reprises his role as Count Glossu Rabban, part of the villainous House Harkonnen. Compared to some of the other cast members, Bautista took an unusual path to a career as a movie star and first rose to stardom as a wrestler by becoming one of the top stars in the WWE. His first non-wrestling acting job was a brief appearance on the CW series "Smallville" back in 2006, but it wasn't until 2012 — when he appeared in the action movie combo of "The Scorpion King 3: Battle for Redemption" and "The Man with the Iron Fists" — that he began acting in major roles on a consistent basis.
When he landed the role of Drax in the "Guardians of the Galaxy" series, Bautista was able to flex his comedic side and began to earn more respect as a legitimate actor. Over the last few years, Bautista has had many notable roles in the likes of the James Bond film "Spectre," "Army of the Dead," "Glass Onion," and the kung fu movie "Master Z: The Ip Man Legacy" in which he played the main villain. Bautista first worked with director Denis Villeneuve on "Blade Runner 2049" before joining the "Dune" cast. "Dune: Part Two" is set to be Bautista's third major release of 2023 after both "Knock at the Cabin" and "Guardians of the Galaxy Vol. 3."
Stellan Skarsgård as Baron Vladimir Harkonnen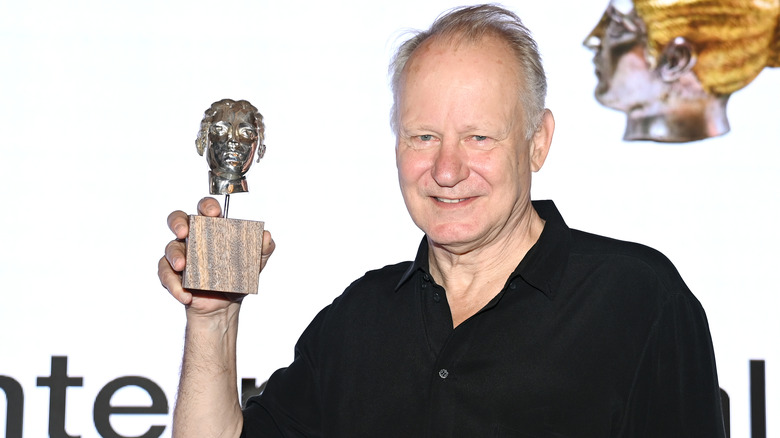 Daniele Venturelli/Getty Images
Stellan Skarsgård is the patriarch of the large Swedish Skarsgård family and has eight children, six of whom are also actors — most famously Alexander Skarsgård and Bill Skarsgård. In both halves of "Dune," Skarsgård plays Baron Vladimir Harkonnen, the floating, oil-covered main villain operating out of the shadows. The elder Skarsgård has been acting since the late '60s and has racked up a lengthy filmography of over 150 credits. He first rose to prominence in the Swedish film and television industries before breaking into the English-language film market as well.
Some of Skarsgård's most acclaimed films made at home and abroad include both mainstream hits and arthouse favorites such as "The Hunt for Red October," "Good Will Hunting," "Ronin," and "Mamma Mia!" One of Skarsgård's most important collaborators has been Danish filmmaker Lars von Trier. The two first worked together on Trier's television series "The Kingdom" before collaborating on the films "Breaking the Waves," "Dancer in the Dark," "Dogville," "Melancholia," and both volumes of "Nymphomaniac." Skarsgård is also a part of the MCU, playing Erik Selvig in several films including "Thor" and "The Avengers."
Zendaya as Chani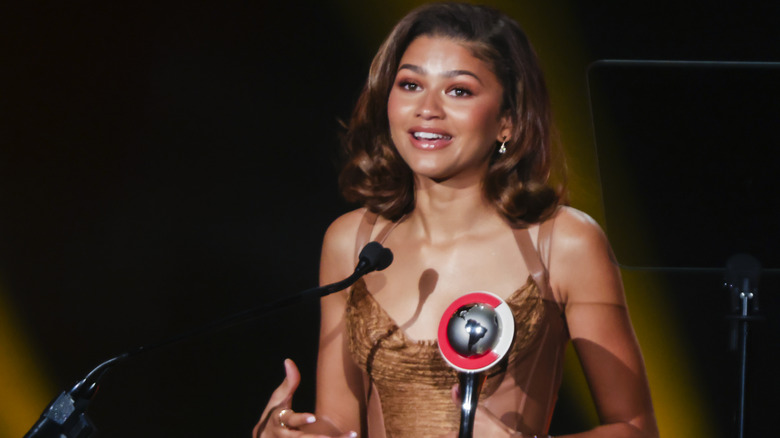 Greg Doherty/Getty Images
At just 26 years old, Zendaya has already accomplished more than some actors do in their entire careers. After a successful modeling career in her childhood, Zendaya pivoted to acting and appeared on numerous Disney Channel TV shows such as "Good Luck Charlie" and "A.N.T. Farm" as well as taking the lead in Disney shows "Shake It Up" and "K.C. Undercover." Around the same time as she began acting, Zendaya also began releasing music as a solo artist. Her first, and so far only, full-length album was released in 2013 but she has also contributed to the soundtracks of many of the projects that she has acted in like "Smallfoot," "Euphoria," and "The Greatest Showman."
Zendaya's first feature film was the blockbuster superhero movie "Spider-man: Homecoming" as the new MJ, and she reprised the role in both of the sequels. Many will be most familiar with Zendaya from her starring role on HBO's "Euphoria." Her performance as Rue turned her into the youngest-ever Emmy winner in the lead drama actress category, a feat which she pulled off twice for the show's two seasons. With "Euphoria" creator Sam Levinson writing and directing, Zendaya made her feature film debut as a producer in 2021 with "Malcolm & Marie," in which she also starred. Zendaya played Chani in "Dune" but only arrived at the tail end of the movie, however, her role in "Dune: Part Two" is bound to be drastically expanded.
Javier Bardem as Stilgar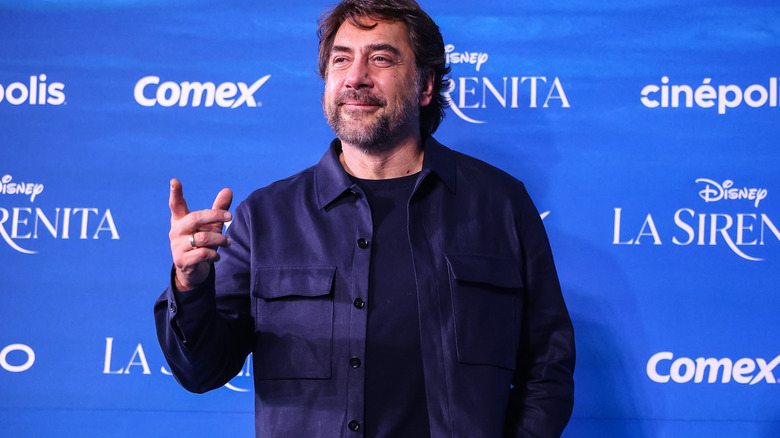 Hector Vivas/Getty Images
Javier Bardem is reprising his role as Stilgar, the leader of the nomadic Fremen tribe from the first "Dune." With "Dune: Part Two" focusing far more on the Fremen than the first movie did, Bardem's role is likely to be considerably more prominent in the sequel. Bardem hails from Spain and first made a name for himself as an actor in Spanish-language film and television projects. Though he was starring in lead roles for acclaimed Spanish filmmakers like Alejandro Amenábar with "The Sea Inside" and Pedro Almodóvar with "Live Flesh," his first forays into English-language films were in villain roles with "Collateral" and "No Country for Old Men." The latter won him a BAFTA and Oscar for his supporting performance and cemented his status as a hit with audiences all around the world.
Since breaking into the Hollywood film industry, Bardem has continued to bounce back and forth between different countries and languages from project to project. Some of his most high-profile projects in the years that followed include the James Bond film "Skyfall," Alejandro Gonzalez Iñárritu's "Biutiful," Darren Aronofsky's "Mother!," and Aaron Sorkin's "Being the Ricardos" It was for "Biutiful" and "Being the Ricardos" that Bardem earned further Oscar nominations — the third and fourth of his career so far. 
Charlotte Rampling as Reverend Mother Mohiam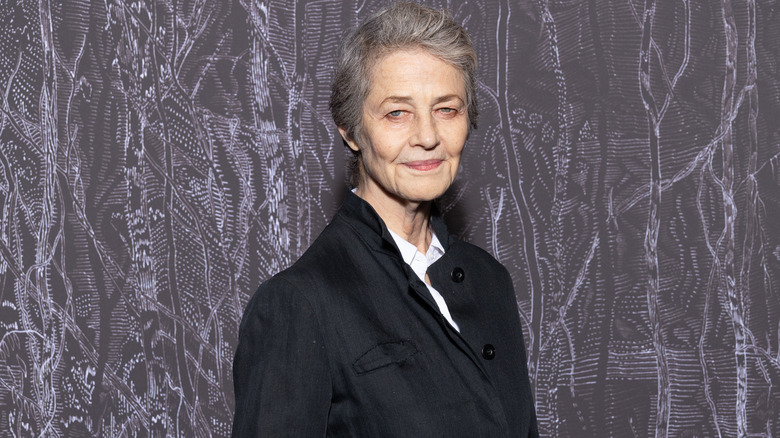 Marc Piasecki/Getty Images
Charlotte Rampling is also returning from the first movie to play Reverend Mother Mohiam in "Dune: Part Two." Rampling has been acting since the mid-1960s and has shown no signs of slowing down even as she approaches 80 years of age. If anything, her career has aged like a fine wine as many of her most recognizable roles have arrived within the last couple of decades. She earned her first Emmy nomination in 2013 for "Restless" and her first Oscar nomination in 2016 for "45 Years," consistently reaffirming her status as one of the most respected actors of her generation.
Movies like "Melancholia," "The Verdict," "The Little Stranger," and "Benedetta" have provided some of Rampling's best roles, while the less well-received — but still popular — movies like "Red Sparrow" and "Assassin's Creed" have also made use of her talents. Some of her most recognizable roles in recent years have been found in the world of television with the mini-series "London Spy," the murder-mystery "Broadchurch," which she joined in the second season, and "Dexter," in which she played the titular character's probing neuropsychiatrist, Dr. Evelyn Vogel. Her most recent television project has brought her to Denmark for two seasons on the detective series "DNA."
Léa Seydoux as Lady Margot Fenring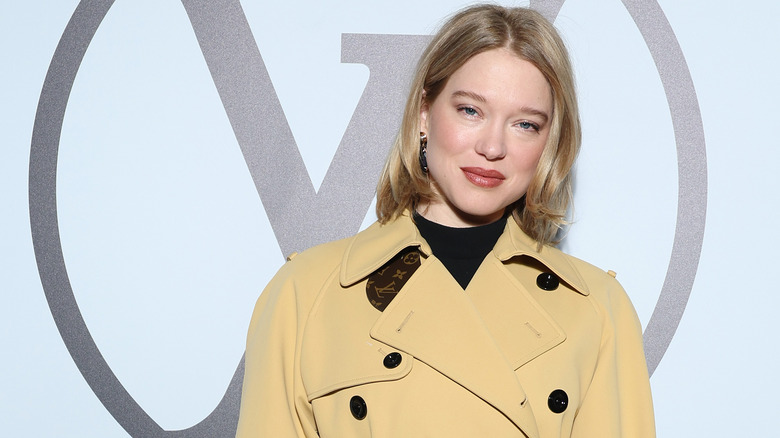 Pascal Le Segretain/Getty Images
Léa Seydoux is a new addition to the world of "Dune" for the second movie. She is taking on the role of Lady Margot Fenring, a member of the Bene Gesserit sisterhood and the wife of Count Hasimir Fenring. Lady Margot is a major character throughout many of the "Dune" prequel and spin-off books, so this may not be the last that audiences see of Seydoux in the role.
Having only started acting in the mid-2000s, it didn't take long for Seydoux to accumulate an enviable filmography. The first major international hit of her career arrived in 2009 with Quentin Tarantino's "Inglorious Basterds," in which she played Charlotte LaPadite, one of the farmer's daughters from the memorably tense opening sequence. Soon afterward, she landed roles in other big English-language projects like Ridley Scott's reboot of "Robin Hood" and Woody Allen's "Midnight in Paris" alongside her roles in smaller French-language films. Her role in "Mission: Impossible – Ghost Protocol" provided her with a substantial profile boost, and her acclaimed performance in 2013's "Blue is the Warmest Color" raised her stardom even higher.
Over the past few years, she has popped up in both lead and supporting roles in many notable films such as "The Lobster," "Crimes of the Future," and the Wes Anderson films "The Grand Budapest Hotel" and "The French Dispatch." Many will also be familiar with her as Madeleine in the last two James Bond films, "Spectre" and "No Time to Die."
Stephen McKinley Henderson as Thufir Hawat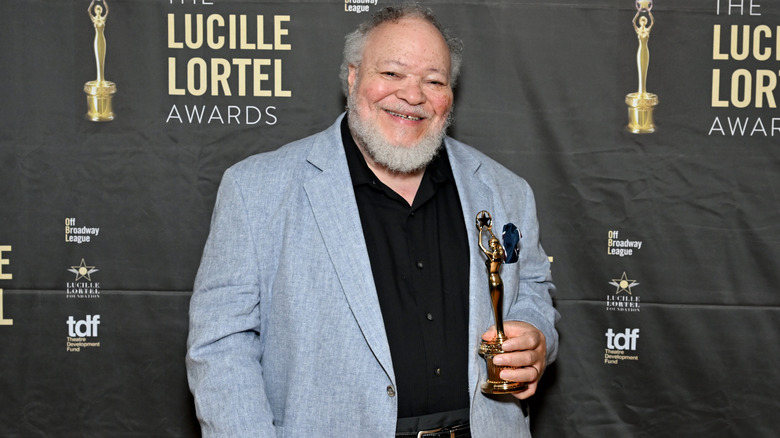 Slaven Vlasic/Getty Images
Stephen McKinley Henderson played a brief but memorable role in the first "Dune" as Thufir Hawat, an important member of House Atreides. In the source material, he is eventually forced into switching sides and working for the Harkonnens, which gives an idea as to what viewers can expect in "Dune: Part Two."
Henderson has been acting in movies and television since 1979 but mostly on a sporadic basis. There are huge gaps between Henderson's film and television roles, but that doesn't mean he wasn't acting elsewhere during that time. Henderson is best known as a two-time Tony-nominated stage actor and has been a part of many acclaimed Broadway plays such as "Ma Rainey's Black Bottom" and "Fences," which were both adapted into feature films. The latter also featured Henderson in the big-screen adaptation alongside Denzel Washington and Viola Davis, his same co-stars from the stage version.
In 2016, Henderson began performing in feature films on a more consistent basis. After playing a memorable role in "Manchester by the Sea," he was cast in "Lady Bird" in 2017 and has kept up a more regular output since. He appeared briefly on the shows "Fear the Walking Dead," "The Blacklist," and "Run" and in a major recurring role in the mini-series "Devs." In the last couple of years, he played a recurring role on the Hulu series "Wu-Tang: An American Saga," the Oscar-nominated "Causeway," and the divisive Ari Aster film "Beau is Afraid."
Austin Butler as Feyd-Rautha Harkonnen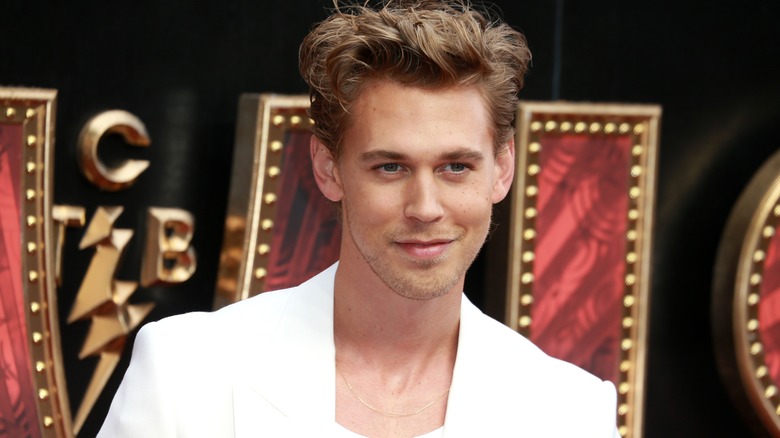 Fred Duval/Shutterstock
Austin Butler is another joining cast member for "Dune: Part Two," taking on the role of Feyd-Rautha Harkonnen — the key villain role famously played by musician Sting in the 1984 adaptation. He is one of the sons of House Harkonnen and is set to succeed to power after Count Vladimir Harkonnen. Butler got his start as a child actor working on Disney and Nickelodeon shows like "Hannah Montana," "Zoey 101," "iCarly," and "Ned's Declassified School Survival Guide." Most audiences will be familiar with Butler for his turn as Elvis Presley in last year's "Elvis," which was nominated for eight Oscars. "Dune: Part Two" will be Butler's first film after winning the BAFTA and being Oscar-nominated for his performance in "Elvis."
Outside of "Elvis," audiences are most likely to recognize Butler from his 2019 role in Quentin Tarantino's "Once Upon a Time... in Hollywood" as cult member Tex Watson. Other notable movies of his include supporting roles in Kevin Smith's "Yoga Hosers" and Jim Jarmusch's "The Dead Don't Die." Television audiences may also be familiar with Butler from his time on the shows "The Carrie Diaries" and "The Shannara Chronicles."
Florence Pugh as Princess Irulan Corrino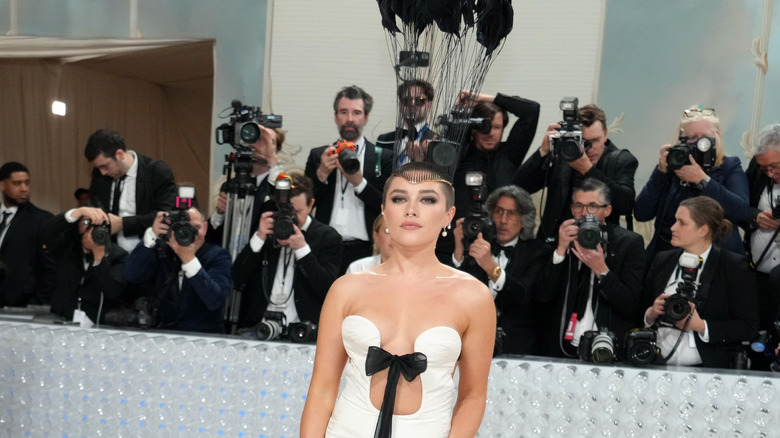 Jeff Kravitz/Getty Images
Also coming onto the scene for "Dune: Part Two" is Florence Pugh. The actor plays Princess Irulan Corrino, one of five daughters of Emperor Shaddam Corrino IV who becomes the symbolic wife of Paul Atreides while also embroiled in complex power-grab plots behind the scenes.
Few actors have enjoyed such a fast trip to stardom as Florence Pugh, and while she has only been acting for around 10 years, she has already become one of the film industry's most sought-after leading ladies. Many viewers will most closely associate Pugh with her impressive lead performance in "Midsommar," but she had already been in movies like "Lady Macbeth," "The Commuter," and "Outlaw King" by this point, and played the lead role in the Park Chan-wook mini-series "The Little Drummer Girl." 
The same year as "Midsommar," 2019, Pugh also played one of the lead roles in Greta Gerwig's version of "Little Women," which earned Pugh her first Academy Award and BAFTA nominations. Soon after, she joined the MCU as Yelena Belova in both "Black Widow" and the "Hawkeye" television series. Her 2022 film "Don't Worry Darling" was controversial for a number of reasons, but Pugh's performance was routinely singled out by critics as the film's greatest attribute. Alongside "Dune: Part Two," Pugh is also set to appear in Christopher Nolan's "Oppenheimer," another huge movie in 2023.
Christopher Walken as Emperor Shaddam IV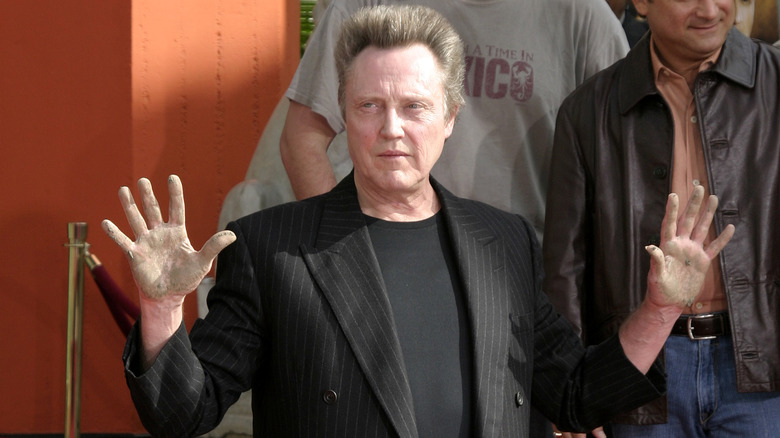 Tinseltown/Shutterstock
Christopher Walken is a fresh addition to the "Dune" world for the sequel and is taking on the role of Shaddam IV, the emperor of the known universe and the father of Princess Irulan Corrino and four other daughters. Shaddam plots with House Harkonnen to take down House Atreides, making him a new villain for "Dune: Part Two."
Few actors have been impersonated as much as Christopher Walken. With his unique cadence and eccentric personality, Walken has been entertaining audiences since the '50s when he first got started as a child actor under the name Ronnie Walken. Now at 80 years old, Walken's career is still going strong. "Dune: Part Two" will be his first movie since 2020, but he has kept busy in the interim with the Amazon Prime series "The Outlaws" and the Apple TV+ series "Severance."
Throughout his career, Walken has had a plethora of memorable roles. Some of his most impactful roles from the early stages of his career include movies like "The Deer Hunter," "Annie Hall," "The Dead Zone," and "Heaven's Gate." In the more modern phase of his career, Walken is best known for movies like "Pulp Fiction," "Catch Me If You Can," "Seven Psychopaths," "Eddie the Eagle," and many more.
Tim Blake Nelson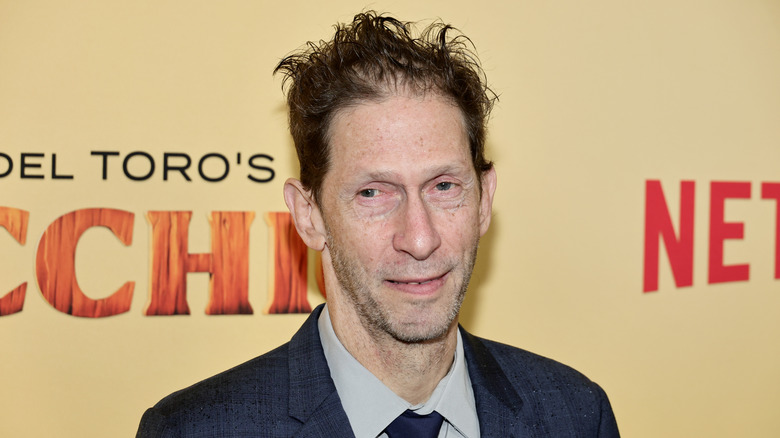 Jamie Mccarthy/Getty Images
Tim Blake Nelson has been confirmed as a new addition to the cast of "Dune: Part Two" but his character is the only one that has yet to be revealed. Most "Dune" fans speculate that he will be playing the significant role of Count Hasimir Fenring, the husband of Lady Margot Fenring. There is a smaller but not impossible chance that he will be playing the role of Scytale from the Bene Tleilax instead. This second option is less likely since Scytale doesn't appear until the second book, but as Villeneuve has announced that he plans to eventually adapt "Dune Messiah" as well, he may move some pieces around to better suit the flow of his trilogy.
Regardless of which character he plays, Tim Blake Nelson is sure to leave a large impression. Nelson is an under-appreciated character actor who has given many great supporting and leading performances over the years. His two most easily recognizable roles have both come courtesy of the Coen Brothers, playing Delmer in "O Brother, Where Art Thou?" and the singing titular character in "The Ballad of Buster Scruggs." Audiences are also likely to recognize him from recent projects like "Just Mercy," "Nightmare Alley," and the HBO TV series version of "Watchmen" in which he played Looking Glass, the mirror-mask-wearing vigilante. His most recent role was in "Ghosted" alongside stars like Ana de Armas, Chris Evans, Adrien Brody, and Ryan Reynolds.
Souheila Yacoub as Shishakli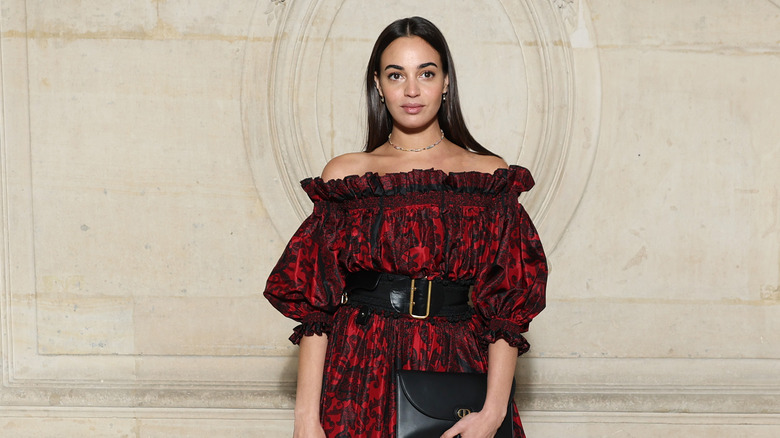 Pascal Le Segretain/Getty Images
The role of Shishakli — a key member of the Fremen tribe — is being fulfilled by Souheila Yacoub. Given that she only began acting in 2016, Yacoub is still extremely early on in her career, but she has already shown a ton of promise. Her first role was a recurring part on the French soap opera "Plus belle la vie," but it was her second role — in Gaspar Noé's 2018 dance and drug-centric freak-out movie "Climax" – that showed her real potential.
The dance aspect of "Climax" was key to Yacoub landing the role as she has an extensive background in dance and was even a part of the Swiss National Rhythmic Gymnastics Team when she was younger. Dancing has continued to factor into her roles in movies like "Rise" and in music videos for musicians such as Lomepal. Some audience members may also recognize Yacoub from her extensive work as a fashion model and her upcoming role in "Dune: Part Two" may just be the thing that takes her career to the next level.
Anton Valensi as Hakonnen Commander
Anton Valensi, who is frequently credited under the name Anton Saunders, is a new member of the "Dune: Part Two" cast and is filling the role of a commander within the Harkonnen army. Valensi began acting in 1999 with a supporting role in Michael Winterbottom's BAFTA-nominated "Wonderland." His second movie, "Gangster No. 1," was another huge project which found him acting opposite Paul Bettany, David Thewlis, and Malcolm McDowell.
As his career has gone on, Valensi has gone through some ups and downs. He still occasionally lands a substantial role in a good project but also takes on many unnamed bit parts and frequently stars in seldom-seen short films. He appeared in small, unnamed roles in big shows like "Call the Midwife," "Downton Abbey," "Wallander," and "Andor." In between all the bit parts, Valensi has played more significant roles in "Luther," "Wire in the Blood," "The Last Kingdom," the 2007 version of "Oliver Twist," the 2019 mini-series version of "Les Misérables," and the long-running British soap opera "EastEnders" — in which he has played three different characters throughout the years. He also had small roles in movies like Guy Ritchie's "RocknRolla" and "Vengeance is Mine."
Rand Faris as Fremen Fighter
Rand Faris is playing a small role in "Dune: Part Two" as one of the Fremen Fighters. Her name will likely be unfamiliar to most, but hardcore fans of director Denis Villeneuve may be aware that this isn't the first time they have worked together. Faris' first-ever film role was in Villeneuve's 2010 drama "Incendies," which was his final foreign-language film before making the transition to a career as a Hollywood filmmaker. "Incendies" was partially shot in the country of Jordan, which is where Faris grew up, marking her entry into the film industry. The film was nominated for an Oscar and a BAFTA for best foreign language film and helped put Villeneuve on the map.
Faris hasn't done too much acting between her two Villeneuve collaborations. Alongside a handful of shorts, Faris played a substantial role in the indie film "Plastic French," and played a minor supporting role in the BAFTA-nominated 2022 film "She Said." Outside of the film industry, Faris worked extensively in theater and as a writer of both articles and poetry. She also participated in the creation of an outside-the-box internet radio project known as TRYN FM.