How The Menu Nailed Its Fine Dining Aesthetic
Searchlight Pictures
"The Menu," the satire horror-comedy film directed by Mark Mylod, follows Margot (Anya Taylor-Joy) as she goes with her date, Tyler (Nicholas Hoult), to an exclusive and renowned restaurant on a private island called Hawthorn — at which the dinner costs $1250 per person. The restaurant and island are owned by famous chef Julian Slowik (Ralph Fiennes), who Tyler, a pretentious foodie, is dying to be in the company of — at the expense of his and Margot's lives, as we come to find out.
With the film set almost entirely in a dining room, all of the attention is on the details of the food. This fine dining experience includes several courses, all of which would be unfamiliar to the casual diner, like Margot, that sometimes focus more on meaning than on taste, such as with the breadless bread plate. As the film goes on, the horror elements ramp up and Margot and the other guests become aware that their lives are in danger. But, as this happens, the food remains as prevalent as ever.
So how did "The Menu" nail its fine dining aesthetic? Well, as is revealed in an interview with Bon Appetit, screenwriters Seth Reiss and Will Tracy drew inspiration from real life restaurants. Further, a real life chef was present on set to consult on the film.
Reiss and Tracy were inspired by a real life dining experience — and used existing restaurants as inspiration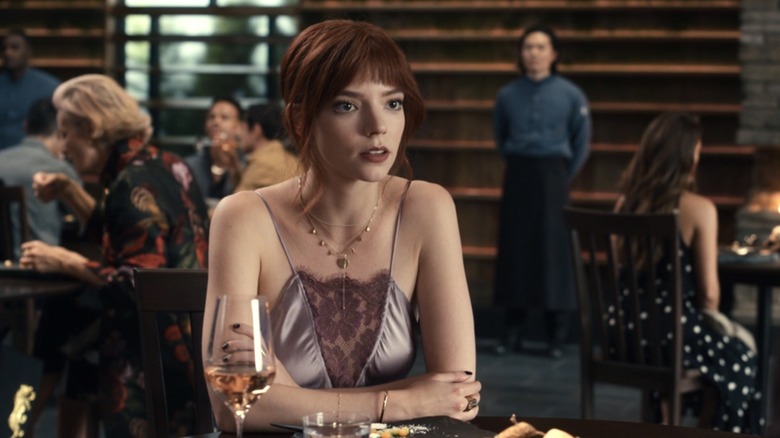 Searchlight Pictures
Speaking to Bon Appetit, "The Menu" screenwriters revealed that one reason the dining experience of Hawthorn feels so realistic to the fine dining scene is because they got the idea for the film after having a similar — albeit, not nearly as sinister — dining experience at an island restaurant off the coast of Norway.
Will Tracy, who felt claustrophobic during the dinner, said, "There's something relentless about all of these tasting menus. You can't leave. You're being held hostage by a story which they're telling for hours."
After they followed through with the inspiration and began writing the screenplay, Seth Reiss and Tracy then drew on a couple existing restaurants in Chicago, chef Curtis Duffy's Grace (which is now closed) and chef Phillip Foss' Michelin-starred EL Ideas, to fill in the gaps of their vision for Hawthorn. Foss, who was a fan of Reiss and Tracy's previous work as writers at the satirical site The Onion, allowed the two screenwriters to come sit in on his kitchen to see how a fine dining staff worked.
Comparing it to the collaboration of a writers' room, Reiss said, "To see him really wanting to hang out and just watch other people put something together was really cool. That's when I saw the chef as an artist, or the chef as a collaborator."
The Menu got help from a Michelin-starred chef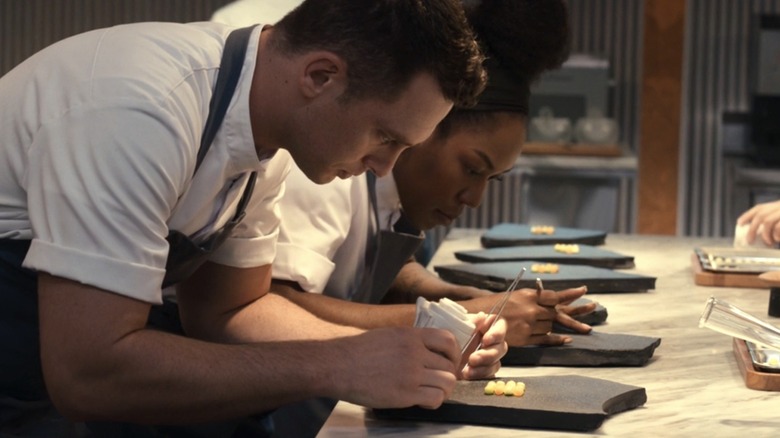 Searchlight Pictures
A chef named Dominique Crenn, who also has a Michelin star and owns the restaurant Atelier Crenn in San Francisco, worked as a consultant on the set of "The Menu" to make sure all of the details reflected a real fine dining restaurant. After all, Crenn's restaurant has a key commonality with Hawthorn: the high dining price. Although, Crenn's place isn't nearly as extreme — dinner at Atelier Crenn will come out to $410 per person versus Hawthorn's $1250 per person.
Crenn designed all courses shown in "The Menu," pulling from the work she does at her own restaurant where the dishes are also based around the intention of telling a story. She then cooked all of the food herself on set, wanting to avoid prop food. Crenn added, "[Then] the actor is not faking the emotion. He's literally eating something."
Crenn proved to be a valuable asset on the set of "The Menu," not only for her expertise but because she can relate to Ralph Fiennes' Julian Slowik — to an extent. Crenn told Bon Appetit, "I'm not as crazy as he is, but I understand his way of thinking."