Who Plays Brianna Randall Fraser In Outlander?
"Outlander" does a lot of interesting things with its time travel premise, but one of the biggest narrative twists it has dared to swing is the introduction of lead character Claire Randall's daughter Brianna. Fans actually got to see Claire's pregnancy play out in Season 2, before an absolutely massive time jump catapulted the newborn Brianna into a 20-year-old woman and a major player for the remainder of the series. In many ways, "Outlander" is just as much Brianna's story as it is her mother's, with her being the direct result of the show's central romance that transcends time.
With Brianna being a mainstay for the vast majority of the "Outlander" timeline, fans might be curious to learn a little bit more about her actor Sophie Skelton, and what other projects she's been a part of outside of the acclaimed historical drama show. As it happens, the performer does have quite a few notable credits under her belt ranging from TV shows to movies.
Sophie Skelton has many British productions under her belt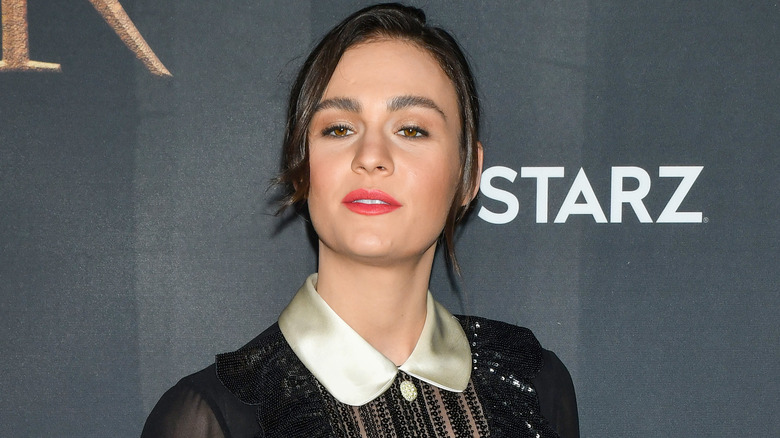 Jerod Harris/Getty Images
Several of Sophie Skelton's most notable roles outside of "Outlander" come from appearances on British productions from over the years. The actor got her start in TV with a two-episode guest role in Series 2 of the crime drama show "DCI Banks." From there, Skelton jumped into an array of BBC productions, including several episodes of the teen drama series "Waterloo Road." She later was a guest star on the acclaimed detective show "Foyle's War," and made a couple of appearances on the long-running medical drama "Casualty," just to name a few highlights.
More recent years in the wake of Skelton beginning her role on "Outlander" have also seen her starring in a couple of interesting movies. 2017 saw the actor lead the cast of the critically-panned "Day of the Dead: Bloodline," a modern reimagining of George A. Romero's classic zombie franchise "Night of the Living Dead." One year later, she joined Nicolas Cage for some action-thriller shenanigans in York Alec Shackleton's "211."
Interestingly enough, Skelton was originally a dancer and a stage performer before she eventually transitioned into the realm of acting in filmed productions. "[I] love the discretion of TV and film," she explained in an interview with EUPHORIA. Magazine. "I love that it's all in the eyes. Instead of trying to project things and make things bigger for an audience, [TV and film] always felt more real to me."