How Travis Fimmel Botched A Stunt On Patrick Swayze's The Beast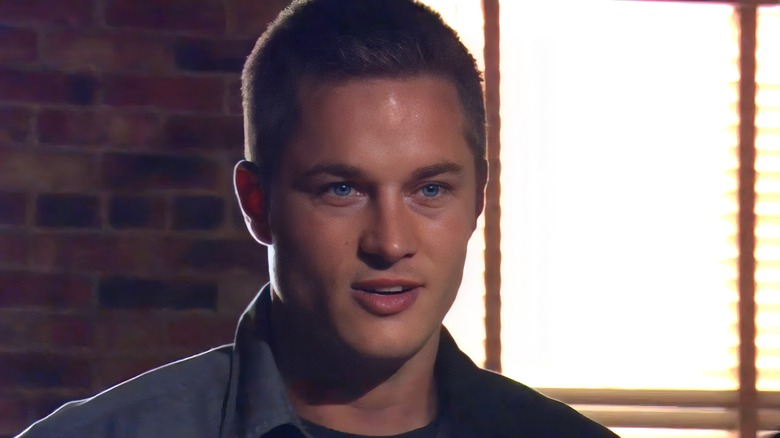 A&E Network
In 2009, Travis Fimmel starred alongside Patrick Swayze in "The Beast." On screen, rookie FBI agent Ellis Dove (Fimmel) has a lot to learn about the field from his mentor, Charles Barker (Swayze). Off-camera, Fimmel admits he could've used some mentorship when it came to his stunt work, which went poorly in one episode.
Fimmel recalled a botched stunt during an interview with Rolling Stone. The stunt required him to hang out of a car window while Swayze was driving and shoot backward. During rehearsals, because there were no blanks in the gun just yet, Fimmel got into the habit of yelling "bang" while firing the prop. Much to his dismay, it was a habit he forgot to shake when the cameras started rolling.
"We only had one chance [to do the stunt] because I was shooting people, and they had squibs and everything," he said. "Anyway, they give me the gun with the blanks in it. They said, 'action,' and I was hanging out the window shooting behind us as Swayze was speeding off. The director pulled me over to the thing, and he said, 'You realize you're going bang, bang, bang as you're pulling the trigger? We can't do it again, so you probably shouldn't watch that episode.'"
Travis Fimmel is done doing his own stunts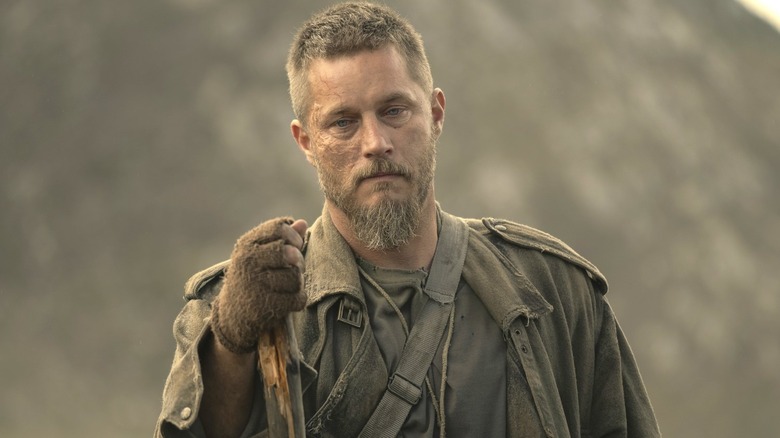 HBO Max
Following his brief stint on "The Beast," Travis Fimmel continued to land roles in action-packed projects, including as Ragnar Lothbrok in "Vikings" until its fourth season, and Marcus in "Raised by Wolves." Still, Fimmel won't be experiencing another "bang, bang, bang" disaster anytime soon like on the set of "The Beast." Now, he passes the baton to the trained professionals. 
"I don't love the action stuff at all," Fimmel said to People. "I'm lazy. I don't need to be a hero. I'm happy for the stunt guys to get paid to do their thing." This isn't the case for some of Fimmel's "Raised by Wolves" co-stars, mainly Amanda Collin, who plays Mother. 
"I've been working out a lot. I had to build some muscle for this role," she said in a behind-the-scenes interview, "and I feel that they're coming." One scene, which shows Mother flying through the air as a necromancer, was achieved via a combination of stunts by Collin and computer-generated imagery.
As Collin sweats and soars around on a harness, Fimmel is able to live the best of both worlds. He can still be part of the action without fearing another blunder.