The Untold Truth Of Jimmy Fallon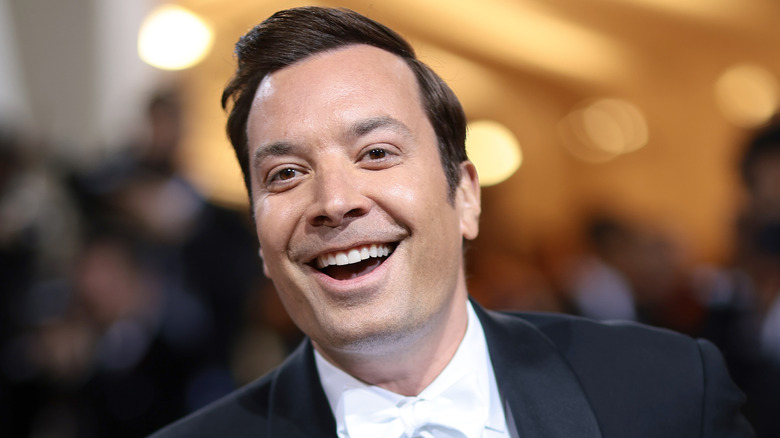 Dimitrios Kambouris/Getty Images
Since 2014, most audiences know Jimmy Fallon as the host of NBC's "The Tonight Show," a job he inherited from Jay Leno after the latter's 22 years on the air. There is a lot about Fallon's incarnation of "The Tonight Show" that make him unique compared to Leno, or even previous hosts like Conan O'Brien or Johnny Carson. Typically, Fallon emphasizes comedy sketches, competitive games with celebrity guests, and music, putting his own stamp on the show for nearly a decade and counting.
However, it wasn't an easy journey for Fallon to end up as the host of NBC's iconic late-night franchise. Fortunately, Fallon had time and patience on his side, which helped him slowly accrue attention in the comedy world and culminated in a successful run as a cast member on "Saturday Night Live." Even after becoming a sketch comedy star, Fallon struggled to find his footing in the world of late night for a long time.
As of 2023, with first "Late Night" and then "The Tonight Show," Jimmy Fallon has spent over 14 years on NBC's talk show lineup, cementing himself as one of the most consistent hosts in all of late night. He's no stranger to controversy, personal tragedy, and success, but there are lots of stories from throughout Fallon's life that most nightly viewers may be unaware of. Though none of them are quite as juicy as his missed opportunity to date Nicole Kidman, these facts about Fallon's life are sometimes even harder to believe. 
Fallon's comedy influence started in childhood
Although many comedians have dark pasts that fuel their need for laughter, Jimmy Fallon is an outlier. The future host of "The Tonight Show" was born in New York City to a relatively happy family. As he'd later describe to Vanity Fair, his childhood was picture perfect: "My grandparents were so happy, everyone in the family was funny, and there was no divorce, no unemployment." 
Nevertheless, like many childhoods, Fallon's was plagued with rules. His parents were strict in terms of what he was allowed to watch and where he was allowed to go. There was eventually an exception to that rule, in the form of NBC's sketch comedy program "Saturday Night Live." A teenage Fallon became obsessed with the show, staying up late every Saturday night to watch it, a tradition he continues now with his wife and children.
Aside from "Saturday Night Live," Fallon was an avid listener of "The Dr. Demento Show," which introduced the world to comedy acts like "Weird" Al Yankovic. Fallon's family was the perfect audience for his own early attempts at comedy, including impressions of Dana Carvey and Pee-Wee Herman, which also coincided with his interest in music and playing the guitar. Soon enough, Fallon would be on his way to becoming an ambitious new face on the comedy scene. 
Fallon wanted to become a Catholic priest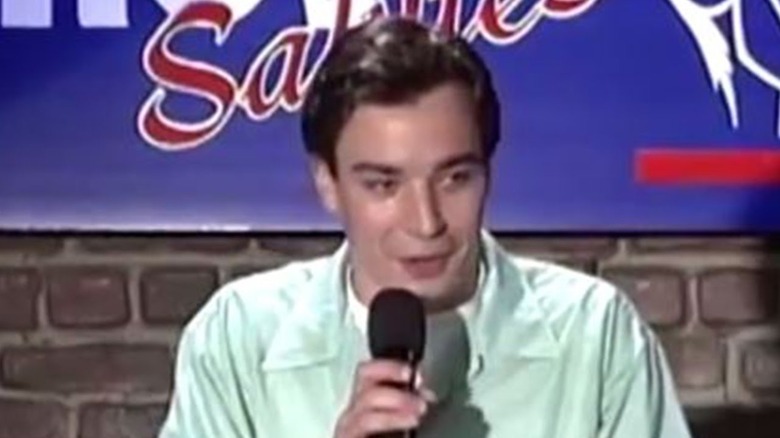 MDA Teleton
Before Jimmy Fallon was entirely committed to his future as a comedian, his other job prospects were equally influenced by his upbringing. The Fallons were a devoted family of Irish Catholics, leading a young Jimmy to consider becoming a priest. While many would feel inclined to do this out of a deep respect for their religion, for Fallon there was more of an interest in the pageantry of the church, which he became acquainted with as an altar boy.
As Fallon later recalled, being an altar boy was his first experience with being in front of a crowd, but eventually it became clear he was desperate for a little more validation. He later echoed this idea on Mike Birbiglia's "Working It Out" podcast in 2022, discussing how being a funny priest seemed much more easier than being a funny comedian because "you don't expect the priest to be funny." But Fallon's interest in comedy eventually thrust him into the much higher stakes world of performing stand-up.
During his college years, Fallon started performing stand-up comedy on the side, often taking the bus from The College of Saint Rose in Albany to the famous Caroline's Comedy Club in Times Square. Though his early attempts at telling jokes trended more towards Andy Kaufman-esque stunts, he later found a small amount of success through impressions, which guided him towards the next stage of his burgeoning comedy career. 
His first TV role found him crossing paths with Captain America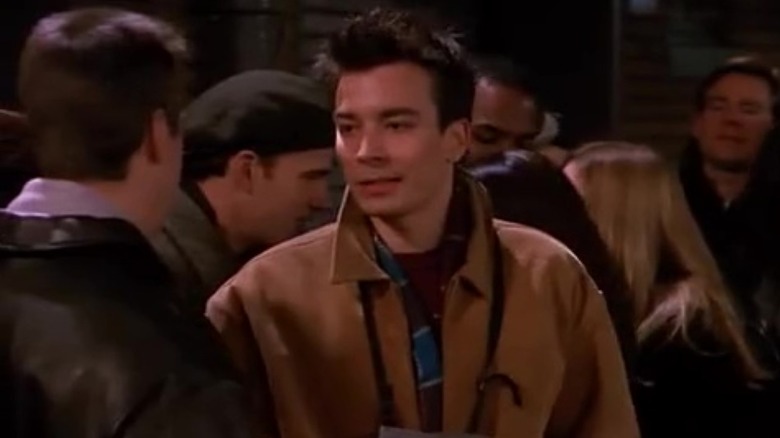 ABC
After dropping out of college in 1995, Jimmy Fallon moved to Los Angeles with the goal of pursuing comedy full-time, which many aspiring actors have tried but few have successfully been able to do. Nevertheless, his ambition was noticed by Hollywood professionals, eventually gaining him a manager and earning him his first few dollars performing stand-up comedy. Eventually, he enrolled in improv classes with The Groundlings, a historic comedy school with alumni including Conan O'Brien, Mariska Hargitay, and Dax Shepard. 
It wasn't long before Fallon started to sneak his way into film and TV. After a few small roles in feature films, he landed his first TV gig with a guest appearance as a photographer in the second season of ABC's "Spin City," a late '90s sitcom starring Michael J. Fox and Richard Kind. In fact, Fallon's casting on "Spin City" may be owed to a certain future Avenger.
During a 2023 appearance on "The Tonight Show," Fallon and Chris Evans discussed the fact that, around the same time that Fallon appeared on "Spin City," Evans was an intern in the casting office at the same time. It was the first of many TV appearances for Fallon predating "Saturday Night Live," though performing on NBC's sketch comedy show would remain his white whale for years to come. 
Fallon bombed his first SNL audition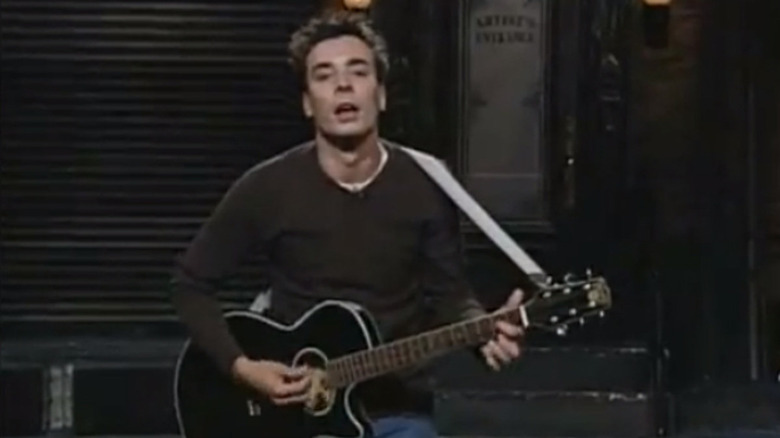 NBC
Jimmy Fallon's determination to be a cast member on "Saturday Night Live" didn't wane during his time in Los Angeles, and his opportunity to audition finally came in 1997. Fallon was only 21 years old at the time of this audition, though sadly he didn't impress the show's producers enough to earn him a spot either on the cast or as a writer. For a moment at the very least, Fallon's childhood dream had seemingly been crushed.
While others would have taken this loss as the end of their journey, Fallon kept his head up. Over the next two years, he accrued more experience and TV roles, including one pilot for The WB network where he stipulated in his contract that he could be released from the show if he managed to book "Saturday Night Live," which just goes to show how ambitious Fallon remained about earning his spot. On a more grim note, Fallon recounted to Rolling Stone a night where he swore to himself, "If I don't make it on 'Saturday Night Live' before I'm 25, I'm going to kill myself." 
Fortunately, things didn't come to that, as Fallon got a second chance to audition at age 23. His winning bit was a parade of celebrity impressions, including Jerry Seinfeld, Chris Rock, and Adam Sandler, the latter of which pulled a rare laugh from "SNL" producer Lorne Michaels. Fallon joined the cast of Season 24 in 1998. 
He gained a reputation for his SNL after-party behavior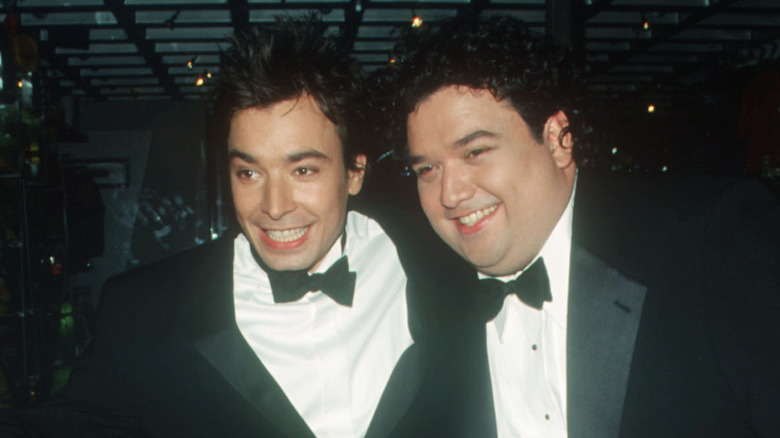 Evan Agostini/Getty Images
Following his audition, "Saturday Night Live" head writer Tina Fey testified about just how prepared Jimmy Fallon was to be a part of NBC's sketch comedy franchise. Fey recalled Fallon's audition to Vanity Fair, saying, "He's one of two people I've ever seen who was completely ready to be on the show." Luckily, Fey's hunch proved correct, as Fallon quickly won over audiences with that same Adam Sandler impression that won over Lorne Michaels. 
Seemingly overnight, Jimmy Fallon went from struggling stand-up comic to the latest "SNL" star, appearing in recurring sketches playing The Boston Teens with Rachel Dratch or many hilarious instances of corpsing – laughing and breaking character — with fellow cast member Horatio Sanz. Fallon famously broke character during Will Ferrell's iconic "Cowbell" sketch, as well as one disastrous edition of Dratch's character Debbie Downer at Disney World. 
Fallon's escapades, particularly with Sanz, weren't just limited to their on-air hijinx. Notably, the two took full advantage of "Saturday Night Live"s history with partying and alcohol, staying out into the early hours of the morning drinking and getting into occasional bar fights. Sanz later recounted their attitude to Vulture as believing in "the fact that being out of control is good on that show," even though it resulted in some embarrassing stories and even a few legal controversies. 
Jimmy helped The Lonely Island land their big break on SNL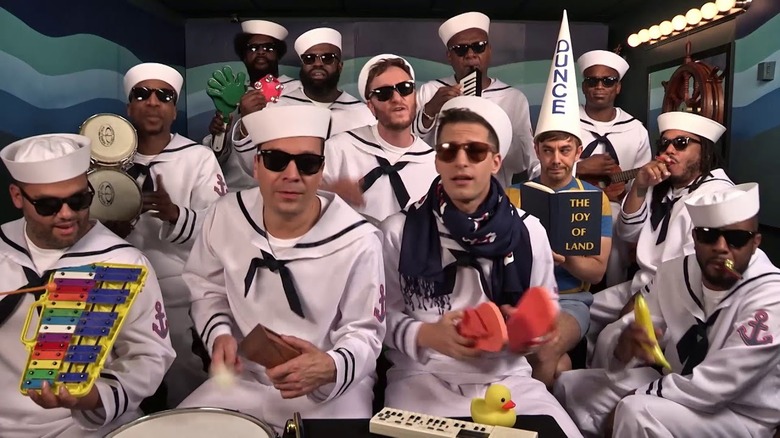 NBC
"Saturday Night Live" quickly increased Jimmy Fallon's celebrity profile, as the comedian was upgraded from featured player to main cast after only one season. Fallon later gained even more notoriety with he began co-hosting the "Weekend Update" segment alongside Tina Fey during his third season on the show. Around the same time, Fallon played a minor role in Cameron Crowe's 2000 film "Almost Famous," as promotional manager Dennis Hope. 
Eventually, Fallon ended up being chosen to host various award shows for MTV over the years, including the MTV Movie Awards and the MTV Video Music Awards. While hosting the former in 2005, Fallon first encountered a trio of writers and sketch comedians known as "The Lonely Island." That trio consisted of Andy Samberg, Akiva Schaffer, and Jorma Taccone, whose collaborations with Fallon for the awards show and unique sense of humor caught Fallon's attention. 
Fallon ended up recommending the trio's online content to the producers of "Saturday Night Live," which eventually got the attention of Lorne Michaels, who invited them to audition. Samberg joined the show as a cast member, with Akiva and Jorma as writers, and the three completely changed "Saturday Night Live" for the digital age, all thanks to Fallon's recognition of their talent. Fallon later invited The Lonely Island to "Late Night" to perform "Lazy Sunday" with The Roots. 
Fever Pitch ended Fallon's shot at movie stardom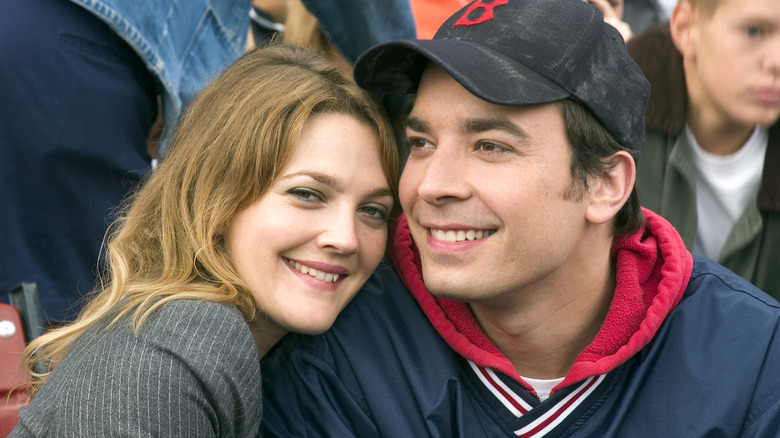 20th Century Fox
Jimmy Fallon eventually departed from "Saturday Night Live" following Season 29 in 2004, after which he was replaced as Tina Fey's "Weekend Update" co-anchor by Amy Poehler. Fortunately, the future looked bright for Fallon, as he had just starred in his first lead film role alongside Queen Latifah in "Taxi." However, the film ended up doing poorly at the box office when it was released that same year, despite Fallon's performance charming some reviewers. 
Fallon's second chance came with a role he seemed better suited for, in the 2005 romantic comedy "Fever Pitch" opposite Drew Barrymore. The film centers on the romance between Fallon's character, a devout Boston Red Sox fanatic, and Barrymore's, a workaholic who doesn't understand his obsession. However, "Fever Pitch" also saw a lackluster return at the box office, while reviews from critics and viewers were also generally lukewarm.
Following the failure of "Fever Pitch," Fallon hit a surprising dead end in his career. Once film offers stopped rolling in, Fallon decided to move back to New York City, eventually hitting a depressive period with no real insight on how he'd move forward. However, all he ended up having to do was wait for an old mentor to come knocking with the opportunity of a lifetime. 
Jimmy met his future wife while working on Fever Pitch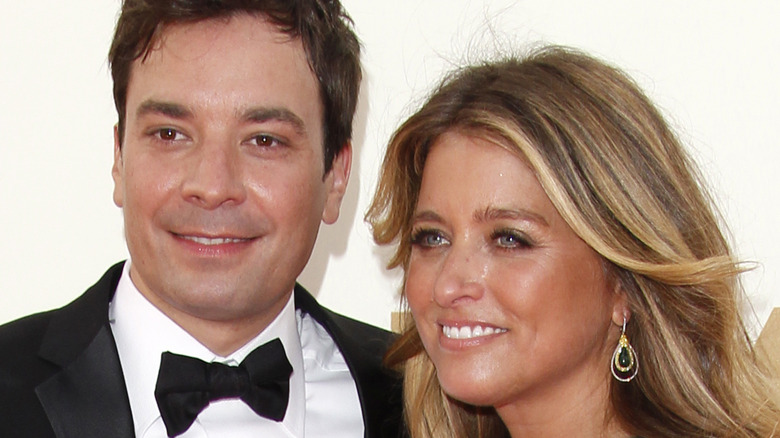 Dan Macmedan/Getty Images
Even though it left his career at a standstill, Fallon has a lot to thank "Fever Pitch" for. Through his work on the film, he ended up falling in love with Nancy Juvonen, who was the co-founder of Drew Barrymore's production company, Flower Films. Fallon and Juvonen later recounted the specifics of their first introduction to each other during an episode of "The Tonight Show: At Home Edition," when he was forced to produce episodes of the show with his family during the initial COVID-19 lockdowns in 2020. 
On a walk outside their home, Juvonen recounted how they first met at "Saturday Night Live" when Barrymore was hosting, and Fallon eagerly introduced himself to her. Juvonen added that she later developed a crush on Fallon on the set of "Fever Pitch," after a producer brought their kids to set and she noticed him playing with one of the kids. The two got married in 2007, and currently live in New York with their two daughters, who were born in 2013 and 2014. 
Nevertheless, Fallon's wedding to Juvonen wasn't without hijinx, as one would expect from a comedian's wedding. As he later recounted on "The Drew Barrymore Show" in 2020, his wedding was crashed by none other than Kermit the Frog, after the videographer heard their wedding song would be "The Rainbow Connection." Although it was a perfect wedding regardless, Kermit made it into every shot of the wedding video. 
Lorne Michaels hand-picked Fallon to host Late Night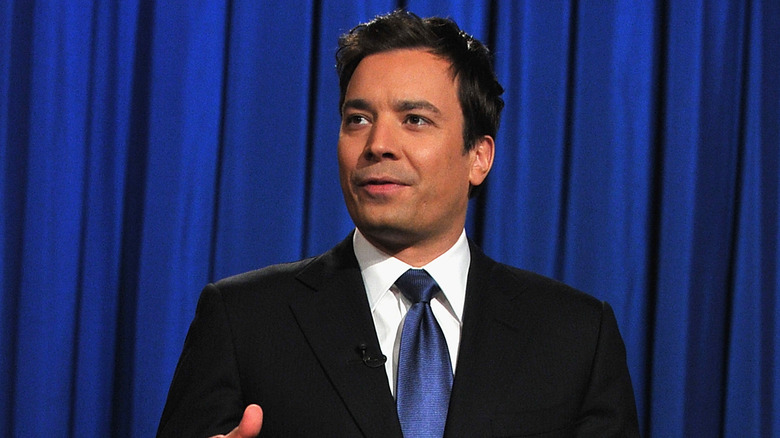 Theo Wargo/Getty Images
Following Jimmy Fallon's career slump after his failure in the world of movies, Lorne Michaels made good on a promise he made to Fallon shortly before the comedian left "Saturday Night Live." At the time, Michaels and Tina Fey both suggested that Fallon could be a good replacement for Conan O'Brien on "Late Night" when he eventually took over "The Tonight Show" from Jay Leno. However, Michaels probably didn't expect that recommending Fallon for the job in 2007 would result in conflict with NBC executives. 
As Fallon later told GQ, "NBC was like, 'This is going to flop,'" but Michaels remained supportive of Fallon despite the comedian's failure as a film star. Those executives, nevertheless, were proven right when Fallon made his debut on "Late Night with Jimmy Fallon" in 2009 to unflattering comparisons with Conan O'Brien's tenure on the show. However, Fallon slowly began to win over audiences, especially as public behind-the-scenes turmoil hit "The Tonight Show with Conan O'Brien," making "Late Night with Jimmy Fallon" a sanctuary for upbeat, positive comedy.
Fallon's success on late night TV was, inevitably, all thanks to the confidence of Lorne Michaels, who had become a mentor figure for the comedian during his six years at "Saturday Night Live," offering him both wise life advice and invaluable career insights. Fortunately, Fallon lucked out with perhaps the best house band in all of late night thanks to The Roots, who made the show what it was. 
Jimmy emceed an iconic lineup of performers at SNL's 40th anniversary
Fallon taped "Late Night with Jimmy Fallon" at 30 Rockefeller Center, where he continued his talk show tenure after inheriting "The Tonight Show" from Jay Leno in 2014. This also kept him in close proximity to "Saturday Night Live," where he returned to host three times over the years. The comedian also made an appearance alongside Justin Timberlake in the sketch series' 40th anniversary special in 2015, which gathered a who's who of Hollywood to celebrate the show with reunion sketches, tributes, and musical performances.
The most memorable part of the night, however, took place after the cameras stopped rolling. The cast, crew, and audience of "SNL 40" gathered at the Plaza Hotel for what would become the most legendary after-party in the history of "Saturday Night Live." Fallon recounted the event the next night on "The Tonight Show," revealing that there was no scheduled musical performer, with the party instead arranged to have an empty stage and instruments for anyone to jam. Thanks to Fallon, jam they certainly did.
After unintentionally accepting duties as the party's emcee, Fallon roped in all sorts of musical performers. Taylor Swift and Paul McCartney joined the comedian to play "Shake It Off" and "I Saw Her Standing There," while Michael Bolton serenaded the crowd with "When A Man Loves A Woman." The climax of the night came when Prince played "Let's Go Crazy" to a starstruck audience of A-listers. 
He was an early advocate for Hamilton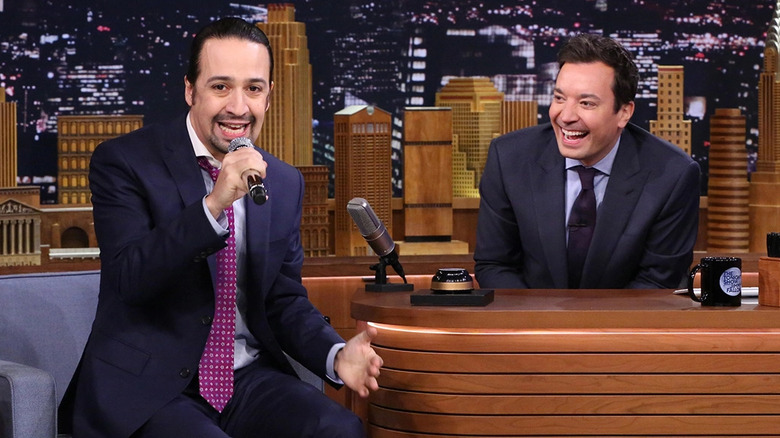 NBC
Becoming host of "The Tonight Show" was a game-changing moment for Fallon, turning him from a mere popular comedian to a household name. This also gave Fallon the privilege of spreading the word about what he loves, which was influential in creating one of the biggest pop culture phenomenons of the late 2010s. In 2015, "Hamilton: An American Musical" debuted Off-Broadway, which Fallon attended and raved about during an episode of "The Tonight Show." 
By the time the Lin-Manuel Miranda-created musical transitioned to Broadway later that year, the word of mouth campaign begun by Fallon had spread like wildfire. Soon enough, "Hamilton" became one of the hottest tickets on Broadway, skyrocketing members of its original cast to mainstream success. Fallon further helped out by having Lin-Manuel Miranda on his show, spotlighting the actor-writer's freestyling skills in a game of "Wheel of Freestyle." Fallon later made an appearance on "The Hamilton Mixtape" in 2016, performing a cover of the song "You'll Be Back," originally sung by Jonathan Groff on the cast album. 
Fallon and "The Tonight Show" have been heavily involved with Miranda and the "Hamilton" family in subsequent years. Following the devastation from Hurricane Maria in 2017, Fallon taped segments of "The Tonight Show" in storm-ravaged Puerto Rico with Miranda, joining the playwright onstage fully dressed as Alexander Hamilton to sing "The Story of Tonight" with the cast of the Puerto Rico production. 
His tribute to Prince recalled a surreal game of ping-pong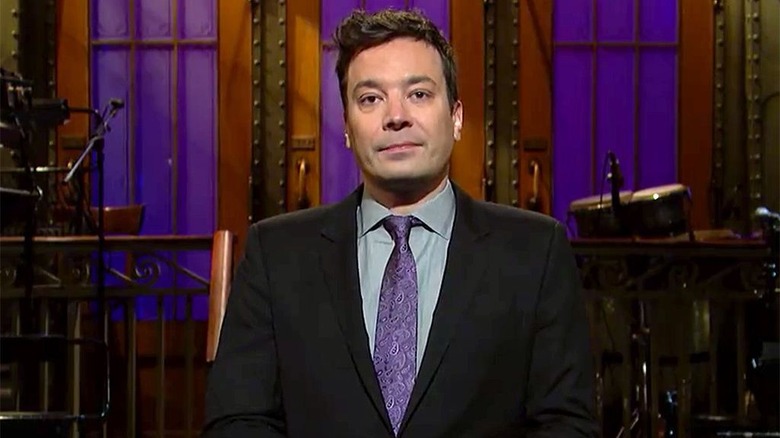 NBC
Of course, being host of "The Tonight Show" since 2014 has also meant that Jimmy Fallon has had to address some tragedies that have struck the pop culture world. Among the biggest of those was the sudden death of Prince in 2016, which sent shockwaves around the world. In a special tribute episode of "Saturday Night Live" in 2016, Fallon showed up to recount how he convinced Prince to perform at the "SNL 40" after-party. 
Fallon talked further about Prince when he returned to "The Tonight Show," where The Roots drummer Questlove coaxed him into telling one of the craziest Prince stories ever told. As the story goes, Prince performed on "The Tonight Show with Jimmy Fallon," although Fallon turned down the artist's request to play ping-pong on the show. About a month later, Prince contacted Questlove in the middle of the night requesting that Fallon meet him at a private ping-pong club to face him, with no cameras around. 
Despite Fallon and his wife having a newborn baby to take care of, he met up with Prince at the location, where Prince proceeded to kick his butt in ping-pong and then subsequently disappear. When Questlove arrived minutes later, he caught Prince's limo leaving the club, and when asked about the results of the match, Prince said, "Ask your boy." 
Fallon publicly mourned his mother with help from Taylor Swift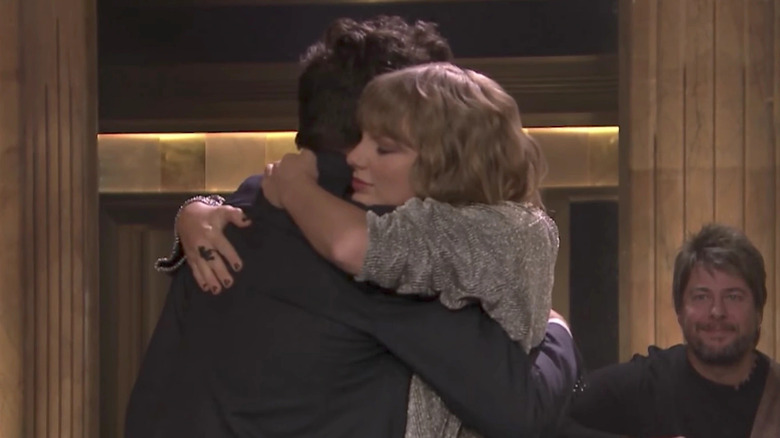 NBC
During his tenure on "The Tonight Show," Jimmy Fallon has also faced tragedy in his personal life. In 2017, the talk show host canceled a week of shows when his mother Gloria suddenly passed away. He returned to 30 Rockefeller Center the next week, with his first episode back being quite the rollercoaster of emotions. Luckily, Taylor Swift was in town to perform on "Saturday Night Live," and agreed to be the musical guest at the last minute in support of Fallon. 
Earlier in the show, Fallon told a gut-wrenching story of how his mother would squeeze his hand three times to say "I love you," which already tugged at the heartstrings of the studio audience. However, the moment was made even more special when Swift came on to perform the acoustic ballad "New Year's Day" off her 2017 album "Reputation," which contains the line, "You squeeze my hand three times in the back of the taxi." 
In a Twitter thread posted shortly following the episode, "The Tonight Show" producer Mike DiCenzo revealed that, since the album had just been released days earlier, the studio audience was shocked to hear the line that paralleled Fallon's story. Fallon proceeded to cry, and when the song ended he embraced Swift in a truly heartfelt moment. The song's producer, Jack Antonoff — a friend of Fallon and frequent collaborator of Swift — also tweeted praise for the performance and moment the following day. 
A 2021 Christmas song paired Fallon with an unlikely team of pop stars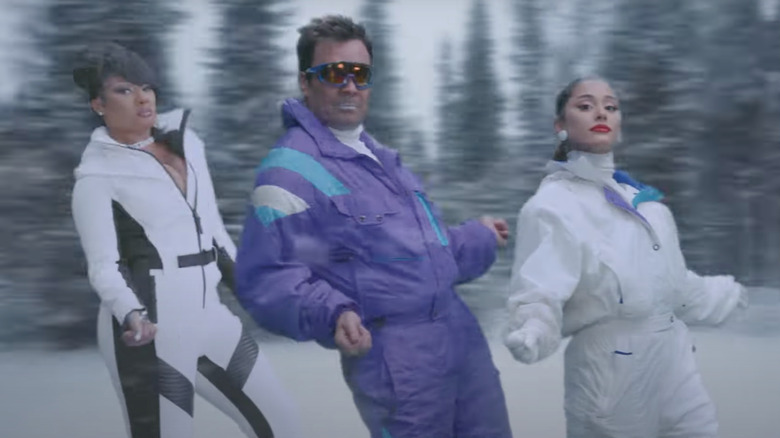 YouTube
The COVID-19 pandemic derailed many things, particularly the lives of people across the world, but it also disrupted the world of late-night TV. Fortunately, Jimmy Fallon embraced quarantine by filming episodes of "The Tonight Show" in his home with the help of his wife and daughters, which made for a charming escape from the grim state of the world outside people's homes. However, as the pandemic continued into 2021, Fallon decided he wanted to do more to help people escape their struggles.
Recorded at New York City's Electric Lady Studios, Fallon released a collaboration with Ariana Grande and Megan Thee Stallion titled "It Was A ... (Masked Christmas)." Fallon described his intent behind the song to the Associated Press, saying, "I wanted to write something reflecting on how tough it was for everyone last year during the holidays and that it's gonna get better." The song covered topics such as getting booster vaccines, staying masked in public, and participating in family Zooms. 
"It Was A ... (Masked Christmas)" is only the most recent in a long history of Fallon releasing Christmas-themed singles over the years. In the past, he duetted with the legendary Dolly Parton on a cover of Mariah Carey's "All I Want For Christmas is You," and also performed Paul McCartney's iconic "Wonderful Christmastime" with the former Beatle and The Roots back in 2016. However, this 2021 tune was his first original Christmas classic. 
Fallon collaborated with Jennifer Lopez on a children's book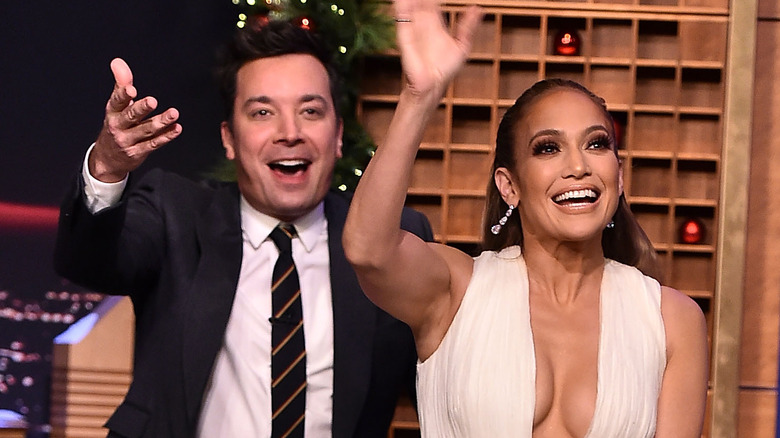 Theo Wargo/Getty Images
Aside from hosting "The Tonight Show" since 2014, Jimmy Fallon has also made a career for himself as an author of children's books. This journey started for Fallon in 2015, when he was inspired by recent fatherhood to write "Your Baby's First Word Will Be Dada." In an interview with NPR, Fallon described the book's premise as an act of selfishness, explaining how he tried to trick his daughter into saying the word "Dada": "I would call everything in the house 'dada.'"
Fallon continued to regularly release children's books over the years, all inspired by his experiences as a parent. He even channeled his love for Christmas into a 2020 book titled "5 More Sleeps 'Til Christmas." However, his most adventurous experience came in 2022, when he collaborated with none other than Jennifer Lopez on a children's book titled "Con Pollo: A Bilingual Playtime Adventure," aimed at educating children in speaking Spanish. 
Though the team-up between Fallon and Lopez may seem random, it was something they both had wanted to do for a long time. Fallon told People that approaching Lopez to write the book with him was inspired by his respect for her as a mother, saying, "One of the many things I love about her is how great of a mom she is." What started for Fallon as a way to channel his parenting anxieties has now become a successful side venture for the comic. 
Fallon made his Broadway debut in 2023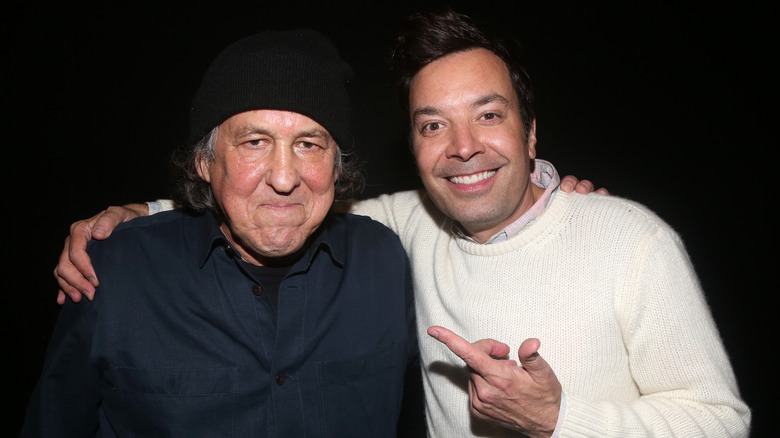 Bruce Glikas/Getty Images
By 2023, Jimmy Fallon had accomplished a lot in his career, some of which he probably never anticipated when he was just a struggling actor dreaming of being on "Saturday Night Live." While the comedian probably has plenty to look forward to in his future, one bucket list item has already been crossed off as of earlier in the year.
In 2022, Fallon invited Cameron Crowe on "The Tonight Show" to promote a Broadway adaptation of his movie "Almost Famous," which Fallon appeared in over 20 years earlier. On the show, Crowe personally invited Fallon to reprise his screen role as Dennis Hope onstage at some point before "Almost Famous" closed in January 2023, which Fallon accepted.  
Sadly, Fallon never made good on his promise to Crowe, but he did make a special appearance during one of the last nights of the musical's run on Broadway. After attending a performance with Lin-Manuel Miranda and Crowe, Fallon was pulled onstage by one of the cast members during their bows at the end of the show, which was met with roaring applause from the audience. It's clear that Fallon had come a long way from where his career was at the turn of the century, and he won't be going anywhere anytime soon.