Fast X Will Include A Cameo From Paul Walker's Daughter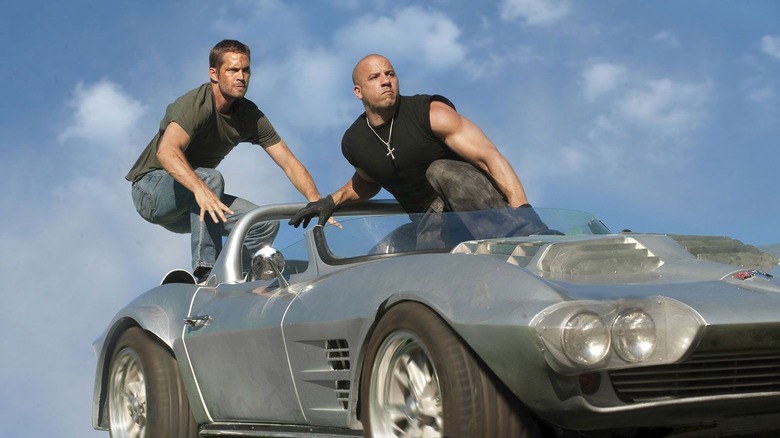 Universal Pictures
If the franchise hasn't made it abundantly clear, "Fast & Furious" is all about family on and off-screen. In "Fast X," family is more present than ever, as everyone is back for the series' 10th installment — except for Dwayne Johnson's Hobbs, which is probably for the best. If the massive reunion wasn't enough to drive home the importance of family, we now know that Paul Walker's daughter Meadow will make a cameo in "Fast X."
Meadow Walker revealed the first look at her "Fast X" cameo on Instagram today, writing an incredibly emotional caption that will make any fan of the franchise tear up. "The first 'Fast' was released when I was one year old!" Walker wrote. "I grew up on set watching my father, Vin [Diesel], Jordana [Brewster], Michelle [Rodriguez], Chris [Ludacris], and many more on the monitors. Thanks to my dad, I was born into the 'Fast' family. I can't believe now I get to be up there too. With those who have been around to see me grow up."
Walker continued, thanking "Fast X" director Louis Leterrier and many others that made her cameo possible. The actress couldn't be more excited to add to her father's legacy, and she has the support of the entire "Fast" cast behind her, with Vin Diesel throwing a simple yet effective prayer emoji in the comment section.
The Fast & Furious franchise needed a blessing from the Walker family
Everyone knows how much Paul Walker's tragic death impacted the "Fast & Furious" series, as he and Vin Diesel started what has now become a billion-dollar franchise. Although "Furious 7" was Walker's last performance, he's never far from the cast and crew's thoughts, who continue to honor his legacy with each subsequent film.
"I'll tell you, you know, it was really hard to move on without a blessing of some sort from that family," star Michelle Rodriguez told Extra regarding Meadow Walker's involvement in "Fast X." "It's everything, you know what I mean? Dom's half a Dom without [Paul], you know what I'm saying? It's kind of like [Jerry] Maguire when he's like, 'You complete me!' That's what those two were together, and they made a big part of the franchise. So, without that kind of love from Meadow, and Cody [Walker], and the family, we would be lost."
Rodriguez chose "Furious 7" as her favorite from the series, saying that the emotional send-off for Walker's Brian O'Connor elevates it above the rest. With Meadow officially joining the family on screen in "Fast X," it brings the Walker family's involvement with the franchise full circle. While "Fast X" was already gearing up to be emotional, as the director teased potential deaths on the way, seeing Walker's daughter on the screen will undoubtedly make the 10th installment all the more meaningful.