Chicago Med: Dan Bucatinsky's Real-Life Broken Ankle Helped Shape His Character's Injury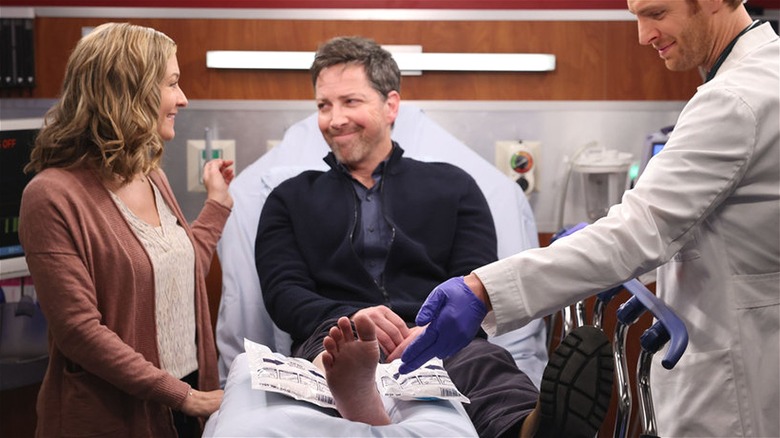 NBC/George Burns Jr.
Contains spoilers for "Chicago Med" Season 8, Episode 20 — "The Winds of Change Are Starting to Blow"
If there is one thing that medical shows have to get right, it is the medical components. "Chicago Med" is a popular television show nested within the greater "One Chicago" franchise, and Season 8 of the series focuses on healing estranged relationships, advanced technologies, potential romances, and hospital-wide politics. 
In the most recent episode, "The Winds of Change Are Starting to Blow," the familiar face of Richard Evans (Dan Bucatinsky) returns to the Gaffney Medical Center with a gnarly foot injury. Richard's previous appearance on the show revolved around his pancreatic cancer, which was seemingly treated. Waiting to see a doctor, Richard is greeted by Dr. Will Halstead (Nick Gehlfuss), and Richard complains about how he twisted his ankle and the swelling. As painful as this injury looks, it turns out that it is actually based on Bucatinsky's real-life injury. 
"@danbucatinsky, who plays Richard Evans, recently broke his ankle in real life," Wolf Entertainment posted on Twitter, "so he presented us with pictures of his bruising. From there, [our] makeup team replicated each detail — hand-painted by the artist with the appropriate palette."
The real life injured ankle provided the basis of a Chicago Med plot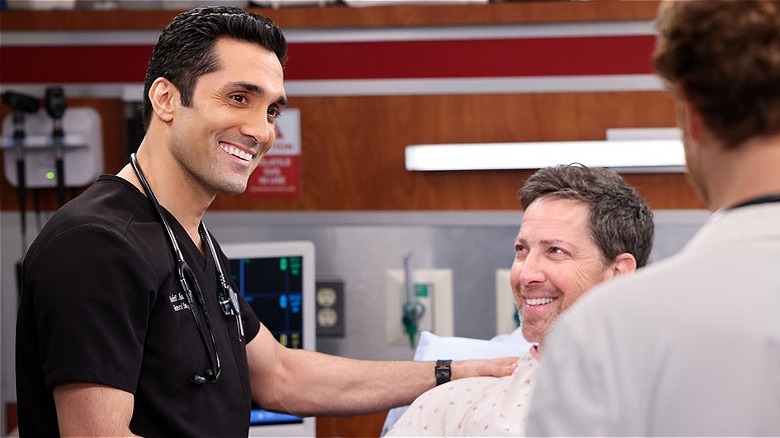 NBC/George Burns Jr.
Considering the clever use of real-life events woven into the plots of "Chicago Med," one can see that the makeup department did a fantastic job creating a convincing foot injury that requires one to go and seek a medical help. If anything, it is amazing that Richard Evans waited for as long as he did, since the character has a glowing view of the doctors, staff, and equipment of the Gaffney Medical Center. This is because Richard is the first person to be cured by the semi-realistic Operating Room 2.0 when the advanced piece of technology was able to aid in the removal of a supposedly inoperable tumor in the 2022 episode "This Could Be the Start of Something New."
Unfortunately, the real reason for Richard's foot injury and his unease about returning to the hospital is that his cancer, which he believes has returned, will shatter the happiness he and his wife, Vicki (Ali Hillis), experience. This is why Richard is so reluctant to come in and get checked out. 
Thankfully, the doctor who performed the first surgery, Crockett Marcel (Dominic Rains), volunteers to put Richard back under the knife and electronic eye of O.R. 2.0, but this surgery doesn't go as planned. Although Richard faces tragedy, it is still interesting to see that the creators of "Chicago Med" are able to parlay a real injury into a convincing aspect of the plot.