Modern Family's Asylum Halloween Episode Opened Up A Big Can Of Backlash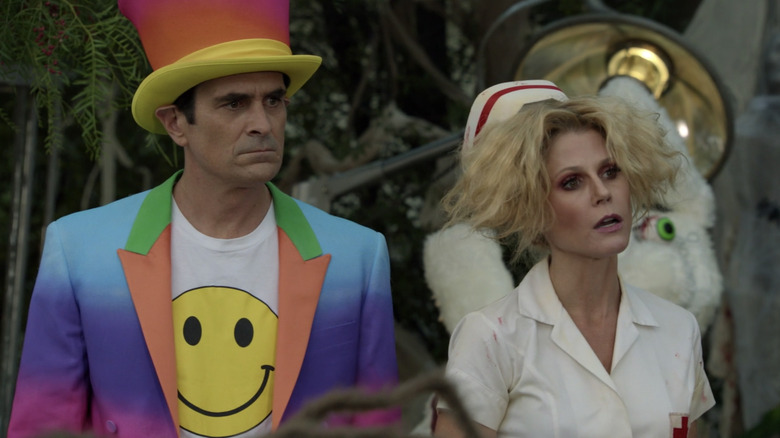 ABC
Halloween episodes (and holiday episodes in general) were a staple of ABC's "Modern Family" throughout its 11-season run, often featuring the Dunphys' elaborate haunted houses and plenty of costumes for everyone. A few of the best episodes include Season 8's "Halloween 4: The Revenge of Rod Skyhook," which centers around a prank war between Claire Dunphy (Julie Bowen) and Mitchell Pritchett (Jesse Tyler Ferguson); Season 10's "Good Grief," which features the unexpected death of Claire and Mitchell's mother, DeDe Pritchett (Shelley Long); and the infamous Season 6 episode "Halloween 3: AwesomeLand" — which received a swarm of criticism due to the nature of the Dunphys' haunted house.
Every year, Claire goes above and beyond to make the Dunphys' house the scariest one in the neighborhood. This year, she decides to transform it into a haunted insane asylum — which seemingly ends up offending their neighbor Amber (Andrea Anders), with her husband, Ronnie (Steve Zahn), explaining, "She spent six months in a cuckoo farm in Nevada."
The episode caused six different mental health organizations to reach out to ABC and ask that it be pulled from the air, claiming that its portrayal of mental illness is problematic and alarming. Some critics even said that the episode could negatively affect children or teens struggling with mental illness and that the stigma it promotes prevents people from seeking mental health treatment. Though ABC ignored these complaints and rebroadcast the episode anyway, there's no doubt that "Halloween 3: AwesomeLand" remains one of the most controversial "Modern Family" episodes of all time.
Some feel the episode presents harmful stereotypes about mental illness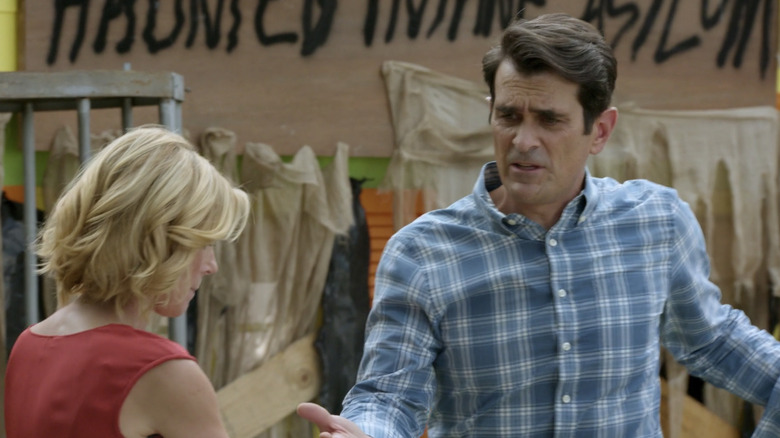 ABC
Some of the more specific critiques about "Halloween 3: AwesomeLand" condemn the use of mental illness-related stereotypes such as Alex (Ariel Winter) being strapped down in a gurney or Luke (Nolan Gould) being wrapped in a straitjacket and derogatory terms such as "cuckoo farm," "nut job," and "loony bin," although it is important to note that the latter two do not actually appear in the episode in question.
Journalist Pete Earley goes into more detail in a blog post criticizing the episode, writing, "All of us know someone with a mental disorder, such as bipolar disorder, schizophrenia, panic disorders, [a]utism, eating disorders and PTSD. These are not scary 'deranged mental patients,' they are our sons, daughters, parents, friends, and co-workers." Earley claims that the episode marginalizes people with mental illness and reduces their suffering to a joke, particularly in the "cuckoo farm" scenario that Ronnie and Amber present to the audience.
This scene is made into an even bigger joke when it's revealed that the couple was completely lying about Amber's history with mental illness, simply using it to get the Dunphys to take down their Halloween decorations and therefore ensure that they would win the neighborhood's haunted house competition. Although no repercussions ever came out of the backlash to this episode, it's clear that mental health advocates and professionals did find its content offensive — even if ABC did not.
If you or someone you know needs help with mental health, please contact the Crisis Text Line by texting HOME to 741741, call the National Alliance on Mental Illness helpline at 1-800-950-NAMI (6264), or visit the National Institute of Mental Health website.