Tom Hanks Wasn't Sure Anyone Would Care About Forrest Gump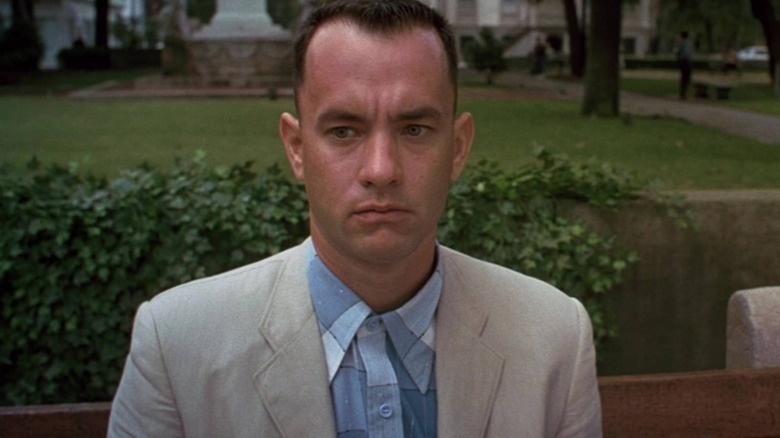 Paramount Pictures
"Forrest Gump" has become one of the defining films of the 1990s and a signature calling card in Tom Hanks' extraordinary career. The movie grossed $678 million at the global box office and ended up winning six Academy Awards, including best picture and best actor for Hanks. Suffice it to say, it was an excellent career move for Hanks, who was coming off of a string of hits with the likes of hits like "Philadelphia" and "Sleepless in Seattle." However, before the film came out, Hanks thought it would end up being a dud.
Variety reports that during a New Yorker live event to promote a new book, "The Making of Another Major Motion Picture Masterpiece," Tom Hanks said he had doubts about whether anyone would connect with the 1994 film. Hanks admitted that at one point, he turned to director Robert Zemeckis and said, "I say, 'Hey Bob, I've got a question for you. Is anybody going to care about this movie?'" After all, it was a bit of an offbeat premise, as he went on to say, "This guy sitting on a thing in these goofy shoes and this cuckoo suit with a suitcase full of 'Curious George' books and stuff like that... are we doing anything here that is going to make any sense to anybody?" Even Zemeckis admitted it was a gamble, but fortunately, it was one that paid off. 
Robert Zemeckis described Forrest Gump as a 'minefield'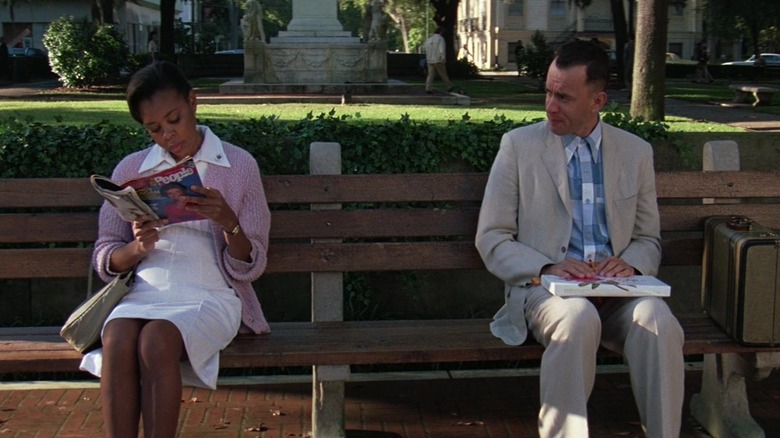 Paramount Pictures
"Forrest Gump" is a pretty risky proposition on paper. While it's based on a book people were familiar with, it's ultimately about a man with an IQ of 75 who finds himself intertwined in major American events, all while chasing his one true love — Jenny (Robin Wright). It fluctuates between comedic and heavily dramatic moments, so it's only natural Tom Hanks would have some doubts. And Robert Zemeckis didn't exactly make him feel much better, responding, "And Bob said, 'It's a minefield, Tom. It's a minefield. We may be sowing the seeds of our own destruction. Any footstep we take can be a Bouncing Betty that'll blow our nuts right off.'"
But it's important to remember that any film production is a risky proposition. Studios spend a lot of money on an idea they hope audiences will connect to, but there's never any guarantee. All the cast and crew can do is try their best and hope they create art that resonates with people. Hanks summed up his feelings nicely, "Bob Zemeckis — God bless him, I've worked with him more than once — landed on the absolute truth of anybody who has gone forward and said, 'We are going to commit something to film today, and eventually we'll cut this into something.'"
"Forrest Gump" proved to be a massive success, to the point where a sequel was considered at one point. And regardless of how well people think the movie has aged over the years, it's retained its place in the American cinematic landscape.