Chicago Fire: Sylvie Fans Were Fired Up Over Her Feisty Reaction To Boden's Inaction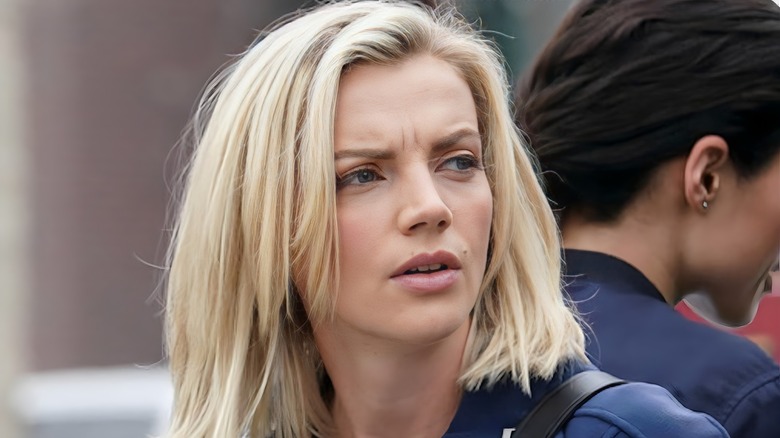 NBC
Contains spoilers for "Chicago Fire" Season 11 Episode 20
Another episode of "Chicago Fire" has caused fan comment, courtesy of two particular characters and their actions ... or, in the case of Deputy District Chief Wallace Boden (Eamonn Walker), comparative inaction. A conflict between Boden and Sylvie Brett (Kara Killmer) fires up over equipment restocking, which would be a fairly mundane problem in a lesser workplace, but a crucial mistake in shift-based work where every single tool can mark the difference between life and death. After Sylvie and Violet Mikami (Hanako Greensmith) face a complicated childbirth case which is made all the more dangerous by the fact that their ambulance lacks proper equipment after a member from another team has failed to stock it, Sylvie isn't happy when Boden won't launch a full investigation over the matter. In fact, she's so angry about the situation that she threatens to quit. 
Fans have welcomed Sylvie's fiery reaction to her chief's inaction with open arms. "I can see why Sylvie would want to leave...and I gotta say, I agree with Sylvie. She has every right to blame the shift before her. Because of the shift before her, and their negligence on restocking the cab...that baby could very well die," Twitter user @mrandamiller517 wrote. Meanwhile, @FilmSchlDropout favorably compared Sylvie's attitude to the classic "Chicago Fire" character Gabriela Dawson (Monica Raymund). "Brett is channeling some Gabby rage! I kinda like it!" they wrote.
Fans love Sylvie's attitude in the episode
Adrian S Burrows Sr/NBC
Sylvie brought the fire to "Chicago Fire" in more ways than just her threat to quit the job, as she also showcased some prime tranquil fury while facing off with the colleague who had neglected to restock, and attempted to blame her and Violet for the situation. Her attitude got the proverbial standing ovation from a number of fans. "'If you don't get charged for this, I will quit.' Brett means business, y'all," "One Chicago" podcast "Meet Us at Molly's" enthused on Twitter. "SYLVIE BRETT, TWO T's," @Learnthingss admiringly quoted Sylvie's James Bond-esque line during the face-off. "Chicago Fire" fan @itshauteoutside also went for the quick and to-the-point cheer, simply tweeting, "GET. HER. SYLVIE." 
The seas are at least somewhat calmer by the end of the episode, as Sylvie and Boden have a talk, and the culprit for the restocking disaster ends up getting fired due to prior warnings. Regardless, fans were clearly delighted to see Sylvie's temperament raise its head.