Summer Movies We Can't Wait To See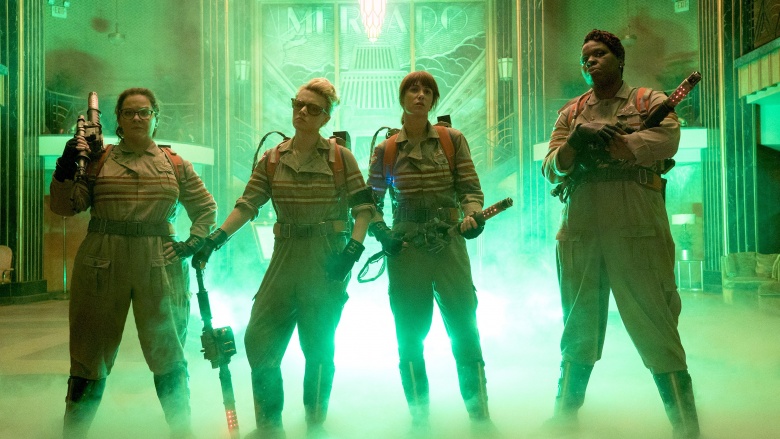 As hard as it is to believe, the summer movie season is almost here. Out of all the films coming out this season, which look like they might be the very best? We've narrowed Hollywood's impressive lineup down to 11 features we're absolutely seeing on opening night. From superheroes slugfests to talking food, here are the must-watch movies coming out this summer.
Captain America: Civil War (May 6)
Captain America v Iron Man?! With Chris Evans battling Robert Downey Jr., Captain America: Civil War may turn out to be the epic, edge-of-your-seat gladiator match everyone thought Batman v Superman would be. Of course, it helps that Civil War's predecessor, The Winter Soldier, was one of Marvel's best and most exciting movies to date. If Civil War so much as lives up to that one, expect this year's summer movie season to kick off on a high note.
Neighbors 2: Sorority Rising (May 20)
After watching its hilarious red band trailer, Neighbors 2 appears to have maintained the crude, raunchy, and insane humor that made the first movie so popular. This time around, it'll be especially funny to see what happens when Zac Efron is forced to cross over to the dark side to help Seth Rogen and Rose Byrne take down a wild and crazy sorority. If this trailer is any indication, it's going to be hilarious.
X-Men: Apocalypse (May 27)
X-Men: First Class and Days of Future Past have been classy and respectable, and there's no reason now to believe Apocalypse won't be the same. Case in point: the franchise managed to recruit Star Wars: The Force Awakens' Oscar Isaac to play the film's titular villain, a powerful mutant from ancient times who threatens to destroy mankind after he's suddenly awoken. If that doesn't get you into theaters, try this: X-Men: Apocalypse is the last time you'll get to see Jennifer Lawrence starring as Mystique.
Teenage Mutant Ninja Turtles: Out of the Shadows (June 3)
Teenage Mutant Ninja Turtles: Out of the Shadows may not be in the running for any Oscars this year. Fortunately, the sequel looks a lot better than its Razzie-worthy predecessor. This time around, Arrow star Stephen Amell is joining in on the fun as Casey Jones. If anything, he should provide a nice balance to Megan Fox's, um, "acting."
Finding Dory (June 17)
Finding Dory, Pixar's long-awaited sequel to Finding Nemo, is going to be a guaranteed hit. Nemo grossed over $900 million at the box office, a number that Dory will likely have no trouble surpassing with this new aquatic adventure.
Independence Day: Resurgence (June 24)
'90s nostalgia is all the rage these days, so we have to be excited about a sequel to Independence Day. Will Smith may not be around for this particular ride, but Independence Day: Resurgence promises to make up for Smith's loss with bigger and better special effects and out-of-this-world action sequences. We can't wait to hear Bill Pullman return to give another rallying speech.
The BFG (July 1)
Steven Spielberg's last collaboration with Mark Rylance, Bridge of Spies, won Rylance an Oscar. Will the creative duo be able to work their magic again on Roald Dahl's The BFG? We think so. Spielberg has made a career out of heartwarming family stories, including his last animated effort, The Adventures of Tintin. Plus, the few lines that Rylance read in the trailer already make us want to cry. In other words: we're so there.
Ghostbusters (July 15)
An all-female reboot of Ghostbusters may go down as being Hollywood's smartest and most interesting idea in years. Not only is it re-teaming Kristen Wiig and Melissa McCarthy with their Bridesmaids director Paul Feig, it's also giving a huge platform to two hilarious and deserving cast members of Saturday Night Live: Leslie Jones and Kate McKinnon. Year after year, female-driven movies have proven to be massive hits during the summer. Expect Ghostbusters to continue that trend this July. Who ya gonna call?
Star Trek Beyond (July 22)
With J.J. Abrams moving on to Star Wars, Hollywood has a great opportunity to re-tool the modern Star Trek franchise and make up for all the mistakes seen in Star Trek Into Darkness. Two things already working in its favor: hiring director Justin Lin, who brought thrills and chills to the Fast and Furious franchise; and casting Idris Elba to play Star Trek Beyond's villain. What more could you want?
Jason Bourne (July 29)
Matt Damon is returning to the Bourne franchise for the first time in nine years. Also returning is Bourne Supremacy and Bourne Ultimatum director Paul Greengrass, who was the key in getting Damon to do this movie in the first place. If Damon believes in Greengrass that much, there's no way their third collaboration won't be legitimately awesome. Besides, we'll take Matt Damon over Jeremy Renner anyday (sorry Hawkeye).
Sausage Party (August 12)
From its title alone, the R-rated animated comedy Sausage Party let's you know it's not for kids (likewise, this trailer is very NSFW). We can't even remember the last time an animated movie was made specifically for adults (South Park: Bigger, Longer & Uncut?), which makes Sausage Party all the more fun to enjoy (okay, that sounds just wrong).