Chicago Med's Jessy Schram Checks In With Her Sister After Each Episode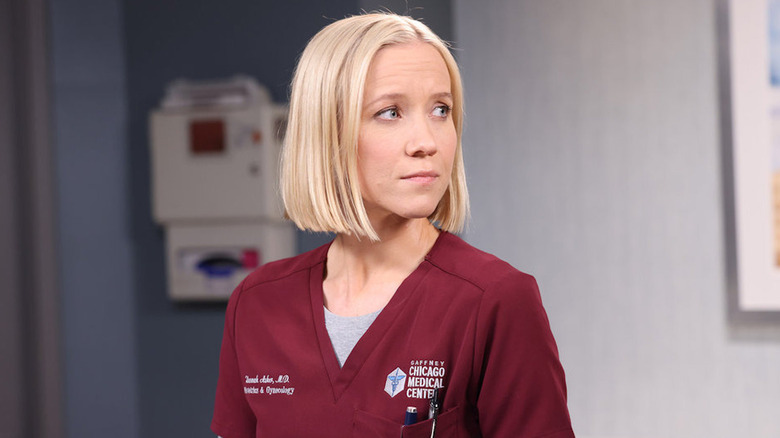 George Burns Jr/NBC
On "Chicago Med," Jessy Schram plays Dr. Hannah Asher, an obstetrician-gynecologist from Los Angeles who comes into the mix in Season 5. One of Hannah's major storylines is her heroin addiction, which she eventually overcomes after via rehab (although she later relapses, then returns to rehab). While all of this is going on, she has an on-and-off relationship with Will Halstead (Nick Gehlfuss), who helps her through her addiction struggles.
All in all, Hannah's storyline is a compelling one on a show full of gripping drama that keeps viewers on the edge of their seats. And Schram would know — her family members are huge fans of the show, to the point that she checks in with her sister after every single episode. In an interview with Headliner Chicago, the interviewer brings up the fact that he'd heard Schram's sister was already a major "Chicago Med" fan before Schram had even landed her part, so she helped Schram out with her audition.
When asked how their relationship has evolved now that Schram is apart of "Chicago Med," Schram answered, "I always check in with her after every episode. What did she think? What's going on?" The actress added that her sister and her brother-in-law watch all the "One Chicago" shows — with "Chicago Med" being her sister's favorite — so they're extremely knowledgeable about the inner workings of the "One Chicago" universe. Schram added, "They've caught me up and it's so much fun."
If you or anyone you know is struggling with addiction issues, help is available. Visit the Substance Abuse and Mental Health Services Administration website or contact SAMHSA's National Helpline at 1-800-662-HELP (4357).
Schram's family members give her tips on how to be a more authentic physician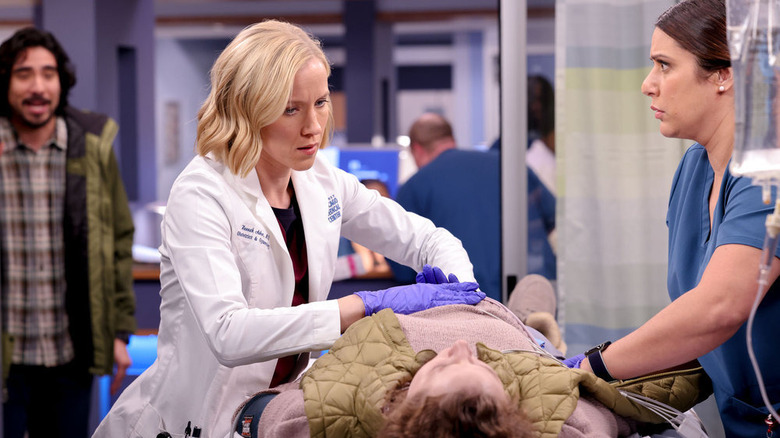 George Burns Jr/NBC
Not only is Jessy Schram's sister super knowledgeable about the plots and characters of "Chicago Med," but her other family members have real world knowledge about the situations that go on in the show — her brother is a fire lieutenant and her sister-in-law is an ER nurse.
Schram told Headliner Chicago, "When I send them videos of me doing CPR, you know, I get critiques immediately." They then continue to show their support through keeping up with the episodes. Schram continued, "All my family checks in with me after the episode just to let me know how authentic the performance was or wasn't."
As for her own feelings about being on the medical drama and portraying a doctor, Schram couldn't be more proud to get to play Dr. Hannah Asher. Speaking on her experience playing the character so far, Schram told CinemaBlend, "When there's female OBGYNs, they have so much more to prove in the work field and the workforce and they're bringing life into this world." The actress further noted how essential the practitioners were to hospitals and also acknowledged how lucky she felt for getting the opportunity to portray an OB-GYN as grounded and authentic as Asher.