Mrs. Davis' Emmy Category Switch Up Raises Questions About Season 2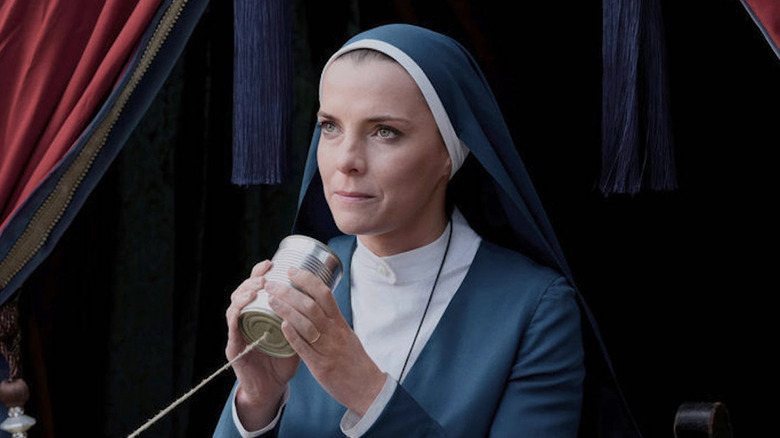 Sophie Kohler/Peacock
The Peacock science fiction series "Mrs. Davis" has certainly gotten TV watchers talking lately. The intriguing premise follows a nun named Simone (Betty Gilpin) who faces off against the artificial intelligence being, Mrs. Davis. "Mrs. Davis" has gotten rave reviews from critics, earning a 90% Tomatometer score on Rotten Tomatoes. With that kind of critical attention, it begs the question of the show's chances at landing some Emmy nominations. In good news, Peacock has submitted "Mrs. Davis" for Emmy consideration — in bad news, the Emmy consideration has given us a look into the fate of Season 2.
At the last minute (as today is the deadline to turn submissions in to the Television Academy), Peacock moved "Mrs. Davis" into the limited/anthology series categories. This means that the upcoming final two episodes — Episode 7 will air May 11 and Episode 8, the season finale, will air May 18 — are likely the final two episodes of "Mrs. Davis" altogether.
According to Variety, insiders have said that the season presents a full story arc with a satisfying ending. Because of this, Peacock decided to submit the series as limited because there are currently no plans to move forward with Season 2. Of course, this doesn't mean plans can't change in the future, but it seems like, if it did, it would be with new characters and a new story that would keep it in the anthology category regardless.
The category switch will also shake up the acting races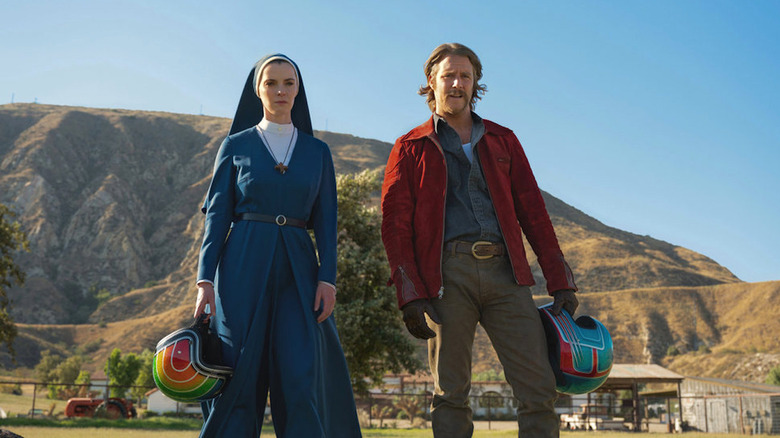 Colleen Hayes/Peacock
With "Mrs. Davis" now being considered as a limited/anthology series, this means that all of the actors from the series will now be moved to the limited/anthology acting categories, as well. Betty Gilpin will compete for lead actress in a limited series; other actresses who could land a spot in this category include Ali Wong for "Beef," Rachel Weisz for "Dead Ringers" and Jessica Chastain for "George & Tammy."
Meanwhile, "Mrs. Davis" will also submit Jake McDorman, Andy McQueen, Chris Diamantopoulos, Tom Wlaschiha, David Arquette, and Ben Chaplin for supporting actor in a limited series. And Elizabeth Marvel, Katja Herbers, Margo Martindale, and Mathilde Ollivier will be submitted for supporting actress in a limited series.
The supporting categories for limited series have gotten quite competitive over the last few years. This year, notable contenders for supporting actor in a limited series include Jesse Plemons for "Love & Death" and the late Ray Liotta for "Black Bird." And notable contenders for supporting actress in a limited series include Claire Danes for "Fleishman Is in Trouble" and Lily Rabe for "Love & Death."