Fast & Furious' Michelle Rodriguez Found Out About Letty's Return Alongside Fans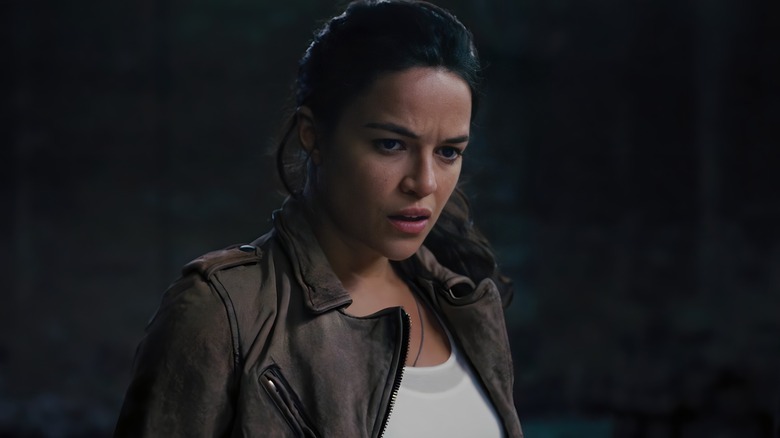 Universal Pictures
The "Fast & Furious" franchise is known for bringing plenty of high-octane shenanigans to the big screen. Whether it's memorable car chases, going to space, or resurrecting dead characters, there's a little bit of something for everyone in the series, which even the actors don't see coming all the time.
Michelle Rodriguez, whose character Letty died in the fourth film, was one of those actors, learning that her "Fast" hiatus was coming to an end after seeing "Fast Five" in theaters. "I swear to you, I was in Paris, and I roll in to see 'Fast Five,' and that's when I find out on my own," she revealed at a "Fast X" event. "Nobody told me. Nobody gave me a call. Nobody said anything."
The actress reminisced about watching the post-credits scene, in which Monica Fuentes (Eva Mendes) hands Hobbs (Dwayne Johnson) a file revealing that Letty isn't dead after all. "I immediately grabbed my phone. I'm in Paris, and I'm like, 'Oh, hell no. I find out by going to the movies, Vin [Diesel]?'" The "Fast" icon apparently told Rodriguez and Universal executives that Letty was returning before the movie, but no one, including director Justin Lin, believed him. "That's Vin," Rodriguez concluded.
Rodriguez is all too familiar with returning from the dead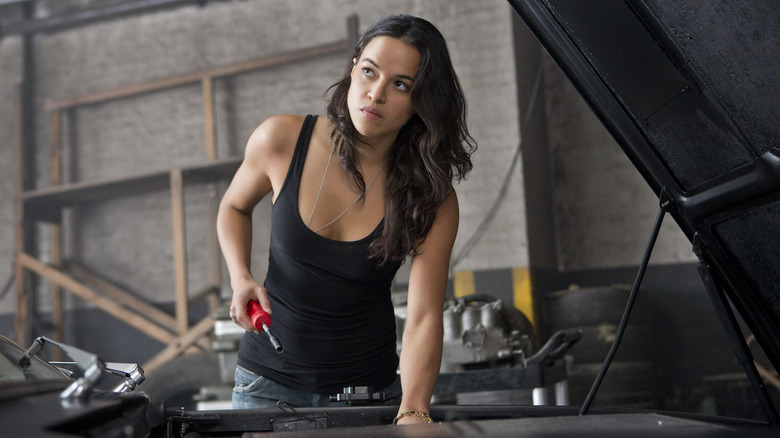 Universal Pictures
The "Fast & Furious" franchise has occasionally used its ever-confusing timeline to bring some characters back to life, but that wasn't the case for Michelle Rodriguez's Letty. Instead, she simply didn't die in the fiery explosion believed to have been her end, walking away with just a slight case of amnesia. Although learning of Letty's resurrection was a surprise, Rodriguez has become a veteran actor in Hollywood when it comes to her characters returning from the dead.
In "Resident Evil," her character Rain Ocampo dies after getting infected, only the fifth movie in the series, "Resident Evil: Afterlife," to resurrect her, chalking it up to a cloning experiment performed by Umbrella. In "Machete," her character Luz gets shot in the eye, with the film later revealing she survived the injury, now sporting an eye patch. Even in Rodriguez's most recent project, "Dungeons & Dragons: Honor Among Thieves," she dies just for Chris Pine to revive her almost immediately. Pair those with Letty in "Fast & Furious," and the actress has had enough of returning from the dead.
So, when James Cameron thought about bringing her character back in "Avatar: The Way of Water," Rodriguez had to draw the line, saying that it would be "overkill" to get resurrected yet again. "I don't understand, it's so weird," Rodriguez told Variety. "I guess they don't know what to do with the girl who doesn't have a boyfriend. 'She doesn't have a boyfriend. Should we keep her alive or kill her?'"