Who Played Apollonia In The Godfather?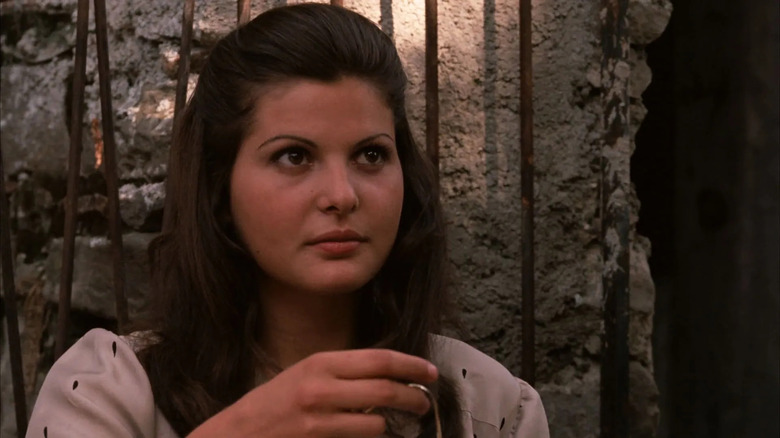 Paramount Pictures
Michael Corleone's (Al Pacino) development from idealistic war veteran into a cynical mafia don over the course of "The Godfather" trilogy is, in its own way, a reflection of the death of the American Dream in post-World War II America. In the middle of Michael's growing-up process stands an idealistic break — an Italian courtship with a Sicilian girl named Apollonia (Simonetta Stefanelli), conducted while he's in hiding after killing Virgil Sollozzo (Al Lettieri) and Mark McCluskey (Sterling Hayden). Michael and Apollonia's marriage is happy but brief and ends with a tragic flourish; she passes away in a car bombing meant for Michael. 
In its own special way, Apollonia's death rings out Michael's innocence; he might have become an entirely different man had she survived, they stayed in Italy, and his older brother Sonny (James Caan) lived. But instead, Michael returns to America, marries his very non-Italian first love, Kay Adams (Diane Keaton), and takes over the criminal empire his father began. That said, he does avenge his bride in deleted scenes from "The Godfather,  Part II," which have been snipped from the theatrical cut of the film.
Apollonia's death has passed into legend, and we named it one of the film trilogy's 12 most memorable moments. The small but pivotal role of Apollonia is played by Italian actress Simonetta Stefanelli. While she didn't have an extensive international or American acting resume after "The Godfather," she did have a thriving Italian career before turning her attention to other pursuits.
Simonetta Stefanelli's acting career stretched into the 1990s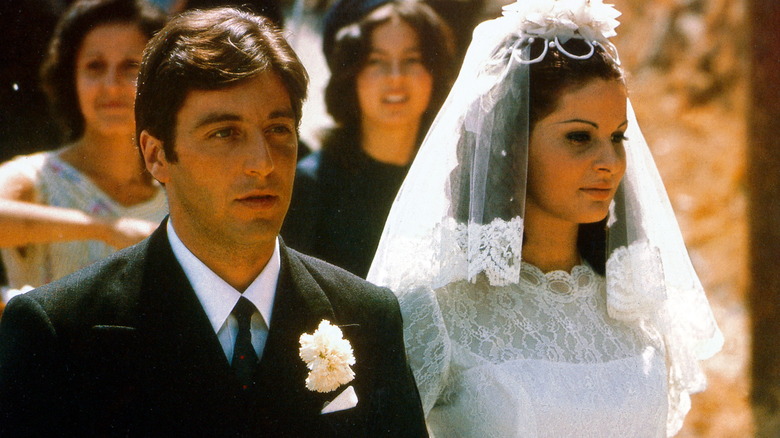 Paramount Pictures
Simonetta Stefanelli had a solid resume of Italian language parts before snagging the role of Apollonia. She appeared in playful roles in comedies such as that of Maria Teresa in "Do Not Commit Adultery" and 'Giugi' Santenocito in the political satire "In Nome Del Popolo Italiano." After playing Apollonia, she unsurprisingly found herself doing a lot of mafia-related films and parodies such as "The Big Family," "The Pisciotta Case" and "Three Brothers." But she also managed to attain a variety of parts, from the innocent nun in "La profanazione" to Lucrezia Borgia in "Young Lucrezia." Her last prominent English language role was that of Cotbi in the TV miniseries "Moses: The Lawgiver," opposite Burt Lancaster. As of press time, he final acting part was that of Giuliana in the Asia Argento vehicle "Close Friends." 
Since retiring from the acting business in 1992, Stefanelli has moved into the world of fashion design. She operated a shop where she sold shoes and handbags that she'd designed herself. She is also a mother of three, and among her children is international singing star and actress Violante Placido. But she hasn't given up on the idea of acting entirely. In the wake of two rounds of death hoax rumors surfacing about her in 2007, she told Newsday that the right part might tempt her back to the big screen. "But after my death, I don't know," she joked. If anyone can defy the limits of life itself, it'd be a Corleone.