Transformers: Rise Of The Beasts - Who Voices Wheeljack?
The "Transformers" franchise has recruited the voices of many big-screen stars in order to bring to life the robots in disguise. John Goodman, Steve Buscemi, Ken Watanabe, Leonard Nimoy and Angela Bassett are just some of the big names  who have been behind the 'bots-focused film series, and there's going to be a handful more added to the list with "Transformers: Rise of the Beasts." 
Besides Peter Cullen reprising his role as the iconic Optimus Prime, Pete Davidson is switching gears and getting into the recording booth as Mirage, the latest metal-plated protagonist backing up the new film's human hero, Noah Diaz (Anthony Ramos).
The cast list also includes Ron Perlman (standing his CGI ground as a leader of the Maximals, Optimus Primal), along with Michelle Yeoh as Aerazor and Liza Koshy as Arcee. Then there is the super-smart sidekick Wheeljack, voiced by a star already aligned with another world-famous team.
Ted Lasso's Cristo Fernández is jumping in as Wheeljack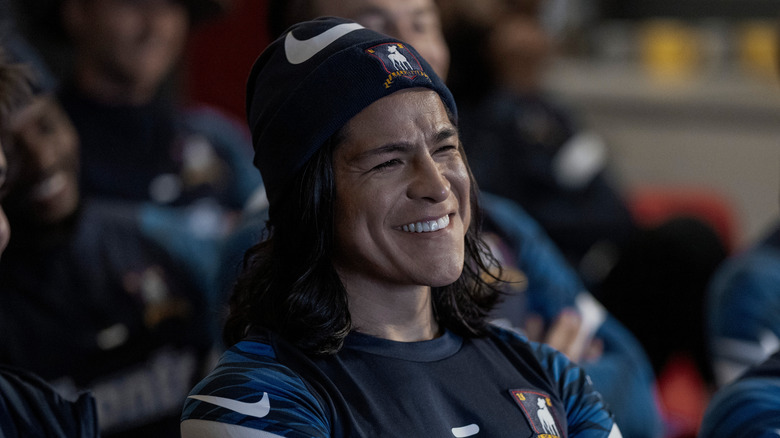 Apple TV+
Best known as one of Richmond AFC's finest footballers on the Apple TV+ hit "Ted Lasso," Cristo Fernández is heading off the pitch and onto the road as an Autobot traditionally depicted as being something of a klutzy, nerdish inventor. Initially having made his live-action debut in "Transformers: Dark of the Moon," Wheeljack was voiced in that 2011 film by actor George Coe. 
Now, Fernández's iteration promises a younger Wheeljack, perhaps sharing the same chipper demeanor as Rojas, a fan favorite on the soccer-based dramedy. But this time, the stakes are a lot higher than Richmond making their way up the league table (if you can imagine such a comparison). 
In advance promotional materials, not much has been heard of Fernández voicing the Autobot, except for the new Prime vs. Primal clip for "Rise of the Beasts" that was recently released. Here's hoping the charm he effortlessly delivers on "Ted Lasso" transfers to "Transformers: Rise of the Beasts" when it touches down in theaters on June 9.