The Tomorrow War: Director Chris McKay Only Had One Actor In Mind To Play Charlie
"The Tomorrow War" once again gave Chris Pratt a chance to prove he's a modern action star in the sci-fi flick where modern-day humans are sent into the future to fight an alien army. Pratt gets ample time to shine, able to show off that action-hero machismo he's developed after starring in the likes of "Guardians of the Galaxy" and "Jurassic World," but a real scene-stealer is Sam Richardson, who plays Charlie. 
It's a different type of role for Richardson, who, until that point, was mostly known for comedies like "Veep" and "Detroiters." He still gets some one-liners in "The Tomorrow War," but he also proves he's handy with weapons, too, and according to director Chris McKay, he wouldn't have wanted it any other way. When the film came out, McKay did an interview with ComingSoon.net where he sang the actor's praises. 
When talking about Richardson's future, McKay stated, "When I pitched to the studio at Skydance and to Chris Pratt, my take on doing the movie before I was ever hired, the second or third to last panel in my keynote presentation was a picture of Sam Richardson and it said, 'you need to hire this guy to play Charlie.'" It was a gambit that paid off, as many critics agreed Richardson was a highlight of the explosive flick. 
Chris McKay always wants to work with Sam Richardson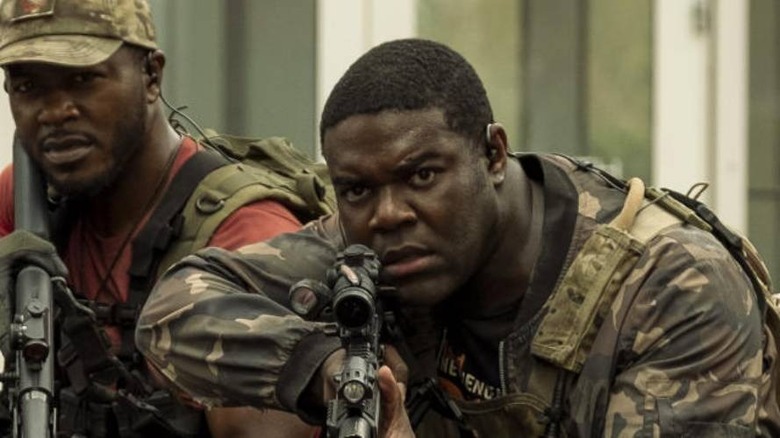 Amazon Prime Video
Sam Richardson has become quite a hot commodity in Hollywood, with appearances in "Hocus Pocus 2," among others. He's even leading Apple TV+'s "The Afterparty" and still finds the time to crown the baby of the year in Netflix's sketch comedy series, "I Think You Should Leave with Tim Robinson." And as long as Chris McKay is still making movies, it sounds like Richardson won't be short on work any time soon. 
McKay was adamant to the higher-ups that Richardson play Charlie in "The Tomorrow War" even if they didn't hire him as the director. He was that confident Richardson could play the role perfectly. McKay continued, "Sam brought emotional stuff to that character at times it was really moving, uh, to me. I can't say enough good things about Sam. Sam's the greatest. Any movie I do from here on out is going to have Sam if at all possible. So, I'm always going to hire Sam and I'm sure a lot of other people will."
Even in reviews for the movie that had some negative things to say, Richardson frequently turned up as a stand-out. Take this excerpt from the IndieWire review: "Which isn't to say that 'The Tomorrow War' is bad — it boasts a clever premise, a killer supporting turn from Sam Richardson, and an uncommonly well-defined sense of place for such a murky CGI gloop-fest." Everything is made just a little bit better with Sam Richardson, so hopefully, more directors start to take notice.