Hallmark's Mystery 101 Was Cancelled With No Plans On Resolving That Cliffhanger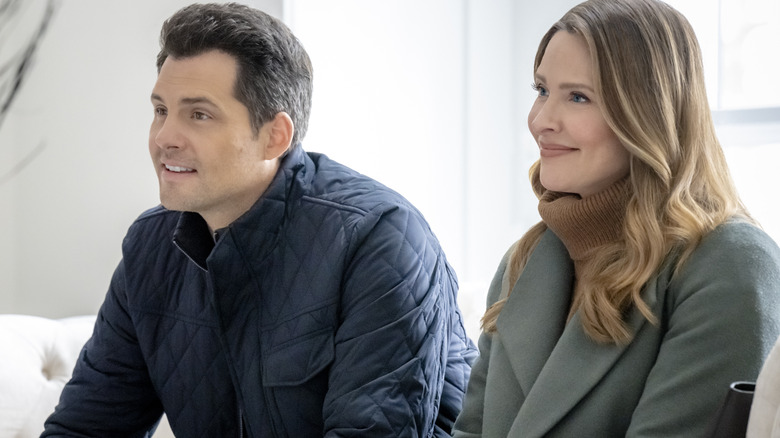 2021 Crown Media United States LLC/Dean Buscher
Holiday cheer, romance, and feel-good vibes is what many expect from a Hallmark movie. Even their mystery movies bring many of the same vibes, despite their core plot lines. The Hallmark Movies & Mysteries channel has spent years showcasing cozy mysteries that leave viewers feeling good while putting their sleuthing skills to the test, and the "Mystery 101" film series is no different.
Crime fiction professor Amy Winslow (Jill Wagner) started solving crimes alongside Detective Travis Burke (Kristoffer Polaha) in 2019. They team up to solve the death of a student while searching for another student who disappeared. They become a dynamic duo, solving mysteries over the course of seven films, and their chemistry has fans paying close attention to their partnership and the romantic turn it could take.
When the seventh film, "Deadly History," premiered in 2021, fans were on the edge of their seats wondering if Amy and Travis would become a bonafide couple. While Amy confesses her love for Travis, a time jump occurs, and Travis is solving the murder of Amy's fiancé instead. Hallmark Movies & Mysteries then took to the comment section of a Facebook post to share that the series would not be moving forward. 
"We want to let you know that our talented sleuths have solved the last mystery and are off the case," the page wrote. While fans wonder what could have been, one of the series' stars and one of its writers share their hopes for the couple.
The series' writer has an eighth installment planned out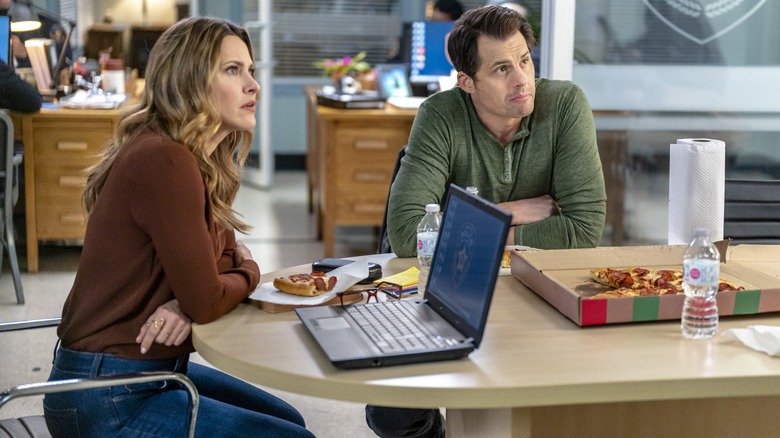 2021 Crown Media United States LLC/Kailey Schwerman
As Amy Winslow and Travis Burke work against the clock to save the day, its writer John Christian Plummer who helps invent their adventures. Plummer has been there for it all, from a death at a college book festival in the third installment "Words Can Kill" to the escape of a serial killer in the sixth film "Killer Timing." In an interview with TV Shows Ace, he broke down his whole plan for an eighth film. 
"First, to put the 'Mystery 101' fans at ease, there is a story for [number eight], which is complex, wildly fun, touching, and fully resolves the cliffhanger at the end of [number seven]," he said, noting that he is ready to head back to the series if Hallmark calls for it.
Most Hallmark movies end on a happy note, either with a couple walking off into the sunset, tying the knot, or kissing under the mistletoe. A happy ending is also something that Jill Wagner definitely wants for her character. 
"Just so you know, in my mind, Amy and Travis get married and go on a super long honeymoon to Fiji," Wagner wrote on her Instagram. 
Hallmark could still open the case once more. In March of 2023, Kristoffer Polaha told JustJared that there has been a continuous discussion about an eighth installment. 
"We love telling these stories and whatever the network decides ... it's inconclusive," he said.