Alice In Borderland: What Happens To Arisu & Usagi After S2 According To The Manga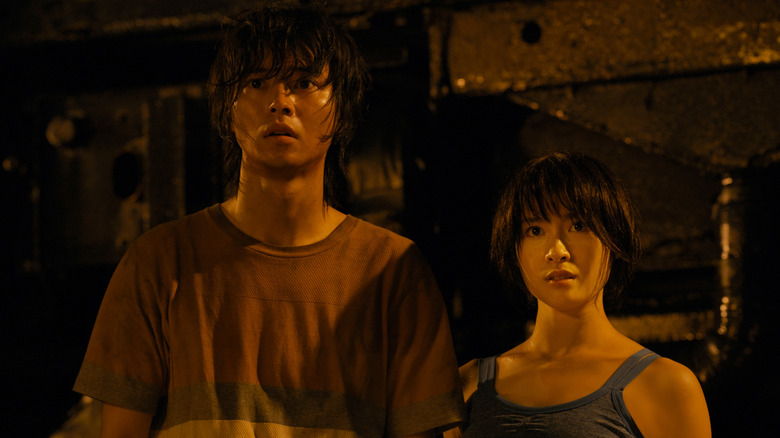 Haro Aso,Shogakukan / ROBOT
The ending of Netflix's "Alice in Borderland" Season 2 teased a positive outcome of sorts for the characters that survived the games, especially Ryōhei Arisu (Kento Yamazaki) and Yuzuha Usagi (Tao Tsuchiya), who seemed like they were about to press start on a relationship despite having no knowledge of their past experiences in the Borderland. Those final moments between the show's two leading players likely sparked curiosity among fans regarding what happens to the pair in the source material after the events depicted in the live-action series.
The sci-fi thriller is based on the popular manga written and illustrated by the talented Haro Aso. The two seasons released by the streamer covered the events in the source material from start to finish. But a direct sequel titled "Alice in Borderland Retry" reveals what happened to Usagi and Arisu after they returned to reality.
The follow-up takes place a few years after the events of its predecessor and reveals that Arisu and Usagi do end up together. In the story, Arisu, now a psychologist, is on his way to see his wife, Usagi, who is giving birth to their child. Unfortunately, an accident sends Arisu to the Borderland, where he remembers his previous efforts with Usagi in the first set of games they played. He is forced to partake in a Nine of Hearts challenge called "Alien Invasion." After he survives, he returns to reality but once again with no memory of what went down. 
Not even the Borderland between life and death can keep Usagi and Arisu apart, and the events of "Retry" further prove their bond is unbreakable. But what could the sequel manga mean regarding a potential "Alice in Borderland" Season 3?
Will fans see more of Arisu and Usagi in a potential Alice in Borderland season 3?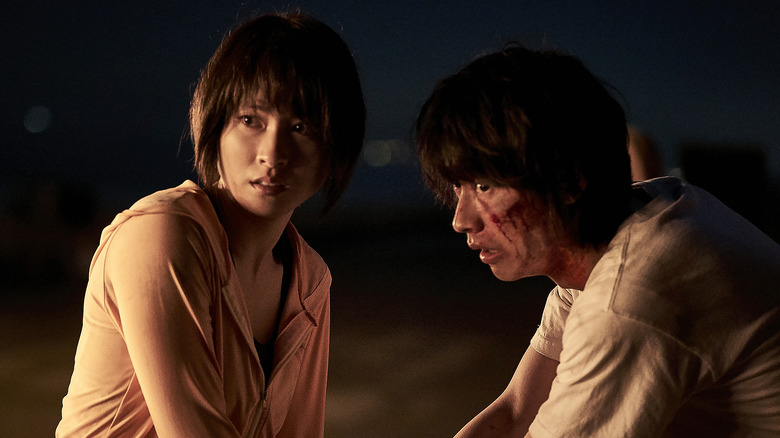 Haro Aso,Shogakukan / ROBOT
While it hasn't covered everything in the manga, the Netflix series does a fairly faithful job in terms of how it adapted "Alice in Borderland." Despite the fact that several notable events from the pages of the source material are seen throughout the show, those in charge of the live-action adaptation did put their own twist on things, especially director Sato Shinsuke. "I read [the manga] inside and out, trying to find the essence of what would make this material really fun," Shinsuke said to Screen Anarchy. "Of course, I would reinterpret that, and give it a rebirth, if you will, through my creative process." Shinsuke's take may not be an exact copy of what Haro Aso created, but it has resonated well with fans, even being hailed by Yahoo as one of Netflix's most-watched Japanese series. The ability to get creative when adapting the source material could work in favor of a season 3.
As far as the story goes, the creative minds behind the series could take "Retry" and find a way to expand it to include other characters like Shuntarō Chishiya (Nijiro Murakami) and Hikari Kuina (Aya Asahina). There are also spinoffs that can be factored in, like "Alice on Border Road." And they could also do something with the Joker card teased at the end, as the character in the original manga was missing altogether. There are several possibilities that could result in a stellar season 3 of "Alice in Borderland," and the fact that the show was so popular means it's probably safe to assume subscribers wouldn't say no to seeing Arisu and Usagi strengthen their love while dominating another set of card-based challenges.