Comedian And Character Actor Bill Saluga Dead At 85
Veteran comedian Bill Saluga has died. 
Eric Brenner on YouTube broke the news, confirming that the actor died on March 28 2023. He was 85. Best remembered for co-founding the Ace Trucking Company comedy troupe, Saluga's death was due to heart failure. Saluga was particularly popular in the '60s and '70s, known for his "You can call me Ray" bit, which made him a late-night television staple. For the comedic routine, Saluga would dress up in a zoot suit, chomp on a cigar, and take on the moniker of Raymond J. Johnson Jr.
The bit would go on to become extremely popular, making Saluga a small-screen icon. The character was featured in a number of beer commercials and television shows. To get the bit started, someone would refer to the suit-wearing man as "Mr. Johnson." This enraged the cigar smoker, who would then start off by saying "You can call me Ray," continuing to point out several names he would prefer to be labeled as instead of "Mr. Johnson."
Bill Saluga was an icon thanks to his Mr. Johnson bit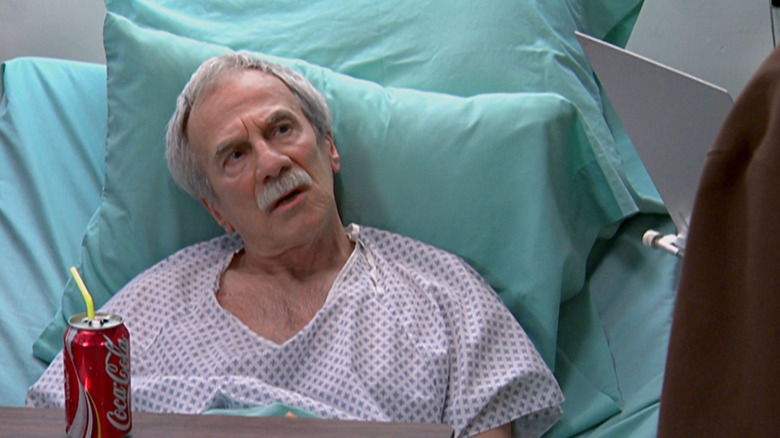 HBO
Some of Bill Saluga's most memorable appearances saw him performing the routine. Perhaps the most notable time was when he performed the bit on Red Foxx's self-titled 1977 variety show. He also appeared on "The Mike Douglas Show" and traded jokes with David Steinberg and the legendary Johnny Carson. With so many eyes on his joke, it makes sense that he would end up cameoing in "Seinfeld" and other iconic sitcoms like "Home Improvement" and "Curb Your Enthusiasm." 
Saluga's claim to fame being Raymond J. Johnson Jr. was a double-edged sword. As much as he was celebrated for the routine, he was also criticized. "The Simpsons" notably flamed the comedian's bit, with Krusty the Crab being the one to take shots at Seluga's, saying "the thing was funny for about three seconds."
Mike Judge's "King of the Hill" also poked fun at the shtick. In the animated series, the young Bobby finds a record containing Seluga's bit and struggles to find why it's so celebrated. He ultimately consults with the adults, who belittle him for not getting the Raymond J. Johnson Jr. joke, which leads to Bobby having a breakdown of sorts. "I agree with Bobby," wrote YouTube user NOLA GospelTracts. "I grew up in the '70s and remember the bit. I had no idea what was funny about it but my dad would laugh hysterically."
Despite the criticism the bit may have received, Saluga was a happy camper who made his mark on American popular culture. "I hear from everybody that their kids are doing it, which really breaks me up," Saluga told The Washington Post in 1979. "It's incredible what has happened from it."