Daisy Jones & The Six Vies For Emmy Noms With 3 Original Songs From The Show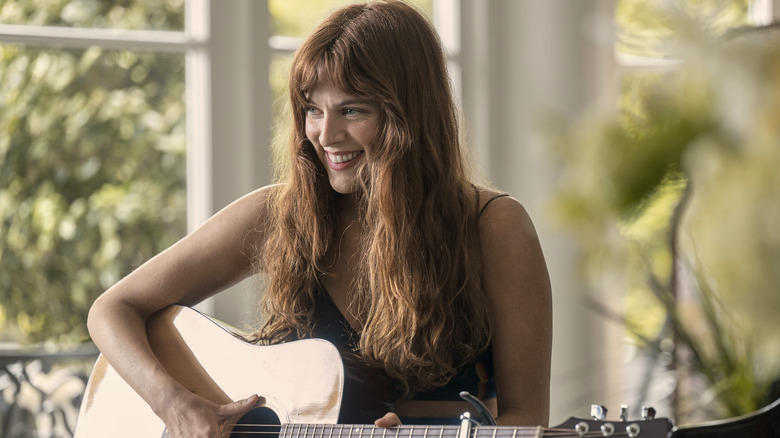 Lacey Terrell/Prime Video
Amazon Prime Video's "Daisy Jones & The Six" is one of the most talked-about new shows of the year. Based on the novel of the same name by Taylor Jenkins Reid, the series — which is styled as a documentary format despite being fictional — chronicles the rise and fall of a '70s-era band called Daisy Jones & The Six, which is led by Daisy Jones (Riley Keough) and Billy Dunne (Sam Claflin).
Of course, the series features many songs from the fictional band, many of which were named in the book and brought to life for the show. In fact, an official album was even released to streaming services for fans to listen to — this even led to Daisy Jones & The Six becoming the first fictional band to top the iTunes chart at the number one spot. Naturally, this begs the question of if these songs may just land the series some Emmy nominations in the outstanding original music category.
It's entirely possible, as "Daisy Jones & The Six" submitted three songs for consideration: "Let Me Down Easy," "Look at Us Now (Honeycomb)," and "The River," according to Variety.
The songs were written by established songwriters including Marcus Mumford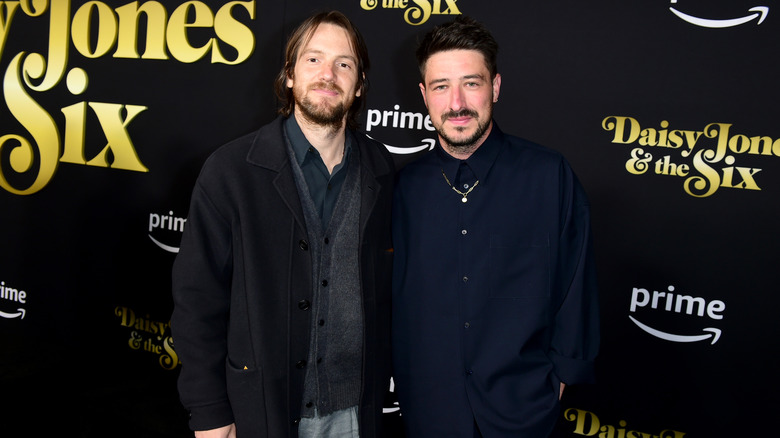 Vivien Killilea/Getty Images
All three songs — "Let Me Down Easy," "Look at Us Now (Honeycomb)," and "The River" — play vital roles, plot-wise, within "Daisy Jones & The Six." "Look at Us Now (Honeycomb)" is originally written by Billy for his wife Camila (Camila Morrone), as a promise to do better as a husband. While Billy's version is good, it isn't until Daisy contributes rewrites — as well as a presence within the song — that it truly becomes a hit. The popularity of "Look at Us Now" leads to Daisy officially joining the band — shortly after, Daisy and Billy write their first song from scratch together: "Let Me Down Easy." Finally, "The River" plays a major role in the eighth episode, "Track 8: Looks Like We Made It," in which Daisy's increasing reliance on drugs is showcased through her many performances of "The River" — as her drug problem gets worse, her performance becomes increasingly unstable.
Mumford & Sons member Marcus Mumford was amongst the songwriters who penned the three songs being considered for the Emmys. Mumford wrote "Look at Us Now (Honeycomb)" alongside Jason Boesel, Stephony Smith, Jonathan Rice, and producer and multi-instrumentalist Blake Mills (who executive produced all 25 songs included in the show). Next, "The River" was written by Mills, Z Berg, Joe Keefe, and Kayslee Don Collins. And finally, "Let Me Down Easy" was written by Mills, Berg, Ali Tamposi, and James Valentine.
Mumford was impressed by how the fictional band came to life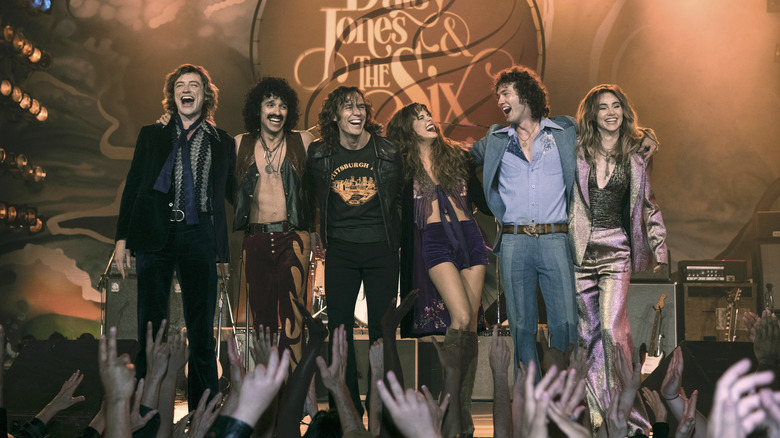 Lacey Terrell/Prime Video
In a piece for Variety, which detailed how the actors without musical experience became Daisy Jones & The Six, musician Marcus Mumford discussed his involvement — as well as his admiration for the work Riley Keough and Sam Claflin put into becoming actual musicians.
Mumford, who was recruited to write on "Look At Us Now (Honeycomb)" while working with Blake Mills on his solo record, loved being a part of the writing process for the song, especially given how integral it is to what's going on with the characters in the show. Mumford said, "Writing this slightly embattled dialogue between these two characters was just a really fun exercise. And then it was just about making the song as cool as we could, and the melody feel like it's one that could survive for a long time and could launch a band... I remember it feeling extremely collaborative, open-hearted, and with the free spirit that I think ends up being conveyed in the song."
Then, once he heard the recording of the song, he was immediately blown away — in fact, he didn't even realize it was Claflin who was singing right away. The musician said, "I was like, 'Oh that's weird, they used Blake [Mills'] voice.' But it's not. It's just that Sam studied Blake's vibrato so perfectly that it sounds like Blake's vibrato. I was amazed by that. And I think Riley just gets all the kind of vituperative spirit of that lyric so well. It's pretty radical what they were able to do, I've got enormous admiration for them."