Dead Ringers' Twin & Dinner Scenes Were The Most Challenging To Shoot For Rachel Weisz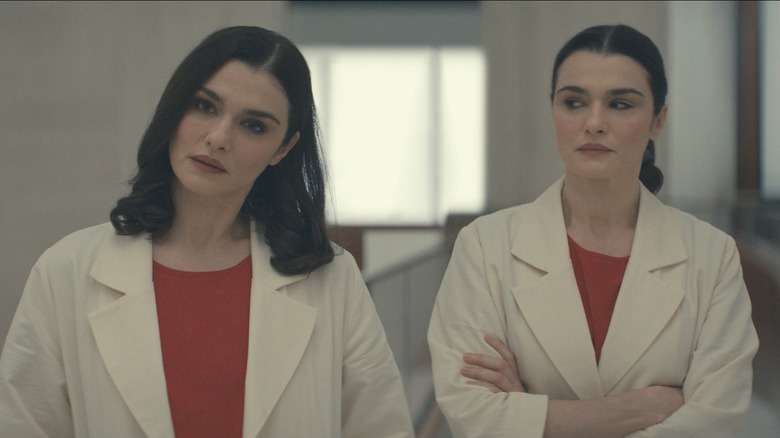 Amazon Studios
Amazon's "Dead Ringers" is the kind of show that any performer who loves the craft of acting would jump at. In the reimagining of David Cronenberg's 1988 film of the same name, Rachel Weisz plays both Elliot and Beverly Mantle, twin sister obstetrician-gynecologists who start their own groundbreaking birthing center in Manhattan, but who also have an unhealthy dependence on each other, to put it mildly. Not only does the role require Weisz to play two separate characters convincingly, but it's also a technical challenge. In every scene in which the sisters are together, Weisz (and everyone else) has to remember where both sisters are physically and calibrate each gesture accordingly. Particularly, Weisz found the moments when the sisters physically touch or make eye contact to be difficult.
Weisz spoke about the challenges of shooting "Dead Ringers" with The Hollywood Reporter, along with series creator Alice Birch. For Weisz, another of the hardest parts of the show was filming the many dinner party scenes. As she put it, "Every time someone eats a little bit and there's 12 people around the table, you have to put the food back and I was playing two characters at the table. That was very challenging and extremely, deliciously fun."
Most scenes would be shot multiple times with each character and then stitched together to create the final product. Weisz explained that the team typically shot Elliot's dialogue first because the character is more assertive and dominant. Then, while filming Beverly's dialogue, Weisz would use an earpiece that would pipe in her Elliot dialogue, which would allow her to match the pauses in what she already said. But these scenes weren't just a challenge for Weisz.
It takes a team to make a show like Dead Ringers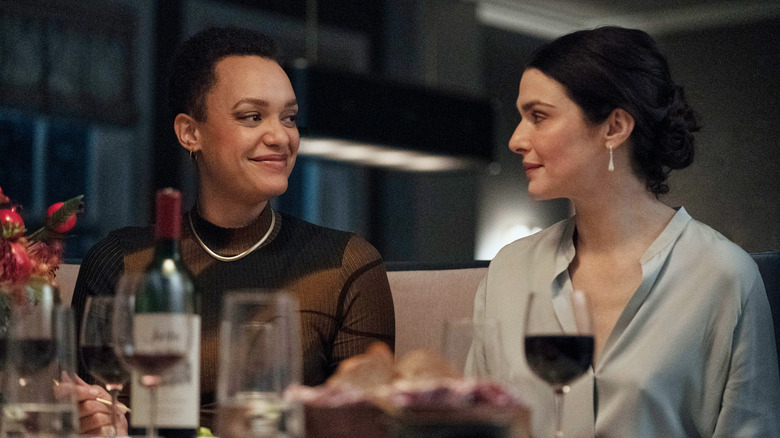 Amazon Studios
Rachel Weisz also made sure to give shout-outs to her fellow cast mates and the crew for making these scenes happen. "The lighting, the set dressing, the script editor. Everybody was involved in the change, not just me. It was a group twin swap," Weisz said. 
The dinner party scenes are particularly important, and most episodes have them. Usually, they involve the Mantle twins having pointed debates with their wealthy benefactors, the opioid heiress Rebecca Parker (Jennifer Ehle) and her partner Susan (Emily Meade). These debates concern topics like fertility, privilege, and racism — all central themes of the series.
Weisz also pointed to her stand-in Kitty Hawthorne, whom she characterized as more of an acting partner than a stand-in. "She was Beverly and Elliot as I was Beverly and Elliot. She was still at drama school when she sent in her audition tape, which was brilliant. She did one of the dinner scenes on her audition tape as both twins, and she was just phenomenal. An amazing actress," Weisz said.
The hard work of Rachel Weisz and the production team behind her appears to have paid off. Boasting a score of 85% on Rotten Tomatoes, "Dead Ringers" appears to be yet another successful outing for Amazon Prime Video.