Chicago Fire's Taylor Kinney Was No Stranger To Fires In Real Life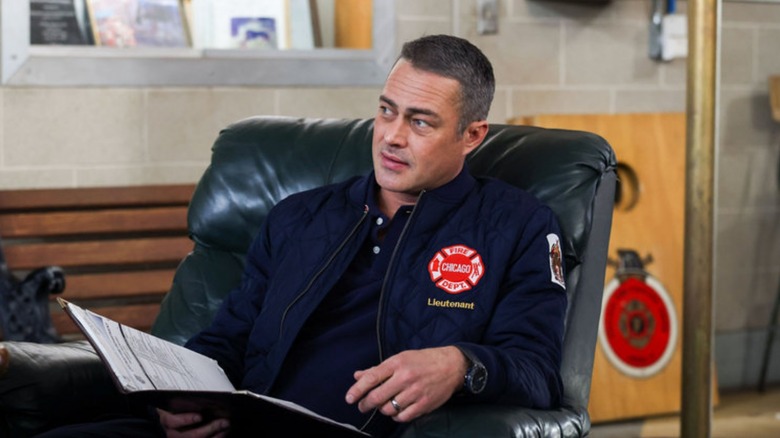 Adrian S Burrows Sr/NBC
Kelly Severide (Taylor Kinney) knows a thing or two about handling incredibly dangerous situations revolving around a fire. This is on account of Severide's long-running career as a firefighter and his position of authority within Firehouse 51. Often acting in tandem with his best friend and coworker Matthew Casey (Jesse Spencer), Severide is known for his personable nature, dedication to the job, and his romance with Stella Kidd (Miranda Rae Mayo). However, the actor who plays Severide also experienced a real-life fire, which may have helped Kinney channel true experiences into his portrayal.
During an interview with The Jam TV Show, Kinney had a chance to speak on many subjects, but the first thing he spoke about was fire safety and how important working alarms can be when it comes to saving lives and property. Kinney then explained that he had a very personal reason for his passion, and he said, "I used to live in San Diego. I had an old cottage — this old kind of 1940s beach bungalow, and this guy comes rapping on the window in the kitchen, and he bangs on the window. He's like, 'Your house is on fire.' So I go outside, and sure enough, the whole top of the roof was [on fire]. It was ridiculous."
Residential fires caused almost nine billion in damages over a nine year period in real life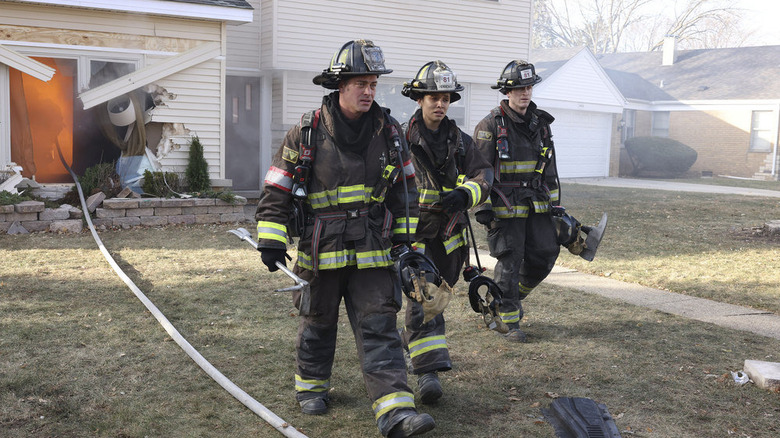 Adrian S Burrows Sr/NBC
According to the United States Fire Administration, over a nine-year period from 2012 to 2021, the United States had several different trends when it came to fires. The organization notes that during this period, there was a "5% decrease in fires" and a "7% decrease in injuries." Unfortunately, there were some upward trends as well, with an "8% increase" in fire-related deaths and an "11% increase" in the cost of overall fire damage. These statistics contain both positives and negatives, and this summary essentially boils down to 353,500 fires, 2,840 deaths, 11,400 injuries, and almost nine billion in damages. This is probably why Taylor Kinney is so adamant about fire safety, considering his own personal history with terrifying blazes.
Still, to think Kinney truly understands what it is like to have one's home on fire is surely a tremendous boon to his acting talent, especially since Severide is often willing to rush head-first into danger. Of course, his familiarity and charisma helped earn Kinney his role on "Chicago Fire." Speaking with NBC, Kinney explained how relaxed he was during the audition process. Kinney elaborated, "I was in the circuit of auditioning a lot, so I was decent at it. I remember never having any anxiety. I was excited about it, and then you kind of leave it up to the powers that be. It went well, and 10 years later I'm still here bugging you through your televisions while you fold laundry." Ultimately though, Kinney's real-life experience with fire is an interesting fact to know for the next time one watches Severide tangle with an inferno.