Anya Taylor-Joy Was Starstruck Working With Ralph Fiennes On The Menu Because Of Her Love For Harry Potter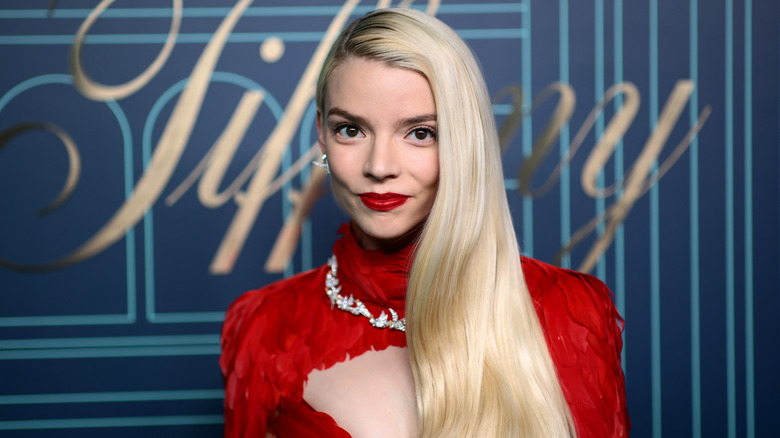 Dimitrios Kambouris/Getty Images
In her career thus far, which dates back to 2015 with her first starring role in "The Witch," Anya Taylor-Joy has worked with some big name actors — James McAvoy in "Split," Bill Nighy in "Emma," and Alexander Skarsgård and Nicole Kidman in "The Northman." Plus, she was part of the large ensemble cast of "Amsterdam," which included Christian Bale, Margot Robbie, and even Robert De Niro. But it was a different co-star that made Taylor-Joy a bit starstruck: Ralph Fiennes.
Taylor-Joy and Fiennes starred opposite one another in 2022's "The Menu," which saw Fiennes playing a talented, ultra high-end chef at an exclusive and mysterious restaurant and Taylor-Joy playing the reluctant dinner guest. And the reason for Taylor-Joy being so starstruck? She's a major "Harry Potter" fan and one of Fiennes' most iconic roles is, of course, none other than Lord Voldemort himself.
In an interview with USA Today, Taylor-Joy was asked if she told Fiennes what a fan she was. The actress responded, "Yes, but only at the very end. My subconscious does this thing where if I can't deal with information, it just stores it like a squirrel with a nut for winter, until there's a moment I can deal with it. And so with Ralph, we just became really good friends and it wasn't a big deal at all. And then the second the film ended, it was just, 'Oh my god, oh my god, oh my god! I have to call my mom!' So he was very, very gracious about it."
Taylor-Joy has nothing but praise for working with Fiennes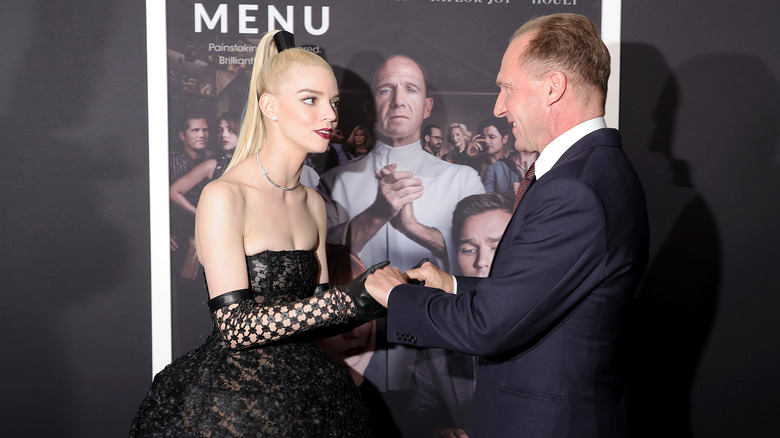 Michael Loccisano/Getty Images
In an interview with The Hollywood Reporter, Anya Taylor-Joy described what it was like to work with Ralph Fiennes, who is such an accomplished actor. And Taylor-Joy had nothing but praise for her co-star.
The actress said, "He's just beautiful in every way. He's such a talented actor in that whatever he wants to transmute onto the screen, he will achieve it in spades." She then went on to note that she felt very comfortable filming scenes with Fiennes, which was important given the strange nature of the scenes. She continued, "We both enjoyed the bizarre intimacy of our scenes together because you can't quite put a label on it. It's just a deep kinship, and we united in our passion, love, and sacredness that we feel for our art. We were kindred spirits in that sense."
Of course, that didn't prevent a small part of her from geeking out over acting opposite Lord Voldemort. While appearing on "The Graham Norton Show," Taylor-Joy exclaimed, "The second [filming] was over I like, 'Oh my God!' and rang my mum and said, 'The last person that faced-off with Voldemort was Harry and now it's me!'"