James Gunn Pens Grateful Tribute To Guardians Of The Galaxy Fans: 'I'm The Luckiest Filmmaker Ever'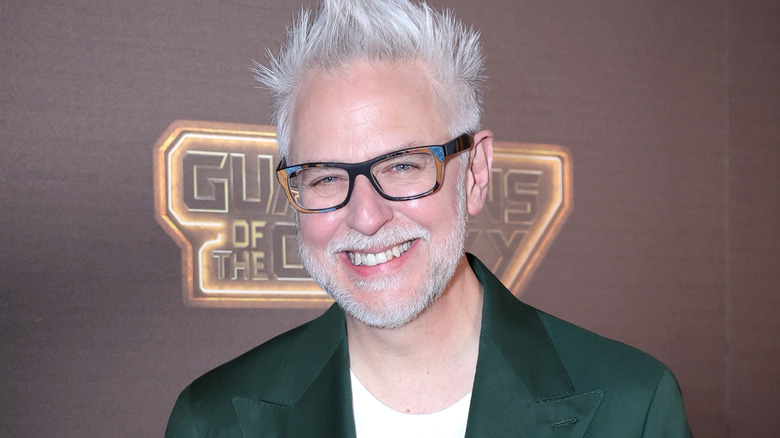 Michael Loccisano/Getty Images
At long last, the third installment in the "Guardians of the Galaxy" saga is finally here, "Guardians of the Galaxy Vol. 3." The Marvel Cinematic Universe Phase Five entry promises an action-packed, funny, yet emotional moviegoing experience that fans will likely never forget. Director James Gunn surely won't forget the threequel either, seeing as it's the completion of a silver-screen journey that began back in 2014 when the first "Guardians of the Galaxy" movie premiered. To commemorate the occasion, Gunn penned a heartfelt message to fans who've helped make the "Guardians" trilogy a reality.
"Thank you for all your kind messages about Vol 3. For ten years you've been the best fans ever. It means the world to me, and I'm the luckiest filmmaker ever to have had you by my side," Gunn wrote in his tweet, which also includes a "Guardians of the Galaxy Vol. 3" poster. In response, "Guardians" fans from all corners of the internet came together to share their love for the trilogy, thank Gunn and his team for their hard work, and express how much the now-iconic team means to them.
Naturally, considering the global love for the "Guardians" franchise, Gunn made it his mission to deliver on the third and final — assuming "Guardians of the Galaxy Vol. 4" isn't on the way — film.
Gunn and his team worked hard to make Guardians 3 as close to perfect as possible for fans
Marvel Studios/Disney
It's no secret that in Hollywood, threequels tend to miss the mark more often than not. There are only a handful of truly perfect trilogies out there, as there's not an exact science to perfecting a cinematic trifecta. Bearing in mind how much people love the "Guardians of the Galaxy" franchise, and his own desire as an artist to make the best movie he can, James Gunn and his team worked tirelessly to ensure that "Guardians of the Galaxy Vol. 3" was the best trilogy-ender possible.
During a chat with Entertainment Weekly, Gunn discussed the poor track record of big screen threequels and delved into his thought process behind "Guardians of the Galaxy Vol. 3." "This is the big one. This is where things really happen. This is where we get to know the truth about who these characters are, and we face the biggest stakes," Gunn said. He added that he did everything in his power to make the film as strong as possible and expressed his gratitude for those around him who helped make the film shine.
"Guardians of the Galaxy Vol. 3" is now playing exclusively in theaters.