One Piece Creator Offers Promising Update On Netflix's Live-Action Series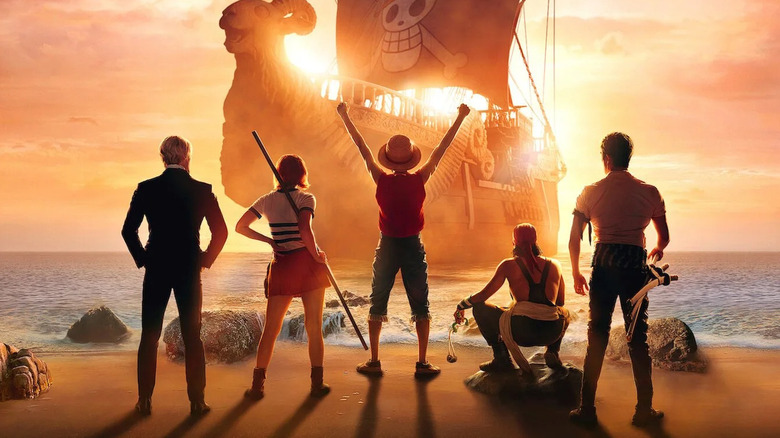 Netflix
Netflix is gearing up to dive headfirst into the Blue Sea of "One Piece," with a live-action series coming to the streamer later this year. Thankfully, they seem to understand the high stakes surrounding the adaptation, so hopefully it doesn't sink as if it just ate a Devil Fruit. Eiichiro Oda, the creator of the "One Piece" manga, has been a part of the production since the beginning, hoping to bring his beloved story to a worldwide audience. Today, Oda and Netflix released an update on the show's progress, signaling that the release may be right around the corner.
In his message to fans, Oda said the Netflix series is his "last chance to bring 'One Piece' to the entire world," revealing that the project has been developing since 2016. "Since then, Netflix has committed enormous resources to the production. It was announced that the show will launch in 2023, but they've promised that we won't launch it until I'm satisfied," Oda reassured. He continued praising the incredibly diverse cast and crew, who are all "burning with passion" for "One Piece," reminding everyone the show needs to be fun.
Oda capped off his exciting update by revealing "One Piece" will run for eight episodes, which they're hard at work finishing. "We'll be setting sail very soon," he promised.
Netflix created beautiful sets for One Piece
Although live-action anime adaptations don't have the best track record, Netflix's "One Piece" could be one worth watching. Not only does its diverse cast perfectly lend itself to the variety of characters in Eiichiro Oda's manga, but Netflix spared no expense in bringing the world to life.
Last year, the streamer released a behind-the-scenes sneak peek at "One Piece," revealing the unbelievable sets they constructed for the live-action series. The video showcased the time and effort that went into creating Baratie, the ocean-based restaurant where the Straw Hat crew meets Sanji. The set looks like Netflix pulled it straight out of Oda's manga, meaning fans could be in for a treat with "One Piece." The video also includes glimpses of the real-life ships setting sail on the Blue Sea, including the Straw Hats' first ship, the Going Merry, as well as the Miss Love Duck.
"Oda's world is so unique. Seeing all of this stuff in person, being able to reach out and touch it has just been such an experience," showrunner Matt Owens said, praising the South African crew for bringing "One Piece" to life. Showrunner Steve Maeda added, "We get to go to work every day and walk on these massive sets and see these characters come to life. It's a really special experience and a privilege, and we can't wait to share it with you."
While it may be too early to say, Netflix's "One Piece" could very well end up being something truly special for longtime fans and newcomers.