Chicago Med: Fans Have Mixed Feelings About Archer's Harsh Reaction To Hannah's Help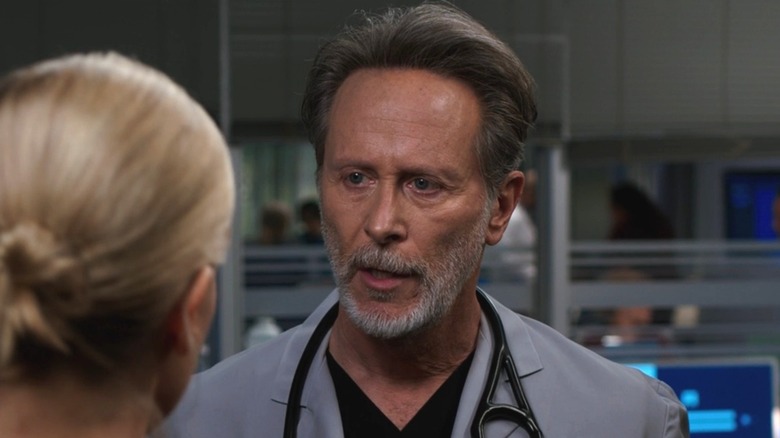 ABC
Work relationships and dynamics can sometimes turn quite precarious, and that isn't even considering if one works in a high-stakes job like a hospital. Since the beginning of its run, "Chicago Med" has balanced relationships, work, and drama, and one of the reoccurring plots of Season 8 has involved Dr. Dean Archer (Steven Weber), Dr. Hannah Asher (Jessy Schram), and Dean's son Sean (Luigi Sottile). Both Dean and Hannah have some latent emotions, while Dean and Sean have just connected after years of estrangement. On top of that, Dean needs a kidney transplant, and Hannah informs Sean that he might be a donor match because of the blood relation.
After Hannah's reveal, Sean offers a kidney to his father, which causes Dean to react rather angrily. This anger continues throughout the most recent episode of the "One Chicago" series, with Dean displaying hostility toward Hannah at almost every moment. 
Thanks to the tense dynamics of the recent episode, fans of "Chicago Med" were all over the place as to whether or not Dean is justified in his anger. Some fans believed Dean to be in the right, while others sided with Hannah, and some just wanted the drama to be over. Over on Twitter, @DayaRyelle wrote, "You heard him. Let him die!"
Fans are all over the place when it comes to Dean's anger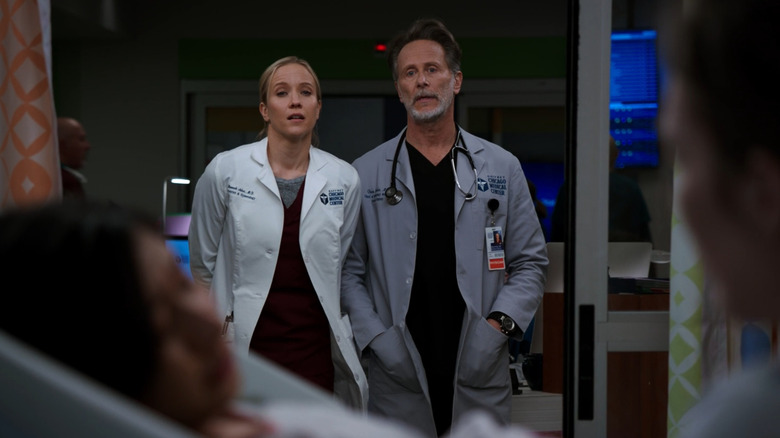 ABC
Many fans also felt similarly upset with Dean's behavior. For example, @zenamadi22 said that they had many reasons for not liking Dean. @chocolatetrini7 was also displeased with Dean, and tweeted that Dean is filled with too much attitude. They added that they think that Dean is currently in one of the stages of grief, which would obviously be anger for his recent diagnosis and his demeanor toward coworkers and patients. Considering how Dean acts throughout this most recent episode of "Chicago Med," this statement could be true, as Dean didn't appear to be happy with or tolerant of anybody — including his own son, Hannah, or even his patients.
However, not all expressed hard feelings toward Dean, and some actually sympathized with the doctor. Both @thetvescape and @MeetUsatMollys mentioned that Dean said that if people want to help him, they need to stay out of his life. Both users added that they think Dean doesn't mean these words. This statement caused @StarTrekFan2015 to reply, "He doesn't mean it. He's just really upset. He still really loves her. He's just hurting now." 
Unsurprisingly, at least one person is entirely fed up with the back and forth between Dean and Hannah, with @ellie62285157 writing, "I am kind of getting sick of all this Hannah and Archer drama. One episode they like each other, the next they are yelling at each other." 
Whatever one feels about Dean's current condition, one thing appears to be consistent: Dean's behavior is unsustainable and his anger will quickly overstay its welcome.