Mark Hamill's Fire For Voiceover Work Sparked When He Was Only 5 Years Old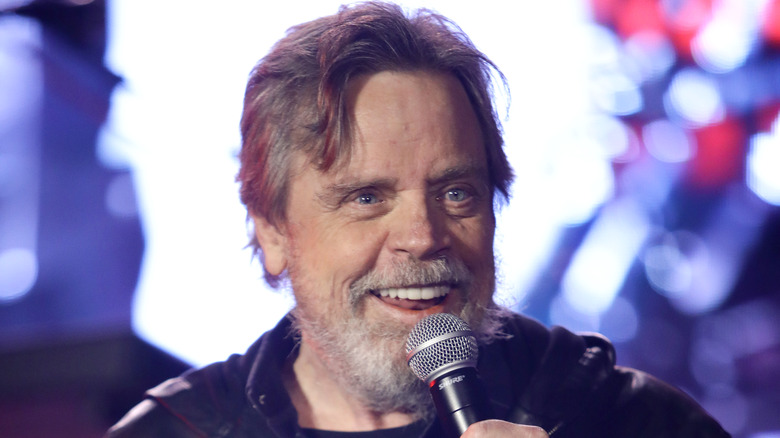 Tiffany Rose/Getty Images
While it seems that legendary actor Mark Hamill was born to play Luke Skywalker in the "Star Wars" saga, acting in front of the camera was actually not his first goal in the entertainment business. Instead, Hamill noted, a particular star in Walt Disney's vast stable of talent fueled his desire to become a voice actor when he was a mere five years old.
In an interview with Rotten Tomatoes, Hamill said since Walt Disney's TV series "pulled the curtain back on how movies were made, probably more than any single entity," he learned of the talents of Clarence Nash, who provided the voice of Disney animated icon Donald Duck. 
"A lightbulb went off in my head. It made really think about the people behind the voices," Hamill told Rotten Tomatoes. "It's the ultimate character actor's dream because the character actor disappears into his role, and you don't see the actor. You see the character."
As such, Hamill added, animation creates the character for the actor, and the filmmakers cast "with their ears, not with their eyes, so you're going to be able to play characters you never would get on camera."
Hamill's idea of homework growing up was learning the voices of animated characters
Warner Bros. Interactive Entertainment/YouTube
After kicking off his career with an appearance on "General Hospital" in 1963, Hamill's acting career began in earnest in 1970, and soon after he appeared in guest stints in such TV series as "The Partridge Family," "Cannon," and "Night Gallery." His big breakthrough, of course, came in 1977 in "Star Wars," but over his career — where he's amassed more than 350 credits — hundreds of those turns came in a voice acting capacity.
Among Hamill's impressive list of voice credits includes a large number of villains, including his acclaimed performance as The Joker for several projects in the DC animated universe — as well as video games like "Batman: Arkham City." In addition, Hamill has made voice appearances in several animated Marvel projects including the "Spider-Man" series in 2018, and even voiced the Hugh Jackman version of Wolverine for the 2003 video game "X-2: Wolverine's Revenge." On top of that, the actor's voice has appeared in such hit animated series as "Adventure Time," "SpongeBob SquarePants," "Robot Chicken," and most recently, "Invincible."
In his interview with Rotten Tomatoes, which concentrated strictly on his voice acting career, Hamill said his voice work draws from a variety of "different elements." While honing his voice acting talents in his youth, Hamill told the outlet in a Yogi Bear voice, "When other kids were studying algebra, I was working on my, 'Smarter than the average bear, hey Boo-Boo!'"
Hamill's first voiceover job was in a Hanna-Barbera animated series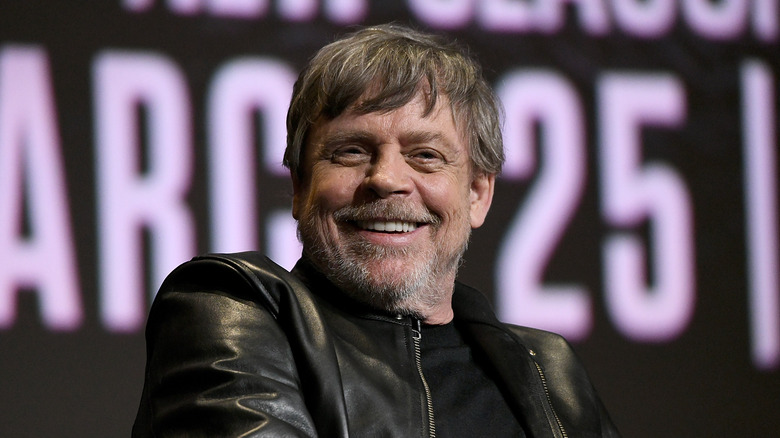 Michael Kovac/Getty Images
Mark Hamill also noted for Rotten Tomatoes how his shopping trips didn't involve traditional music, but a search for records that would help him fine tune his voice craft. He said, "when I would go to the record store I would go to the children's record section and look at 'Rocky & Bullwinkle' albums, 'Looney Tunes' albums that had a list of who did what."
As such, the practice helped him develop references of animated characters to familiar actors. "I said, 'Okay, Huckleberry Hound, he sounds like Andy Griffith. Snagglepuss is Bert Lahr," Hamill told Rotten Tomatoes.
Hamill recalled that his first voice acting job came as a teenager when he was hired by famed animation studio Hanna-Barbera to record a voice role for the series "Jeannie," which aired from 1973 to 1975. Hamill said "Jeannie" was "the teenaged version of 'I Dream of Jeannie,'" where he played Corey Anders opposite Julie McWhirter's title character — a part akin to Larry Hagman's role opposite Barbara Eden in the hit live-action series.
The minute he walked into the studio, Hamill realized he was exactly where he wanted to be. "This was big for me," Hamill told Rotten Tomatoes. "I walked in there were all these idols from when I was a kid. I met Don Messick and Daws Butler, ... to see who all those wonderful voice actors were something I aspired to be, a cartoon voiceover actor."