Who Is The Voice Behind Tamatoa From Moana?
In Disney's "Moana" the titular hero and her companion in adventure, Maui, go underwater and find themselves face to face with a giant jewel-encrusted crab named Tamatoa who has a history of conflict with Maui. Tamatoa is arrogant and prideful, and his obsession with himself and shiny valuable objects proves to be his undoing as Moana and Maui trick him into moving into the path of a geyser, which flips him onto his back, leaving him helpless on the ocean floor. 
Tamatoa shows off his silky-smooth baritone singing voice in the braggadocious number "Shiny," singing of his love of all things gleaming and precious. 
Tamatoa's golden voice belongs to New Zealander Jemaine Clement, who founded the musical comedy duo Flight of the Conchords with countryman Bret McKenzie in 1998. A fictionalized version of their story later aired as a series on HBO and earned nine Emmy nominations, including one for Clement as outstanding lead actor in a comedy series.
But aside from his memorable turns as a giant gold-covered crustacean and as a somewhat cartoonish version of himself, Clement has a long and fruitful career as an actor, writer, and voiceover artist dating back to the mid-1990s.
Jemaine Clement and Taika Waititi created What We Do in the Shadows
Jemaine Clement's first acting role was in the 1995 satirical short film "Ash: Ashley Thorndyke - Work In Progress". In 2004, he teamed up with fellow New Zealander Taika Waititi to form the comedy duo The Humourbeasts. Clement and Bret McKenzie brought "Flight of the Conchords" to HBO in 2007, where it aired for two years. 
In 2014, Clement and Waititi partnered to write, direct, and star in "What We Do in the Shadows," a comedy horror film that received stellar reviews from critics. 
The pair – both of part Maori descent — followed that effort up with a "What We Do in the Shadows" TV series that aired for four seasons on FX and gathered 17 Emmy nominations, including one in 2022 for outstanding comedy series. Clement stayed mainly behind the scenes of the television production, appearing on just two episodes of the show. 
But while he was collecting Emmy nominations for his work on "What We Do in the Shadows" and "Flight of the Conchords," Clement was making a name for himself as a voice artist as well. 
Jemaine Clement played voice parts on several popular animated TV series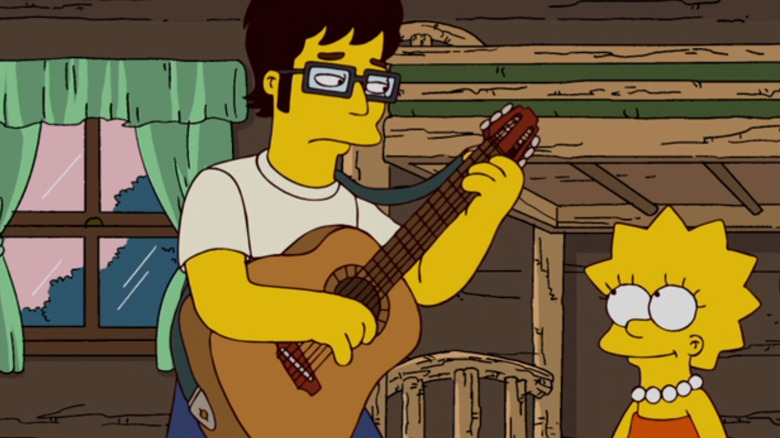 FOX
Clement's first voiceover performance was as an alien on "The Drinky Crow Show," an Adult Swim adaptation of Tony Millionaire's cartoon strip "Maakies" that aired from 2007 until 2009. Clement's character appeared in two episodes in Season 1.
In 2010, Clement voiced Jerry the minion in "Despicable Me," and that year also earned a voice credit on Season 22, Episode 1 of "The Simpsons." 
On "The Simpsons," Clement voices Ethan, a guitar-wielding counselor at Expressions, the performing arts camp where Marge drops Lisa for a week while Homer and Bart accompany Krusty The Clown to Europe. In 2012, he voiced Professor Koontz on an animated "Napoleon Dynamite" Fox series. Three years later, Clement provided the voice for Fart, a singing gaseous cloud on Season 2, Episode 2 of "Rick and Morty."
His performance in "Moana" as Tamatoa came in 2016, and the following year he voiced Sauron in "The Lego Batman Movie" while also voicing Magunga on "American Dad!" Season 12, Episode 12, "Bazooka Steve."More recently, he also provided the voice for Simon Sex on "Big Mouth" and "Human Resources."