Who Played Jenny Curran In Forrest Gump?
There is certainly no denying that "Forrest Gump" contains some exemplary performances from its cast, especially the actress that portrayed the troubled character and titular persona's love interest, Jenny Curran.
Tom Hanks' take on the slow-witted Alabama man with a heart of gold is arguably one of the actor's career performances, but he wasn't the only one flexing his skills. Despite having considerably less screen time, the actress that played Jenny Curran absolutely made her presence known, and in the process, the well-received turn became a contender for one of her biggest achievements.
Robin Wright's run in "Forrest Gump" was a pretty big deal at the time and earned her a Golden Globe nomination. Since then, she has been seen in several impressive titles, like "Blade Runner 2049," "The Girl With The Dragon Tattoo," and "Wonder Woman." In addition, she also earned seven Primetime Emmy nominations for her work in the Netflix series, "House of Cards." But out of everything she has done, "Forrest Gump" remains one of her biggest claims to fame. "I always get lines thrown at me from those movies, and it just warms the heart," she told The Daily Mail. "Because those movies are going to go down in history. And how wonderful that I am part of it."
The memories of playing Jenny Curran reside well with the actress and her fans, so it probably isn't a huge surprise to hear that Wright has admitted that everything changed for her after she took on her role in "Forrest Gump."
Playing Jenny Curran changed everything for Robin Wright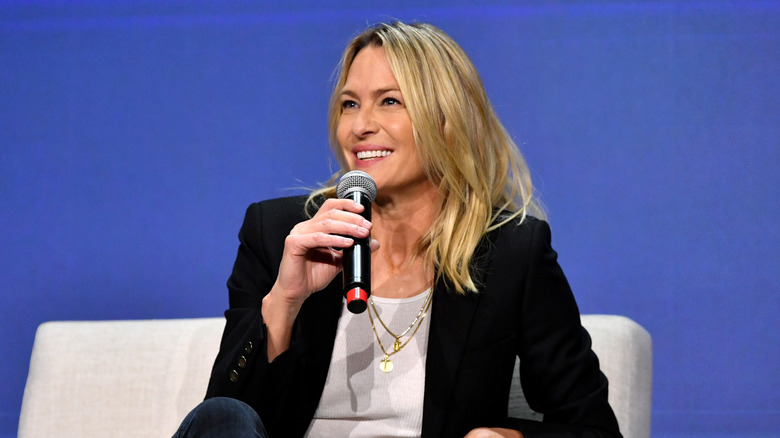 Emma Mcintyre/Getty Images
Playing Jenny Curran, a drug-using, struggling singer with a traumatic childhood, is probably not the easiest endeavor for an actress, but that didn't stop Robin Wright from accepting the gig and crushing it in the process. While she did an excellent job portraying the complex character, the actress couldn't help but realize that after the dust settled on "Forrest Gump," things had drastically changed. "There was some pressure: Stay in the game, or you will be forgotten," Wright said in an interview with the Harvard Business Review. "But I chose not to adhere to that because I had a long-term vision. I knew I wanted to act until I couldn't anymore, so I needed to be selective."
The actress was determined not to let the weight of success affect her career. As a result, she had to be selective when choosing projects, especially if she realized that others might be better suited to bring the role to life. "Acting is such an emotional job," Wright said. "It's almost like going to therapy every day, because you're dissecting and embodying a character and getting to the depths of who that person is. There were some roles that I didn't feel I was ready to take on. I knew somebody else would be so much better." 
While it's safe to assume that some roles were a better fit for others, it's hard to picture anyone else but Robin Wright playing Jenny Curran, and fans are probably very glad the role is part of her cherished legacy.